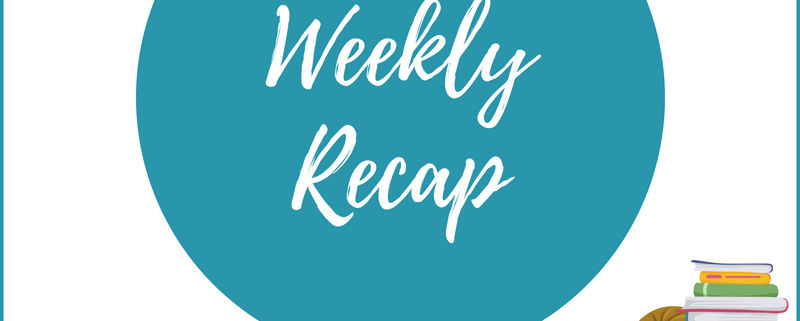 Weekly Recap #124: Week of 9/29 – 10/5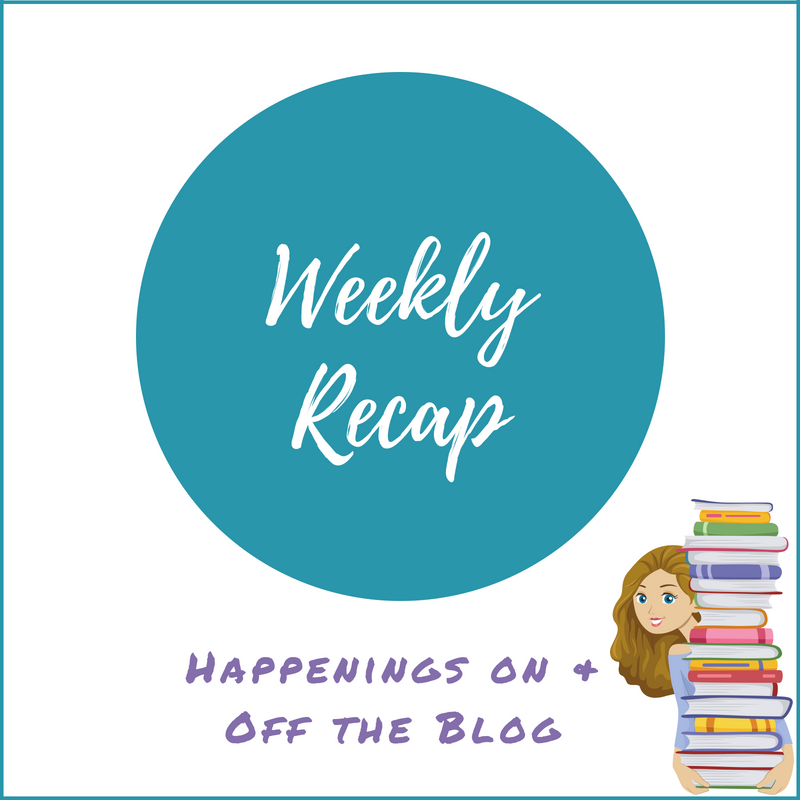 It's time for another weekly recap post of all things happening on and off the blog. This week I'll be linking to the Sunday Post, which is hosted by Caffeinated Book Reviewer and to Stacking the Shelves, which is hosted by Tynga's Reviews.
Another week, another blur of work, after school activities, and soccer.  I went into the week feeling like I had things under control, but then soccer playoffs happened.  We thought the County wouldn't schedule them until the weekend to make sure most people could attend.  When we got the unexpected text from the coach Tuesday night saying that playoffs would start on Thursday night, all my plans for the week got thrown off kilter with unscheduled practices and an unplanned trip to the soccer fields.  On the bright side, even with our flaky coach and never having enough kids to play, we still managed to make it to the semi-final round where we then lost against the number 1 seeded team, 4-0.  The kids still looked good in that game and I was especially proud of the way my son played, but two of our three strikers didn't show up and you just can't win a game with only 1 striker.  So a disappointing end to the season, but I'm just glad it's over at this point so that's one less thing on my plate for a while.
Elsewhere in life, our garage door spring decided it would be a great time to break at 9:00pm last Sunday night.  Once we recovered from our near heart attacks because of the ridiculously loud sound it made, the three of us tried to lift the door together and couldn't budge it.  My car was therefore trapped in there until we could find someone to come out and fix it so I worked from home on Monday.  We managed to get someone out pretty quickly to take care of it, but the most comical/frustrating part of it was how much more work I got done at home, even with the dog and the cat running around and all of the garage commotion, than I have since we switched to this open floor plan at work.  Go figure!
Reading and blogging were not all that great this week because of the distractions.  I did finish The Grace Year, which I'll be reviewing tomorrow, but Cursed, the King Arthur retelling, ended up being a DNF for me. I just couldn't get into it at all.  I ditched that and moved on to Bodies in the Library, a fun cozy mystery that I hope to finish today, and to How to Hang a Witch, a long-time backlist title that I'm listening to on audio.
Anyway, I think that's pretty much it for me.  Have a great week, everyone!
WHAT I POSTED LAST WEEK
WHAT I'M READING THIS WEEK
 UPCOMING REVIEWS
 STACKING THE SHELVES
TOTALLY RANDOM
https://thebookishlibra.com/wp-content/uploads/2018/06/Weekly-Recap-Post.png
800
800
Suzanne
https://thebookishlibra.com/wp-content/uploads/2018/06/trimmed-Copy-of-Bookish-Logo-copy.png
Suzanne
2019-10-06 08:48:59
2019-10-06 08:48:59
Weekly Recap #124: Week of 9/29 – 10/5