Weekly Recap #20: Week of 9/24-9/30
It's time for another weekly recap post of all things happening on and off the blog. This week I'll be linking to the Sunday Post, which is hosted by Caffeinated Book Reviewer and to Stacking the Shelves, which is hosted by Tynga's Reviews.
Happy October, everyone!  This is my favorite time of year.  The temperatures are finally cool enough that I've been able to get outside and comfortably walk around my neighborhood.  The leaves are changing colors and Halloween decorations are starting to pop up everywhere.  October is also my birthday month, so yay!  I may do a birthday giveaway on the blog to celebrate, so stay tuned for that.  I'm also still hoping to do one when I reach (and keep) 1,000 twitter followers.  I've reached 1,000 three times this week but then always seem to drop a couple (those pesky marketing bots), but we're definitely getting close to that giveaway as well.
Aside from enjoying the fabulous fall weather, soccer has once again dominated my week.  After that amazing game where my son scored the three goals, his team has really struggled, earning their first loss of the season followed by a tie.  That was a bummer not just because they had been playing so well, but also because it meant we ended up with extra practices this past week to try to get back on track before we start playoffs next weekend.  I did try to read while sitting at the practices, but that was kind of a fail.  I did manage to finish and review The Rules of Magic and All the Crooked Saints this weekend, and also finished Dear Martin, which I'll be reviewing later this month for a Blog Tour.  And at long last, I have finally started reading Crooked Kingdom!
Not too much else is going on right now, although I am planning a short trip to NYC in November.  New York is my favorite place to visit so I'm really looking forward to that and am curious to see if I'm able to get my blogging act together enough to schedule some posts for while I'm away, haha.
Anyway, I think that's it for me.  Have a great week, everyone!
WHAT I POSTED LAST WEEK
WHAT I'M READING THIS WEEK
UPCOMING REVIEWS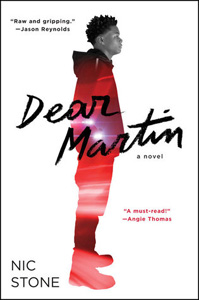 STACKING THE SHELVES
TOTALLY RANDOM
https://thebookishlibra.com/wp-content/uploads/2017/07/How-I-write-negative-reviews-2-1.png
1200
800
Suzanne
https://thebookishlibra.com/wp-content/uploads/2018/06/trimmed-Copy-of-Bookish-Logo-copy.png
Suzanne
2017-10-01 08:26:56
2017-10-01 08:26:56
Weekly Recap #20: Week of 9/24-9/30