Weekly Recap #59: Week of 6/24 – 6/30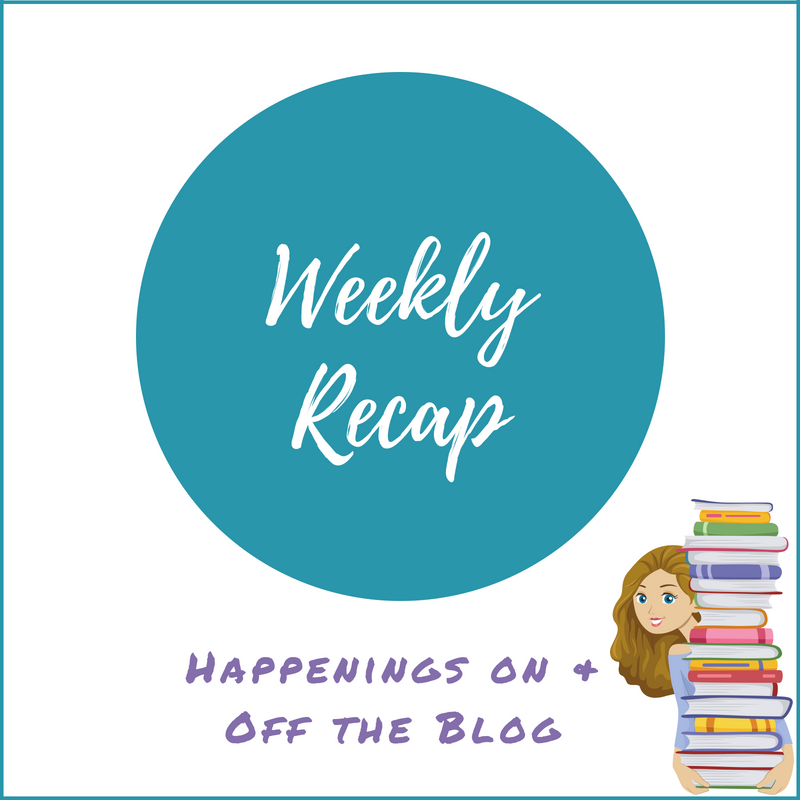 It's time for another weekly recap post of all things happening on and off the blog. This week I'll be linking to the Sunday Post, which is hosted by Caffeinated Book Reviewer and to Stacking the Shelves, which is hosted by Tynga's Reviews.
After all of the excitement last weekend of having my nephews around, we fell back into a pretty quiet routine this week.  We're finally starting to get more sunshine in our forecasts so a lot of time has been spent sitting outside on the deck reading and relaxing.  It's supposed to be nice tomorrow too so we're planning to head out and catch Ocean's 8 early in the day and then come back and cook on the grill and hang out outside for the rest of the day.  That was actually our original plan for Saturday, but in this week's one burst of excitement, our oven nearly caught on fire yesterday.  I had set it to pre-heat to 400 degrees and when the oven beeped to let me know it was up to temperature, I opened the door to put the food inside and something just didn't seem right.  Not that I know exactly what 400 degrees is supposed to feel like, but the heat coming out of the oven just felt way hotter than what I'm used to feeling when I open the door.   I went and got my husband and when he looked at it, he could see that the broiler was on even though I hadn't touched it.  We turned the oven off, but it wouldn't turn off. Instead, it just kept getting hotter and hotter and then smoke started coming out of it.  That set off the smoke detectors, of course, so then it was total chaos.  We ended up having to actually throw the circuit breaker to get it to shut off.  It got a little scary there for a minute, but needless to say, after 24 years, it's time to get a new oven.  So my Saturday was spent shopping for ovens instead of lounging and grilling, lol!
Because it was so quiet otherwise, I did get a decent amount of reading done this week, including finishing a couple of backlist books that I'll be reviewing later this week.  I also realized when I wrote my Top Ten Tuesday post last week that I was wrong about having read four books in the A Song of Ice and Fire series.  I've actually only read three of them, which has given me the kick in the pants I needed to finally start the fourth book.  It will probably take me the rest of the summer to read it since it's nearly 1,000 pages, but it will happen.  I'll also be signing up for the Summer TBR Wipeout Challenge because I have about 12-13 other books that I really want to get through this summer and even though I complained about challenges recently, I do really enjoy this challenge.  I'll be doing my signup post and sharing my TBR in a couple of days.
I think that's it for me. I hope everyone else has a great week! 🙂
WHAT I POSTED LAST WEEK
WHAT I'M READING THIS WEEK
 UPCOMING REVIEWS
 STACKING THE SHELVES
TOTALLY RANDOM
https://thebookishlibra.com/wp-content/uploads/2018/06/Weekly-Recap-Post.png
800
800
Suzanne
https://thebookishlibra.com/wp-content/uploads/2018/06/trimmed-Copy-of-Bookish-Logo-copy.png
Suzanne
2018-07-01 06:00:33
2018-07-01 08:26:39
Weekly Recap #59: Week of 6/24 – 6/30