Weekly Recap #41: Week of 2/18 – 2/24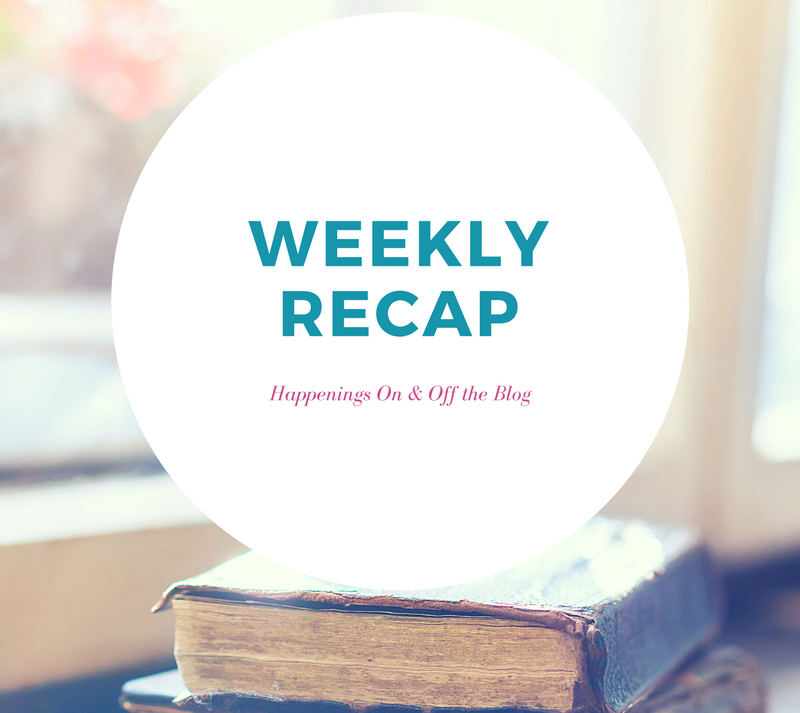 It's time for another weekly recap post of all things happening on and off the blog. This week I'll be linking to the Sunday Post, which is hosted by Caffeinated Book Reviewer and to Stacking the Shelves, which is hosted by Tynga's Reviews.
So, for those who read last week's post, you know I mentioned I've been experiencing some pretty awful headaches the past few weeks. Well, I went to the doctor to see if I could get some answers as to a possible cause.  After hearing me describe what I was feeling, she decided to send me for a head CT.  That of course freaked me out because it brings to mind so many worst case scenarios and so I scheduled the CT for Thursday afternoon because I didn't want to wait any longer than necessary.  I got the results yesterday afternoon and the scan thankfully came back normal, although that means I still don't have any answers to what is causing my head pain, which the doctor diagnosed as migraines with auras.  She gave me a prescription that she says should help with the pain, so we'll see how that goes and then I think next up will be some bloodwork and/or a neurological consult if the headaches continue.
Thankfully I didn't experience any headaches this week so I was able to get plenty of reading done again this week in between watching Olympic events on TV.  I finished 4 books and am starting a 5th tonight.  I also watched the U.S. men win the curling gold medal today and although I still can't say that I 100% understand that sport, it was fascinating to watch.
Now that I've finished reading and reviewing most of my March 6th ARCs, I'm starting the first book of the Grishaverse trilogy in hopes of squeezing in one more book from my backlist before the end of the month.   It hasn't been a great backlist month because of all of those ARCs but I did finally finish that massive Springsteen autobiography that I've been sitting on since October 2016.
I had planned to go see Black Panther this weekend too, but the hubby has been in bed all afternoon and says he doesn't feel well. so I think those plans are probably on hold until next weekend unless he starts feeling a lot better very soon.  I keep hearing great things about the movie so I'm tempted to go without him but I'll try to be patient and wait, lol.
I think that's it for me for now.  I hope everyone has a wonderful week!
WHAT I POSTED LAST WEEK
WHAT I'M READING THIS WEEK
UPCOMING REVIEWS
 STACKING THE SHELVES
TOTALLY RANDOM
https://thebookishlibra.com/wp-content/uploads/2018/01/new-weekly-recap-design.png
713
800
Suzanne
https://thebookishlibra.com/wp-content/uploads/2018/06/trimmed-Copy-of-Bookish-Logo-copy.png
Suzanne
2018-02-25 06:00:34
2018-02-24 18:01:12
Weekly Recap #41: Week of 2/18 – 2/24