Weekly Recap #40: Week of 2/11 – 2/17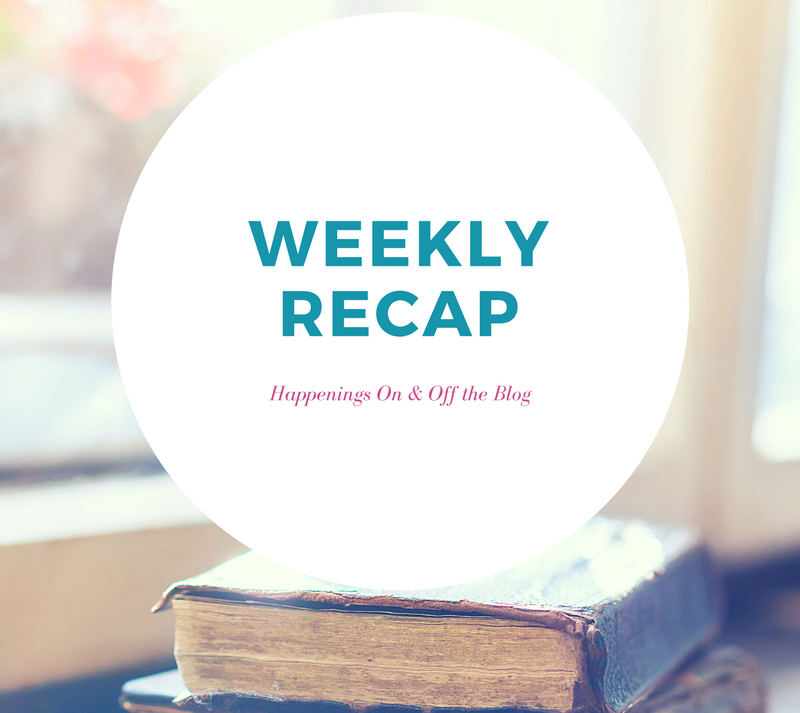 It's time for another weekly recap post of all things happening on and off the blog. This week I'll be linking to the Sunday Post, which is hosted by Caffeinated Book Reviewer and to Stacking the Shelves, which is hosted by Tynga's Reviews.
This week was such a mixed bag weather-wise.  We started out with wintry temps but by Thursday and Friday, we had spring teaser temps in the 60s and 70s. Those two days were fantastic, but sadly, today we were right back to highs in the 30s and sleet.  Mother Nature just can't seem to make up her mind, lol.
Aside from the weather roller coaster, it was a fairly typical week here.  Valentine's Day was okay, not as romantic as I would have liked, but it seems to always be that way when the holiday falls during the week.  We're both just too rushed and too tired to put much effort into it.  Heck, I even bought my own box of chocolates this year just to make sure I got what I really wanted.  That evening though, the hubby did manage to surprise me with tickets to see the Dave Matthews Band in concert.  We won't be going until July, but I'm pretty excited about it.  I haven't been to a concert of any kind in years and DMB is from Virginia so it's always fun to support the local boys.
The whole week feels like a blur honestly, in part because I fought a headache all week long and just couldn't focus on much else.  Nothing over the counter helped at all, and I was just miserable.  I've never had a migraine before but when I described what I was feeling to my husband, he seems to think that's what it is.  I finally called my doctor on Friday and have an appointment to see her this coming week. I also fell behind on my blog visiting/commenting late in the week as my headache grew worse, but hopefully I'll be able to get caught up this weekend since it has finally eased up a bit.
In spite of the headache that just wouldn't go away, I did watch a lot of the Olympics coverage as predicted, and I also managed to get a lot of reading done too.  Out of those 5 March 6th ARCs I was fretting about a couple of weeks ago, I've finished reading 3 of them and have started the 4th.  I haven't written a single review for them yet (still working on that procrastination goal obviously, lol), but at least I'm making good progress and should have them all reviewed prior to the publication date.  Because I've been so focused on those ARCs, my backlist reading has not been nearly as good as it was last month.  I did finally start a backlist book though, Bruce Springsteen's 500+ page autobiography.  I'm about halfway through it now and It's one that has been on my shelf since October 2016, so I'm happy to finally be working towards marking that one off the to read list.
I think that's it for me for now.  I hope everyone has a wonderful week!
WHAT I POSTED LAST WEEK
WHAT I'M READING THIS WEEK
UPCOMING REVIEWS
 STACKING THE SHELVES
TOTALLY RANDOM
https://thebookishlibra.com/wp-content/uploads/2018/01/new-weekly-recap-design.png
713
800
Suzanne
https://thebookishlibra.com/wp-content/uploads/2018/06/trimmed-Copy-of-Bookish-Logo-copy.png
Suzanne
2018-02-18 06:30:19
2018-02-17 23:30:26
Weekly Recap #40: Week of 2/11 – 2/17