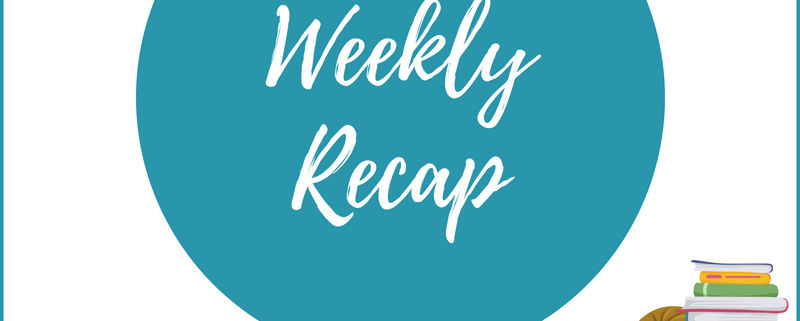 Weekly Recap #121: Week of 9/8 – 9/14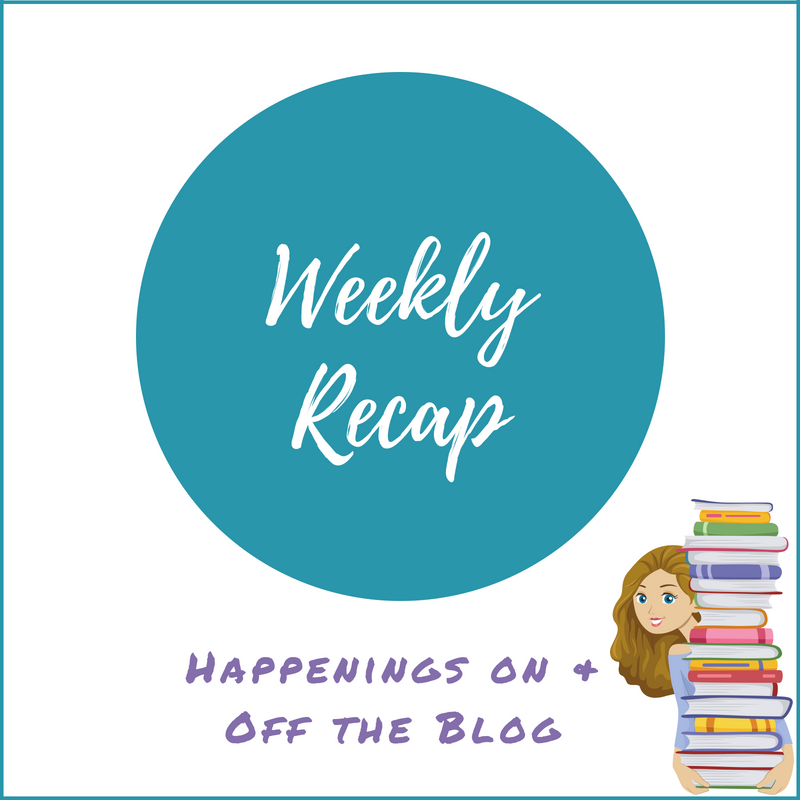 It's time for another weekly recap post of all things happening on and off the blog. This week I'll be linking to the Sunday Post, which is hosted by Caffeinated Book Reviewer and to Stacking the Shelves, which is hosted by Tynga's Reviews.
Same stuff, different week around here for the most part.  The phone drama has thankfully died down and now my son wants contact lenses for his birthday.  He took a soccer ball to the face while wearing his glasses at Saturday's game so I can definitely see the practicality of making that switch and will be calling to make him an eye doctor appointment this week.  I also learned that he now has his first girlfriend, which may explain some of his more dramatic behaviors over the last few weeks.  I thought/hoped I still had a while before we hit the girlfriend stage but apparently not, lol.
Not much else has gone on this week. We had three soccer games so I'm yet again behind in my blogging.  I tried implementing my plan of taking my laptop to his practices but I don't get a strong enough internet signal to get much done. It works like dial-up so that's kind of a bust so I'll be playing catch up today.  Since I couldn't blog, I switched to reading and got a lot done last week.  I finished another backlist book, Dorothy Must Die.  It was a fun enough read but I don't know if I'll continue the series. I've gotten a lot of feedback that the first book is the high point of the series so I hate to waste time reading mediocre follow up books.  I also DNF'ed The Doll Factory. It was creepy and Gothic and I liked the premise, but I tried to start it three times and just couldn't get into it. Plus it has these taxidermy scenes that were just not my thing.  I'm stilling plugging along with the IronThrone Readalong. Pretty sure I'm still at least a week behind on that but I'm about one-third of the way through the third book.  The other read I'm working on this weekend is Alice Hoffman's latest The World That We Knew.  I started it yesterday and am already 60% of the way through.  I just love her writing so much.
Anyway, I think that's pretty much it for me.  Have a great week, everyone!
WHAT I POSTED LAST WEEK
WHAT I'M READING THIS WEEK
 UPCOMING REVIEWS
 STACKING THE SHELVES
TOTALLY RANDOM
https://thebookishlibra.com/wp-content/uploads/2018/06/Weekly-Recap-Post.png
800
800
Suzanne
https://thebookishlibra.com/wp-content/uploads/2018/06/trimmed-Copy-of-Bookish-Logo-copy.png
Suzanne
2019-09-15 09:36:03
2019-09-15 09:36:03
Weekly Recap #121: Week of 9/8 – 9/14