Weekly Recap #60: Week of 7/1 – 7/7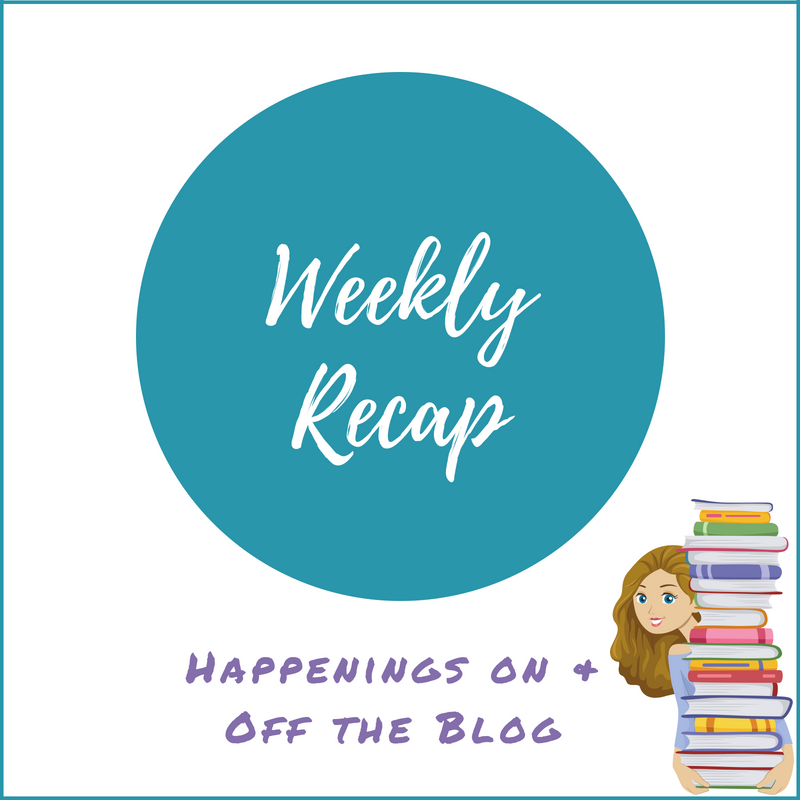 It's time for another weekly recap post of all things happening on and off the blog. This week I'll be linking to the Sunday Post, which is hosted by Caffeinated Book Reviewer and to Stacking the Shelves, which is hosted by Tynga's Reviews.
I hope everyone who was celebrating this week had a wonderful 4th of July.  We had a quiet day here since both my husband and I had to work the day before and the day after the holiday.  We did finally get to the theater to see Ocean's 8 though, which was fabulous, for anyone who hasn't seen it yet.  I had never seen the other Ocean's movies either so I came home with the intention of binge watching all of them.  That didn't work out too well, unfortunately.  I fell asleep halfway through both Ocean's 11 and Ocean's 12, then gave up on the whole plan.  I think the buildup to the actual heists just felt so slow in the original movies compared to Ocean's 8 and my attention span just wasn't up for the challenge.  I gave up and ended up binge watching the first season of the old TV show Felicity instead.  I had forgotten how much I loved that show when it first came on TV.
This has also been the week of major home improvement projects.  My Saturday was seriously so exciting I just couldn't stand it!  Want to know how I spent it?  Painting the shutters on my house and waiting for my new oven to finally be delivered.    We were given an annoying 4-hour delivery window for the oven so since we had to stay at home for that long anyway, we decided to multi-task and get the shutters painted.  We're also planning to redo our front porch so once we got the oven, we spent the rest of the afternoon driving around looking for porch railings and columns that we liked.  Exciting stuff, right?
My son is at his grandmother's for the holiday, so it was quiet here all week and the weather was gorgeous so I spent the rest of my time out on my deck reading. I got a lot of reading done on A Feast for Crows.  I'm over 700 pages in now and hope to actually finish it this week, which I'm kind of impressed with myself about since it usually takes me months to read one of those books.  I'm also planning to finish the Grishaverse trilogy this week.  I started the last book yesterday but got sidetracked by all of that shutter painting excitement.
My son comes home today and we're taking him out for a celebratory milk shake.  While he was at his grandmother's, we got his math placement in the mail and learned that he has placed into Pre-Algebra for the upcoming school year.  He's going into 6th grade and only about 10% of the 6th graders in the county place into Pre-Algebra so we're very excited for him especially since he loves Math and really wanted to place into Pre-Algebra.  Why a milkshake?  Because apparently I'm a horrible parent and my child has never had a milkshake before.   I know, I know! *hangs head in shame*.  In my defense. for years he has done nothing but tell me how much he hates milk and, up until about two years ago, he wouldn't really eat ice cream either.  It just never dawned on me that he would have any interest in a milkshake. But now the interest is definitely there and he has FaceTimed me everyday this week to make sure we're still going today, lol.
I think that's it for me. I hope everyone else has a great week! 🙂
WHAT I POSTED LAST WEEK
WHAT I'M READING THIS WEEK
 UPCOMING REVIEWS
 STACKING THE SHELVES
TOTALLY RANDOM
https://thebookishlibra.com/wp-content/uploads/2018/06/Weekly-Recap-Post.png
800
800
Suzanne
https://thebookishlibra.com/wp-content/uploads/2018/06/trimmed-Copy-of-Bookish-Logo-copy.png
Suzanne
2018-07-08 08:49:37
2018-07-08 08:49:37
Weekly Recap #60: Week of 7/1 – 7/7