Weekly Recap #81: Week of 12/2 -12/8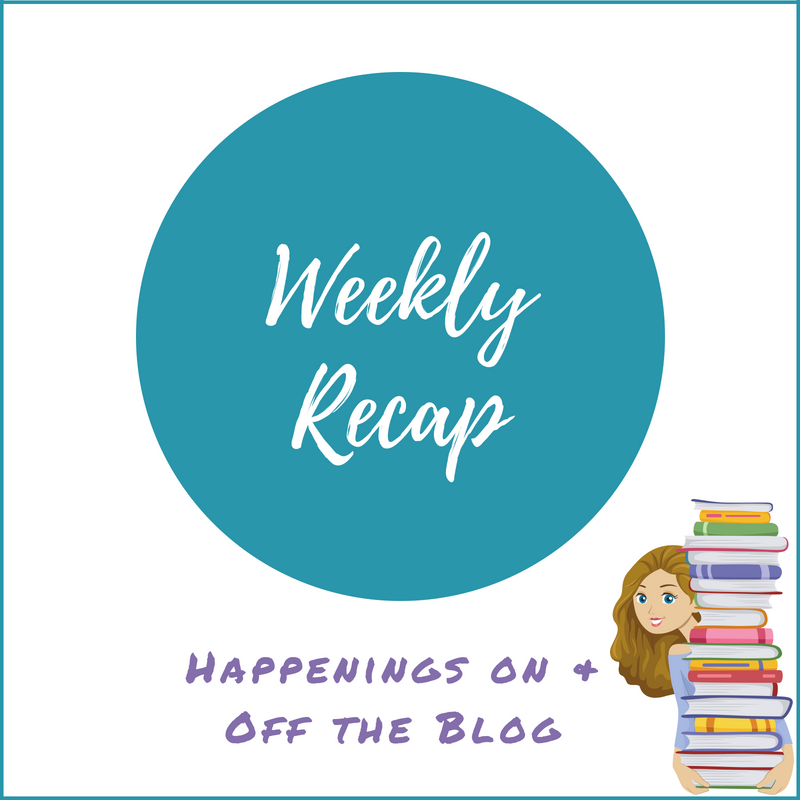 It's time for another weekly recap post of all things happening on and off the blog. This week I'll be linking to the Sunday Post, which is hosted by Caffeinated Book Reviewer and to Stacking the Shelves, which is hosted by Tynga's Reviews.
I'm really hoping this upcoming week is my last busy week of the year because I'm truly exhausted right now.  I didn't realize how tired I was until Saturday when I woke up at 6:40 a.m., decided I wanted to rest my eyes for just a few more minutes, and next woke up three hours later, lol.  Oops! We've added after school band practices and Math Club to my son's already busy schedule so I feel I like I spent half my week in the car chauffeuring him around and then scrambling around at home to make up for the time I've lost doing everything else that needs to be done.  It's all better than him sitting in front of the xBox for all of those hours so I try not to complain too much, but all that running around just makes me feel old and tired, lol. Thankfully the band concert is this Thursday so then those practices will stop and some downtime will open back up for me.
On the blog, even with the busy week, I did manage to do six posts, including a discussion post.  My goal was to do at least 12 for the year and so far I've done 10.  Hopefully I'll make it.  I do have a few other topics I'd like to write about, if I can find the time  Yes, time, or lack thereof, is definitely the theme of this week's post!
Speaking of the blog, does anyone else use WordPress?  Specifically, did you update to WordPress 5.0?  I updated last Thursday night and nearly had a heart attack when I went in to write my next post.  They have totally revamped the editor and it looks NOTHING like it did before I updated.  It's all boxes now. You have to add boxes to type each paragraph of your post into.  Lots of the formatting shortcuts I had been using now no longer work.  It took three to four times longer than it usually does to write a post because everything was so hard to find and hard to use.  I also usually write my reviews in Word and then just paste them into WordPress.  Well, if I do that now, the formatting goes haywire and most of the words get pushed together so I have to re-proofread and reformat the entire post.  After muddling through it long enough to get my Friday post up, I spent yesterday looking around to see if there was a way to undo the update.  I found that WordPress has released an official Plugin that will restore the old editor.  As much as I hate adding plugins to my site, the alternative, which is keeping a complicated new editor that I don't have time to properly learn how to use right now, is even worse.  For anyone else who is struggling with the new editor, here's the plugin link — Classic Editor.  I'm sure I'll revisit the updated editor at some point after the holidays once I've watched some videos or something on how to use it, but damn, bad timing WordPress.
I didn't get too much reading done this week with everything else that was going on, but I did manage to get through The Accidental Beauty Queen.  I have to say this was a case of the right book at the right time because it's such a sweet, fluffy, and fun read and it has so many of my favorite things in it.  I won't say much more since I'll be reviewing it later this week, but it was just a perfect fit for me this week.  I also started My Favorite Half-Night Stand yesterday and so far I'm really into it.   Watching You is the last review book I need to get through before the end of the year so that's on deck and then I hope to round out the year by finishing V.C. Schwab's Villains duology.  I haven't even looked to see what ARCs I need to read in January, so this reading plan may change a bit once I get into the 2019 frame of mind and see what I have going on.
Oh well, that's all I have.  I hope everyone has a great week!
WHAT I POSTED LAST WEEK
WHAT I'M READING THIS WEEK
 UPCOMING REVIEWS
 STACKING THE SHELVES
TOTALLY RANDOM
https://thebookishlibra.com/wp-content/uploads/2018/06/Weekly-Recap-Post.png
800
800
Suzanne
https://thebookishlibra.com/wp-content/uploads/2018/06/trimmed-Copy-of-Bookish-Logo-copy.png
Suzanne
2018-12-09 09:24:23
2018-12-09 09:24:23
Weekly Recap #81: Week of 12/2 -12/8