Early Review: THE PSYCHOLOGY OF TIME TRAVEL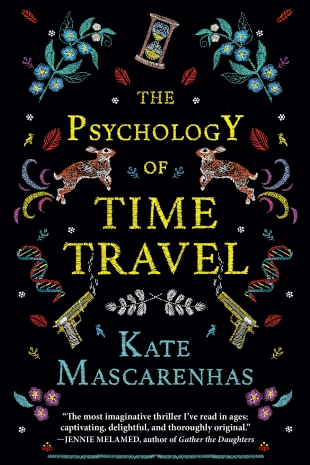 The Psychology of Time Travel
by
Kate Mascarenhas

Published by
Crooked Lane Books
on February 12, 2019
Genres:
Science Fiction
,
Mystery
,
Fiction
Pages:
336
Source:
the Publisher
Amazon
Goodreads
FTC Disclosure: I received a complimentary copy of this book from the publisher via the Publisher. All opinions are my own.
Today is my stop on the Crooked Lane Books blog tour for The Psychology of Time Travel.  Thanks so much to Crooked Lane Books and author Kate Mascarenhas for allowing me to read an advanced copy and share my thoughts on this exciting debut novel.
MY REVIEW:
The idea of being able to time travel is something that has captured my imagination since I was a child so I couldn't wait to get my hands on a copy of Kate Mascarenhas' debut The Psychology of Time Travel.  I was eager to see what kind of spin she put on the concept and let me just say right now that I was not at all disappointed.  Mascarenhas brings a fresh new perspective to time travel by focusing on not so much on the idea of traveling itself, but more so on how moving back and forth through time can affect the mental health of those who regularly engage in the process.
When the novel opens, it's 1967 and we are presented with four female scientists who are working together to build the world's first time machine.  These pioneers decide to test the machine themselves while everyone else is off for the Christmas holidays and when they determine the machine works, they immediately contact the media to present their discovery.  To their dismay, however, one of the scientists, Barbara, suffers a live on-air mental breakdown, which threatens not only their project but also the entire future of time travel.  At the urging of Margaret, who has proclaimed herself the leader of their little group, the other three scientists decide that kicking Barbara out of the project and shunning her completely is the best way to save their discovery and keep it moving forward.
We then jump forward in time 50 years to see that time travel now occurs on a regular basis and that Margaret and the other two pioneering scientists now head up The Conclave, an elaborate complex that basically has a monopoly on time travel all over the world.  They run psychological screens and recruit candidates to become time travelers, they have their own currency system in place so that time travelers will always be able to have access to money no matter where they are in time, and they also have their own laws and courts so that they can police themselves through time.
When a dead body riddled with bullet holes turns up in the basement of a museum in 2018, however, it adds an extra twist to this time travel story by turning it into a murder mystery as well and lends itself to some very thought provoking questions.  How is this murder connected to the rest of the story?  Is the deceased from the timeline he or she was found in?  How do you catch a killer that could have come from and/or disappeared to any other point in time?

There's a lot to love about this story but here are a few of my favorites:
Nearly all female cast of characters. If you enjoy a book with a full cast of strong female characters, then this is the book for you.  There is a minor male character or two in the book, but by and large, the story is led by women.  They have the brains, the power, the influence, and so on.  I won't go so far as to say that all of the women in the story are likeable because Margaret really is the worst, but I will say that it is a diverse and very interesting group.
Psychological effects.  To play off the book's title, the psychological effects on those who time travel were quite fascinating to read about.  The author clearly put a lot of thought into all of the possible reactions to having the ability to move back and forth through time.  For most who do it, it doesn't really affect them much.  They jump forward and backwards in time, even encountering past and future versions of themselves and they don't even bat an eye at it.  It doesn't faze them a bit.
But then there are others who become obsessed with it.  Barbara, for example.  Once Margaret and the gang kick her out of their project, she spends most of the rest of her life obsessing about how to figure out a way back into their good graces and into the program because she's desperate to time travel again.
Worldbuilding.  The worldbuilding in this story, especially with respect to the time traveling is just so intricate.   I thought it was brilliant that a time traveler could encounter older and younger versions of themselves. I also loved all the lingo the author came up with to describe time traveling itself and as well as the social structure within the Conclave.  I especially liked the idea that younger versions of yourself that you encountered were considered 'Green' while older versions of yourself that you encountered while time traveling were called 'Silver.'
And yes, this is one seriously mind-bending book. The synopsis does not lie about that. LOL!  There were times when I expected to completely lose the plot because of all the intricate crisscrossing back and forth through time, but I'll give the author major props in that she held on to all of the seemingly divergent threads of the story and managed to bring them all together to a cohesive and satisfying conclusion.
Ethical Questions.  I love a book that gives me food for thought and The Psychology of Time Travel definitely succeeded on that level.  In some ways the story can be quite disturbing, especially when it comes to the almost total disregard for danger and death that the time travelers have.  It's like they've seen themselves and their loved ones at so many different points in the past and future that they've become immune to the idea of dying. It has no meaning for them.
The Conclave also seems to be ripe for corruption as they have such a monopoly on time travel and have their own rules and currency and court system.  The way they manipulate the system and move their money around to pay taxes whenever it's most beneficial to them especially caught my attention.  I could see this book being a big hit with book clubs because there's just so much to think about and discuss.  Does absolute power corrupt absolutely?

Overall, I really enjoyed reading The Psychology of Time Travel.  The only real issue I ran into was that partway through the book, the author added some extra POVs to the storytelling.  What the new perspectives added to the overall plot was vital so I understood why the author added them, but it was a little confusing since I had gotten so used to the original voices who were presenting the story.  The later additions also didn't feel as developed as the earlier characters, which added to the challenge of keeping the characters and their places on the timeline straight in my mind.

Kate Mascarenhas' The Psychology of Time Travel offers a fresh take on the concept of time traveling.  It's equal parts science fiction and murder mystery, with a case study of the psychological effects of time travel thrown in for good measure. There's really a little something for everyone.  I definitely look forward to reading more from Kate Mascarenhas.
GOODREADS SYNOPSIS:

Perfect for fans of Naomi Alderman's The Power and Margot Lee Shetterly's Hidden Figures comes The Psychology of Time Travel, a mind-bending, time-travel debut.

In 1967, four female scientists worked together to build the world's first time machine. But just as they are about to debut their creation, one of them suffers a breakdown, putting the whole project—and future of time travel—in jeopardy. To protect their invention, one member is exiled from the team—erasing her contributions from history.

Fifty years later, time travel is a big business. Twenty-something Ruby Rebello knows her beloved grandmother, Granny Bee, was one of the pioneers, though no one will tell her more. But when Bee receives a mysterious newspaper clipping from the future reporting the murder of an unidentified woman, Ruby becomes obsessed: could it be Bee? Who would want her dead? And most importantly of all: can her murder be stopped?

Traversing the decades and told from alternating perspectives, The Psychology of Time Travel introduces a fabulous new voice in fiction and a new must-read for fans of speculative fiction and women's fiction alike.
https://thebookishlibra.com/wp-content/uploads/2018/12/psych-of-time-travel.jpg
2479
1653
Suzanne
https://thebookishlibra.com/wp-content/uploads/2018/06/trimmed-Copy-of-Bookish-Logo-copy.png
Suzanne
2018-12-06 06:00:58
2018-12-05 21:41:47
Early Review: THE PSYCHOLOGY OF TIME TRAVEL