Early Review: THE WINTER OF THE WITCH by Katherine Arden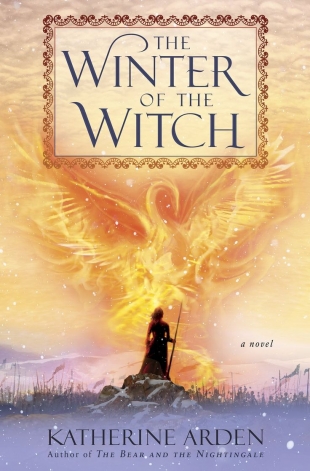 The Winter of the Witch
by
Katherine Arden
Also by this author:
The Bear and the Nightingale
,
The Girl in the Tower

Series:
Winternight Trilogy #3
Published by
Del Rey Books
on January 8, 2019
Genres:
Fantasy
Pages:
384
Source:
Netgalley
Amazon
Goodreads
FTC Disclosure: I received a complimentary copy of this book from the publisher via Netgalley. All opinions are my own.
MY REVIEW:
The Winter of the Witch is the final book in Katherine Arden's captivating Winternight Trilogy. I always find it difficult to review books that come late in a series because it's so hard to talk about them without giving away spoilers, but I'm going to give it my best shot here and hope that my words do it justice because  filled with unforgettable characters, intricate worldbuilding, and creatures from Russian folklore, the Winternight Trilogy truly is one of the most beautifully crafted series I've ever read.
To give a bit of general context for those who have begun the series, The Winter of the Witch picks up right where the second book left off.  Moscow is in ruins and its terrified citizens are looking for answers, and more specifically, for someone to blame.  That someone, unfortunately, becomes our heroine Vasya, and the final book begins with her fleeing for her life from an angry mob who accuse her of being a witch and want to see her dead.
War is also brewing as the Grand Prince of Moscow looks to go after those who threaten his kingdom.  While the Grand Prince prepares for war, the priest Konstantin has troubles of his own.  Although he may be a powerful religious figure, Konstantin is a weak man, easily manipulated by those stronger than he is.  In Konstantin's case, he finds himself the puppet of a vengeful demon named the Bear.  The Bear feeds off of chaos, fear, and war so he uses Konstantin to fan the flames of hatred and distrust to create chaos everywhere.
This chaos and turmoil affects not just the humans, but also the magical creatures.  Vasya finds herself with the weight of both worlds on her shoulders as she desperately tries to save both her Russian homeland and her beloved magical realm.
Can Vasya stop the Bear and Konstantin?  Can she stop a war?  And most importantly, is there any way that her magical pagan world can peacefully coexist with the human world?  It's a tall order, and Vasya isn't sure she's up to the task.

Vasya.  As with the two prior books, Vasya is my favorite part about this story.  We've watched her grow from a young girl to a young woman and there has just been such tremendous character growth throughout each book. That growth continues well into this final book and I can honestly say that Vasya is one of my all-time favorite book heroines.  I love her big heart, her refusal to conform to what is expected of her, and most especially, I love her resilience.  The final book presents Vasya with several heartbreaking, gut-wrenching moments – moments that probably would have crushed a lesser person – but no matter how low she is pushed down, she always picks herself back up and refuses to give up.
Worldbuilding.  I honestly didn't think Arden could improve upon the worldbuilding from the first two books, but she proved me wrong with the Winter of the Witch.  Again, I don't want to say much because of spoilers, but into her world of Russian inspired folklore, she introduces what she calls the Road to Midnight and for me, it's one of the most memorable and unique parts of the story.  Vasya finds herself journeying on this road as she desperately seeks help from the Frost Demon and the journey she takes is truly magical, so much so that it almost defies explanation.  It's kind of like time traveling but so much more.  You really have to experience it for yourself to get a feel for how wild a ride it really is.
Wonderful Secondary Characters.  Some like Solovey, Vasya's horse, and Morozko, the Frost Demon, I adored.  Others like the Bear and Konstantin, not so much. But whether I loved or hated them, this series has a fantastic and unforgettable cast of well-drawn characters.  We also meet several more mythological creatures in this final book and their bond of mutual respect with Vasya adds so much richness to the story and really emphasizes how she is a bridge between the two worlds.
Creative Use of History.  I didn't realize this until I read the author's note, but some of the characters and events in the series are based on real historical events, including a war.  Arden has, of course, put her own personal and creative twist on them, but the historical fiction fan in me thought it was very cool to learn the story was based on not just Russian folklore but on actual Russian history as well.
It made me cry.  This does not happen to me often when I read fantasy series, but The Winter of the Witch made me cry. Not just once or twice, but three times!  I won't say specifically why I cried, but I will say that two times, my tears were tears of sadness and one time, they were tears of joy.  That's how attached to these characters I got!

I dislike that the series is over because I'm going to miss these characters and this gorgeous world so much, but that's really all I've got.  For me, this series is about as close to perfection as it gets.

The Winternight Trilogy is, by far, one of the most unforgettable series I've ever read.  I love that while it's a wholly unique story inspired by Russian history and folklore, it's also reminiscent of some of my favorite childhood fantasies like The Chronicles of Narnia because the strong element of whimsical magic and wonder that permeates it.

GOODREADS SYNOPSIS:

Following their adventures in The Bear and the Nightingale and The Girl in the Tower, Vasya and Morozko return in this stunning conclusion to the bestselling Winternight Trilogy, battling enemies mortal and magical to save both Russias, the seen and the unseen.

Reviewers called Katherine Arden's novels The Bear and the Nightingale and The Girl in the Tower "lyrical," "emotionally stirring," and "utterly bewitching." The Winternight Trilogy introduced an unforgettable heroine, Vasilisa Petrovna, a girl determined to forge her own path in a world that would rather lock her away. Her gifts and her courage have drawn the attention of Morozko, the winter-king, but it is too soon to know if this connection will prove a blessing or a curse.

Now Moscow has been struck by disaster. Its people are searching for answers—and for someone to blame. Vasya finds herself alone, beset on all sides. The Grand Prince is in a rage, choosing allies that will lead him on a path to war and ruin. A wicked demon returns, stronger than ever and determined to spread chaos. Caught at the center of the conflict is Vasya, who finds the fate of two worlds resting on her shoulders. Her destiny uncertain, Vasya will uncover surprising truths about herself and her history as she desperately tries to save Russia, Morozko, and the magical world she treasures. But she may not be able to save them all.
https://thebookishlibra.com/wp-content/uploads/2018/12/winternight.jpg
1118
736
Suzanne
https://thebookishlibra.com/wp-content/uploads/2018/06/trimmed-Copy-of-Bookish-Logo-copy.png
Suzanne
2018-12-10 06:00:47
2018-12-09 20:38:50
Early Review: THE WINTER OF THE WITCH by Katherine Arden