Weekly Recap #73: Week of 9/30-10/6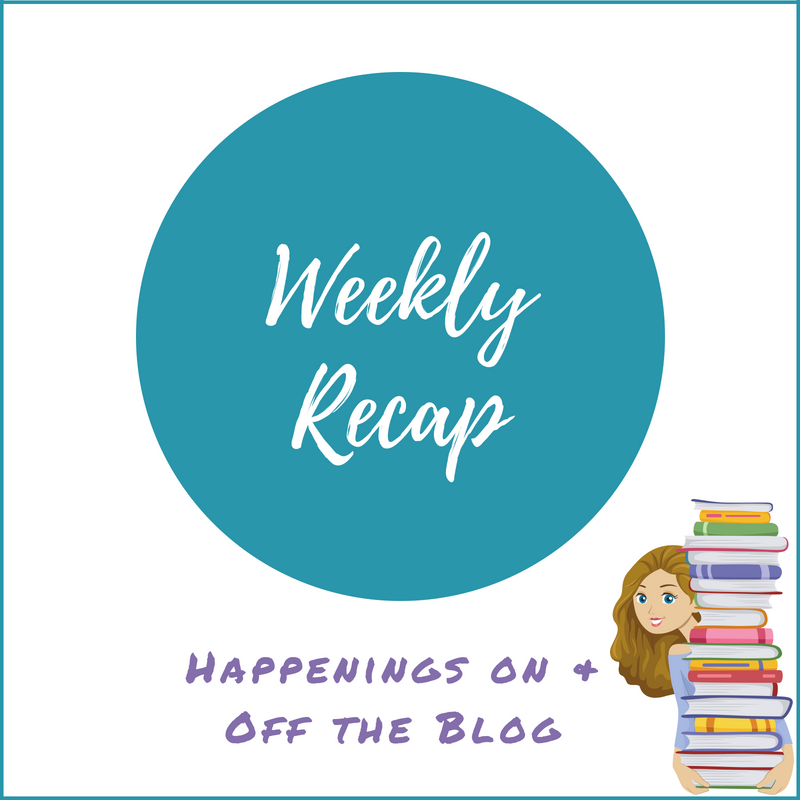 It's time for another weekly recap post of all things happening on and off the blog. This week I'll be linking to the Sunday Post, which is hosted by Caffeinated Book Reviewer and to Stacking the Shelves, which is hosted by Tynga's Reviews.
I don't have much to write about this week.  I've been busy at work with our last two major deadlines of the year looming on October 15th.  So I've been working, working, working all day and sitting around like a slug all evening, lol. On the plus side, I do have a trip to NYC coming up in a couple of weeks that I'm stoked about.  I still need to come up with a few more things to do, which sometimes gets challenging since I've already done most of the obvious touristy activities.  What I do know so far is that I'll be seeing Hamilton and Springsteen on Broadway while I'm there, celebrating my birthday which happens to be that week, and hanging out with one of my best friends so I'm really looking forward to it.
Because of my work deadlines, I didn't really get much reading done this week either. I finally finished Wildcard last night, and it was my only read for the whole week.  I don't know if it's just because I was so tired all week, but it took me a lot longer to read that one than Warcross and I found myself skimming at times.  I still ended up really liking it in the end thankfully, but I was surprised that I didn't find it more riveting since I thought Warcross was so epic.  My library loans for Sea Witch and Good Luck with That also came through at the end of last week, so I'm shuffling up my upcoming reads to try to fit those in before they're due to go back to the library.
Aside from that, I did find one new TV addiction.  I'm two years late to the party, but I'm officially obsessed with This is Us.  As I've been sitting around like a lump this week, I've watched 12 episodes from season 1 and can honestly say that all the hype surrounding this show is real.  I've loved every minute of it so far.  I still haven't watched a single new fall show yet and at the rate I'm going, that probably won't happen until after my trip.  If you've discovered any good ones though, let me know. Almost all of my shows got cancelled so I'll be looking for new ones to watch.
Oh well, that's it for me.  I hope everyone else has a great week!
WHAT I POSTED LAST WEEK
WHAT I'M READING THIS WEEK
 UPCOMING REVIEWS
 STACKING THE SHELVES
TOTALLY RANDOM
https://thebookishlibra.com/wp-content/uploads/2018/06/Weekly-Recap-Post.png
800
800
Suzanne
https://thebookishlibra.com/wp-content/uploads/2018/06/trimmed-Copy-of-Bookish-Logo-copy.png
Suzanne
2018-10-07 09:08:53
2018-10-07 09:08:53
Weekly Recap #73: Week of 9/30-10/6