Reviews for THE LOOK ALIKE and BEHIND EVERY LIE
It's time for another roundup of ARCs I've been reading.  This time I want to share a couple of fantastic thrillers that I've read recently, The Look Alike by Erica Spindler and Behind Every Lie by Christina McDonald.
The Look-Alike
Goodreads
Author: Erica Spindler
Publication Date: January 28, 2020
Publisher:  St. Martin's Press
Genre:  Thriller
FTC Disclosure: I received a complimentary copy of this book from Netgalley.  All opinions are my own.
Erica Spindler's latest novel The Look Alike is a gripping psychological thriller that follows Sienna Scott, a young woman who, while a college student, discovered a dead body in the snow one night as she was walking back home from the campus library.  The campus and local police were never able to solve the case.  Sienna is also dealing with some troubles at home. Her mother suffers from a condition that makes her both paranoid and delusional.  She believes that everyone is out to get her and, specifically, that they're going to hurt her by hurting her daughter. These circumstances create such a suffocating environment for Sienna that her father finally tells her she should leave home so that she can have some semblance of a life. Sierra stays away for 10 years but returns home to care for her mother after her father passes away.
As soon as Sierra returns, that unsolved murder begins to dominate her thoughts and a nagging thought she had all those years ago returns – She and the dead woman were wearing the same jacket that fateful night.  When strange things start happening – prank phone calls, a strange van driving past her house at all hours of the day and night, etc. – Sienna becomes even more convinced that she may have been the intended target and is now in danger. Is she right? Or is she just letting her imagination get the better of her?  Or is it possible her mother's condition is hereditary?
Wow, this book was such a wild ride! It was so suspenseful and filled with twists and turns that kept me guessing until the end. Every time I thought I had the murderer figured out, the author would introduce a new clue that would send me spinning off in another direction. I devoured The Look Alike in just a couple of sittings because I needed to know what happened and which girl was truly the killer's target.
I was also very much drawn in by the characters.  I felt tremendous sympathy for Sienna for all that she has had to contend with, and I felt equally sympathetic toward Sienna's mom. Yes, she can be suffocating at times, but it's the mental illness that makes her that way.  Imagine thinking day in and day out that someone is out to hurt you and your child. That would be pure hell for any parent.   With her latest novel, The Look Alike, Erica Spindler has crafted both a riveting murder mystery and an intense family drama about mental illness.  I highly recommend it!  4 STARS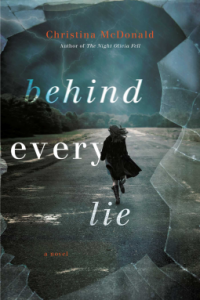 Behind Every Lie
Goodreads
Author: Christina McDonald
Publication Date: February 4, 2020
Publisher:  Gallery Books
Genre:  Thriller
FTC Disclosure: I received a complimentary copy of this book from Netgalley.  All opinions are my own.
With a title like Behind Every Lie, it's a pretty safe bet that you're in for a read filled with twists and turns, and author Christina McDonald does not disappoint. Behind Every Lie opens with a young woman named Eva Hansen frantically running down the street. She is clearly afraid, possibly in shock, and is covered in blood.  She stops for a moment, to take stock of her situation and then everything abruptly goes dark.  When Eva awakens, she is in the hospital being treated for, against all odds, a lightning strike.  Eva has no memory of what happened to her leading up to the moment she was struck by lightning, which becomes a real problem when a police detective shows up at the hospital and tells her that her mother has been stabbed to death.  Eva was found near her mother's house and covered with blood, so she is automatically the prime suspect.  Even with no memory of what happened that night, Eva is sure there's no way she could have killed her own mother so she flees the hospital and sets out to find the real killer and clear her name.
Those who follow my reviews know that I'm a sucker for a story that features a dual timeline and McDonald uses one here to great effect.  The story unfolds from both Eva's perspective in the present and her mother Kat's perspective in the past.  As Eva uncovers more and more details about her mother's life, the more she realizes her mother lived a life filled with secrets and lies and that by extension, Eva's entire life has been nothing but a lie.  She also realizes that whoever else knew about her mother's secret could very easily be the person who killer her.
Unreliable narrators can be hit or miss for me, but I really like the way it was used here.  Eva is unreliable quite simply because she has amnesia brought on by the lightning strike.  I loved the twists and turns that each returning memory added to the story, especially when the doctor said that she couldn't necessarily trust those memories at first.  The bits and pieces Eva keeps remembering have her doubting her own innocence even as she's finding evidence that there may be a real killer out there somewhere.
Behind Every Lie grabbed me from the opening scene and kept me riveted to the end.  If murder mysteries, dual timelines and unreliable narrators are your thing, be sure to add Christina McDonald's Behind Every Lie to your must-read list.  4 STARS
https://thebookishlibra.com/wp-content/uploads/2019/11/Mini-reviews.png
800
800
Suzanne
https://thebookishlibra.com/wp-content/uploads/2018/06/trimmed-Copy-of-Bookish-Logo-copy.png
Suzanne
2020-02-03 05:35:48
2020-02-02 20:44:42
Reviews for THE LOOK ALIKE and BEHIND EVERY LIE