Romance Reviews: FIRST COMES LIKE & THE WEDDING GAME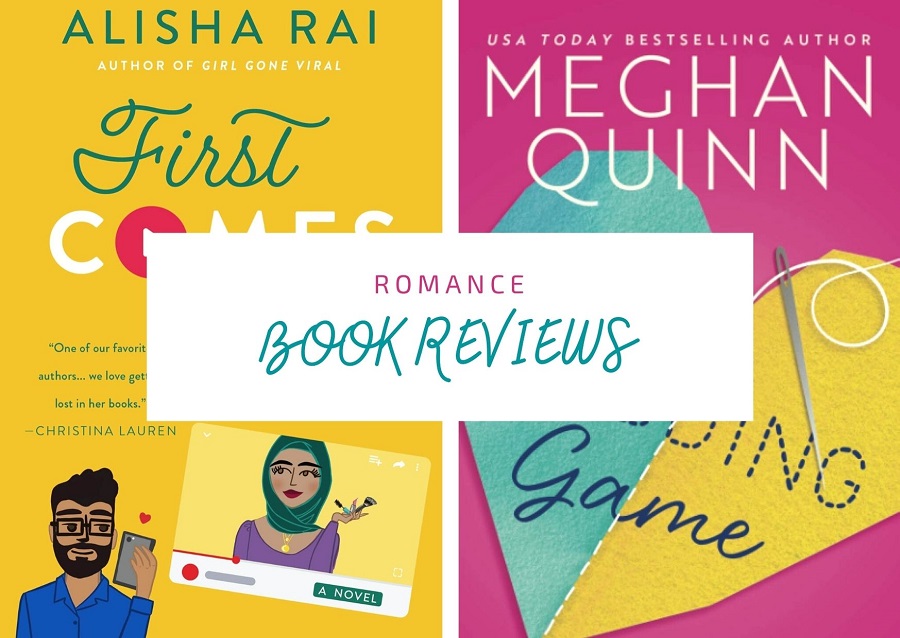 If you saw my Top Ten Tuesday post last week, you'll remember that I shared ten rom-coms I'm excited to read this year.  Well, in honor of Valentine's Day, I got a jump on reading them this past week and have reviews to share for the first two I read, First Comes Like by Alisha Rai and The Wedding Game by Meghan Quinn.
First Comes Like (Modern Love, #3)
Goodreads
Author: Alisha Rai
Publication Date: February 16, 2021
Publisher:  Avon
FTC Disclosure: I received a complimentary copy of this book from Netgalley.  All opinions are my own.
Even though I'm only reviewing First Comes Like, the latest book in Alisha Rai's Modern Love series, I actually binge-read all three books in the series last month.  Usually I'm terrible at keeping up with series, but once I started this one, I just couldn't stop reading.  What hooked me on Modern Love is the way Rai writes her main characters.  I love the mix of strength and vulnerability she infuses them with and of course, the chemistry is always off the charts. I also love that, as the title of the series implies, all of the books are modern and focus on where many people turn these days when they are looking for love, social media.
First Comes Like follows Jia Ahmed, who is a very popular beauty influencer on social media. She's busy making connections and trying to build her brand and has no time for men, although she's willing to make an exception for Dev Dixit, a sexy Bollywood soap opera star, who has recently slid into her DMs and started flirting with her. Jia decides to score an invite to a party for his new film so that she can finally meet Dev in person.  All is going swimmingly until she meets Dev face to face and he says he has no idea who she is.  Awkward!  It quickly becomes clear that someone has used Dev's social media account to catfish Jia; the question is who. Things between them take an even more awkward turn when paparazzi photos of Dev and Jia embracing become public. Even though the photos are in actuality way more innocent than they seem, the public and both of their families flip out and that's where things got really fun.
I had so much fun with this book.  I loved the chemistry between Jia and Dev, especially watching their relationship evolve from her wanting to kill him at that first party to the two of them working together to concoct a plan on how best to deal their families. I also really loved the focus on their beliefs and culture, in particular the respect Jia and Dev each gave to the other's beliefs as their relationship grows.  I also thought it was wonderful that Dev was so respectful of Jia's career.  He didn't think it was silly or shallow at all and even watched all of her videos and even helped her film and take photos.  The two of them were just really sweet together and I was of course rooting for them to continue to grow closer.
I wouldn't call this a hot and steamy romance, but it's definitely a sweet, slow burn and I enjoyed every page of it.  4 STARS.
The Wedding Game
Goodreads
Author: Meghan Quinn
Publication Date: March 1, 2021
Publisher:  Montlake
FTC Disclosure: I received a complimentary copy of this book from Amazon First Reads.  All opinions are my own.
Meghan Quinn's new novel, The Wedding Game is one of the most charming and entertaining romances I've read in a long time.  I laughed, I cried, and I honestly loved every single character in the book. Okay, well two of them I loved to hate, but you know what I mean!
Set in New York City, the story follows Luna Rossi, a self-professed jack of all trades when it comes to crafting. There's pretty much nothing Luna can't do when it comes to crafts and she even has her own very popular social media accounts where she offers tips and tricks to others who share her passion for all things crafty.  About the only thing Luna loves more than crafts is her brother, Cohen, so when she learns that a DIY reality TV contest called The Wedding Game is coming to NYC and is seeking contestants, she takes it upon herself to sign her brother and his fiancé up.  Luna lives to make sure the people she loves are happy and so can't resist the idea of giving her brother and the love of his life a perfect wedding day. Plus the grand prize of a NYC penthouse apartment for whoever designs the best wedding doesn't hurt either.  With the Queen of Crafts in their corner, how can they lose?
The Wedding Game also follows Alec, an attorney who, like Luna, has a brother, Thad, who is about to get married.  Unlike Luna though, Alec is not especially close to his brother and has no interest in his wedding plans.  Alec and Thad used to be incredibly close, but have drifted apart in recent years.  Thad sees the ad for The Wedding Game and begs Alec to do it with him and his fiancé.  For Thad, it's a great opportunity to get his family started off on the right foot, but even better, it's a chance for he and Alec to reconnect. Alec reluctantly agrees and it's off to the races.
The bulk of the story focuses on the contest itself and an unexpectedly fierce rivalry that develops between Luna and Alec.  Oh my goodness, you guys!  I don't want to give away any spoilers but these two have such intense chemistry from their very first hostile encounter.  It was hard to tell if they were going to kill each other or rip each other's clothes off, haha! I thoroughly enjoyed every scene they had together and some of their banter truly had me laughing out loud.  The evolution of their relationship had me captivated more and more with each turn of the page and before long, I was rooting for them to have a happy ending of their own.
It wasn't even just the relationship between Luna and Alec that had me so invested in The Wedding Game either. Honestly it was all of the relationships. Yes, this is a sexy, steamy enemies-to-lovers romance with a hilarious reality TV show as its backdrop, but it's also a beautiful and heartwarming story about love, family, and forgiveness that left me with a big smile on my face.  4.5 STARS 
https://thebookishlibra.com/wp-content/uploads/2021/02/book-review-graphic.jpg
638
900
Suzanne
https://thebookishlibra.com/wp-content/uploads/2018/06/trimmed-Copy-of-Bookish-Logo-copy.png
Suzanne
2021-02-15 05:45:36
2021-02-14 22:02:56
Romance Reviews: FIRST COMES LIKE & THE WEDDING GAME