Early Reviews: DARK OF THE WEST & COURTING DARKNESS
Dark of the West
by
Joanna Hathaway

Series:
Glass Alliance #1
Published by
Tor Teen
on February 5, 2019
Genres:
Fantasy
Pages:
480
Source:
Netgalley
Amazon
Goodreads
FTC Disclosure: I received a complimentary copy of this book from the publisher via Netgalley. All opinions are my own.
GOODREADS SYNOPSIS:

He was raised in revolution. She was raised in a palace. Can their love stop a war? Code Name Verity meets The Winner's Curse in Joanna Hathaway's Dark of the West, a breathtaking YA fantasy debut.

Aurelia Isendare is a princess of a small kingdom in the North, raised in privilege but shielded from politics as her brother prepares to step up to the throne. Halfway around the world, Athan Dakar, the youngest son of a ruthless general, is a fighter pilot longing for a life away from the front lines. When Athan's mother is shot and killed, his father is convinced it's the work of his old rival, the Queen of Etania—Aurelia's mother. Determined to avenge his wife's murder, he devises a plot to overthrow the Queen, a plot which sends Athan undercover to Etania to gain intel from her children.

Athan's mission becomes complicated when he finds himself falling for the girl he's been tasked with spying upon. Aurelia feels the same attraction, all the while desperately seeking to stop the war threatening to break between the Southern territory and the old Northern kingdoms that control it—a war in which Athan's father is determined to play a role. As diplomatic ties manage to just barely hold, the two teens struggle to remain loyal to their families and each other as they learn that war is not as black and white as they've been raised to believe.
Review:
Joanna Hathaway's Dark of the West is the exciting first book in her ambitious debut YA Fantasy series, Glass Alliance. Inspired by the political landscape of WWII, the worldbuilding in this novel is lush and intricate, and manages to feel familiar and yet unique all at the same time.  I think this is a series that is going to have a little bit of something for everyone:  political intrigue, war mongering, spies, assassinations, epic battle scenes, just to name a few.  As exciting as all of that sounds, however, what really makes the story come alive are the star crossed lovers at its heart, Athan and Aurelia,
I loved the portrayal of these two young people.  Athan is a gifted pilot and the youngest son of a famous and ruthless general.  The general's primary rival, is the Queen of Etania, who also happens to be Aurelia's mother.  When Athan's mother is unexpectedly gunned down by a sniper, Athan's father is convinced that the Queen is behind it and sends Athan on a mission to avenge his mother's death and to help his father overthrow the Queen.  It is while on this mission that Athan meets and falls in love with Aurelia, the one person he shouldn't be with.
What I loved about this story is that it is presented to us from the viewpoints of both Athan and Aurelia.  We get to see firsthand from each side what is happening with regard to the war preparations since war appears to be imminent.  But then we also get to see firsthand just how conflicted both Athan and Aurelia are when it comes to their wanting to remain loyal to their families, but also the undeniable attraction they feel for one another.  Athan's chapters were my favorites because in addition to witnessing all of the internal conflicts he is struggling with, we also get exciting chapters where he is in the sky, either flying training routes or actually engaged in battles in the air.  I kept thinking of Star Wars and Top Gun while reading those scenes and they were just such an adrenaline rush.
I did have a few issues with the book, however, which is why I've rated it what I have.  Aside from those flying scenes, I found the pacing of the first half of the novel to be somewhat slow.  I also wasn't a big fan of the prologue, which drops some pretty big spoilers about where the story is ultimately going as it pertains to Athan and Aurelia.  While that information made for an exciting beginning, it ended up leaving me frustrated as Athan and Aurelia don't even cross paths until almost the halfway point of the first book.  I honestly think I would have preferred no prologue. Even with those couple of issues, however, I still found Dark of the West to be a very solid first book in this series and I look forward to seeing how we end up at the scene we are presented with in the prologue.  3.5 STARS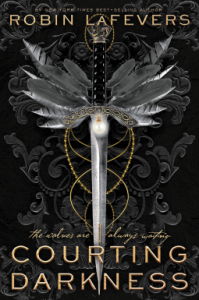 Courting Darkness
by
Robin LaFevers

Published by
HMH Books for Young Readers
on February 5, 2019
Genres:
Fantasy
,
Young Adult Fiction
Pages:
512
Source:
Netgalley
Amazon
Goodreads
FTC Disclosure: I received a complimentary copy of this book from the publisher via Netgalley. All opinions are my own.
GOODREADS SYNOPSIS:

Death wasn't the end, it was only the beginning…

Sybella has always been the darkest of Death's daughters, trained at the convent of Saint Mortain to serve as his justice. But she has a new mission now. In a desperate bid to keep her two youngest sisters safe from the family that nearly destroyed them all, she agrees to accompany the duchess to France, where they quickly find themselves surrounded by enemies. Their one ray of hope is Sybella's fellow novitiates, disguised and hidden deep in the French court years ago by the convent—provided Sybella can find them.

Genevieve has been undercover for so many years, she struggles to remember who she is or what she's supposed to be fighting for. Her only solace is a hidden prisoner who appears all but forgotten by his guards. When tragedy strikes, she has no choice but to take matters into her own hands—even if it means ignoring the long awaited orders from the convent.

As Sybella and Gen's paths draw ever closer, the fate of everything they hold sacred rests on a knife's edge. Will they find each other in time, or will their worlds collide, destroying everything they care about?
Review:
Robin LaFevers latest offering, Courting Darkness, is the first book in a new duology that follows some of the beloved characters from the popular His Fair Assassin series on a new adventure.  I didn't realize this was connected to the other series when I requested it, but aside from a few moments of confusion here and there, I was able to settle into the story and read it without too much difficulty.
Set in 15th century France, this story is full of secrets, lies, and danger as it revolves around conflicts between France and Brittany.  It is presented in alternating points of view from two assassin nuns, Sybella and Genevieve, who were trained at the convent of Saint Mortain.  I was a little confused about what exactly they were supposed to be doing, but the gist is that Genevieve is deep undercover in the French courts and has been so for years, awaiting word of her next mission, while Sybella is stationed with the Duchess of Brittany and ends up accompanying her to France when it is agreed that the Duchess should marry the King of France.  While there, Sybella and the Duchess find themselves in hostile territory with Sybella's siblings in the line of fire.  Determined to protect her sisters at all costs, Sybella starts scoping out all of the ladies in the French court, hoping to figure out which one is her fellow assassin so that the next phase of their mission can move forward.
While the politics, the deceits and the whole idea of assassin nuns are all quite interesting, even if a little confusing at times, my favorite part of the story was actually Sybella and Beast, one of the royal guards.  Their relationship was so sweet and it was ultimately what kept me turning the pages.  From what I'm hearing, they are a favorite pairing from His Fair Assassin so I definitely plan to go back and read more about those two, especially since I really did enjoy LaFevers' fluid writing style.  I didn't care for Genevieve quite as much as Sybella but I have a feeling that will change based on the excellent cliffhanger we're left with at the end of Courting Darkness.
I think Courting Darkness would have been an even better read for me if I had gone into it after reading the His Fair Assassins trilogy, but I still found it to be an exciting read, especially for anyone who is into political intrigue.  3.5 STARS
https://thebookishlibra.com/wp-content/uploads/2018/09/early-Mini-reviews.png
800
800
Suzanne
https://thebookishlibra.com/wp-content/uploads/2018/06/trimmed-Copy-of-Bookish-Logo-copy.png
Suzanne
2019-02-04 05:30:35
2019-02-03 18:35:45
Early Reviews: DARK OF THE WEST & COURTING DARKNESS