Romance Reviews: HOOK, LINE AND SINKER & MR. WRONG NUMBER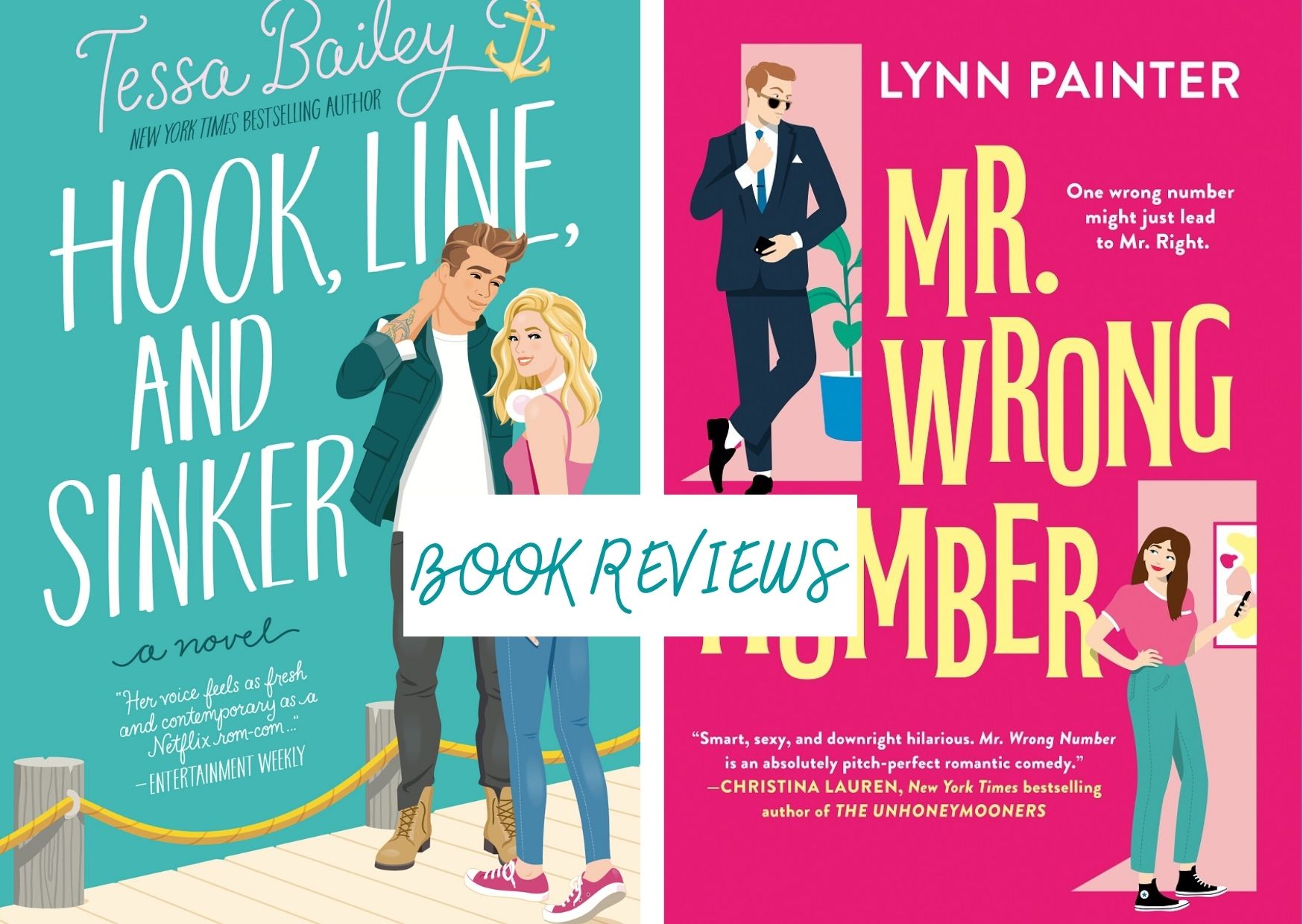 Happy Friday!  I'm back today to share reviews for two of my most anticipated romance reads of the year.  I actually have a couple more February ARCs to read and review, but my inner mood reader just wouldn't wait for these two any longer.  So happy to report that both of these reads lived up to my very high expectations, which is always nice.  🙂
Hook, Line, and Sinker (Bellinger Sisters, #2)
Goodreads
Author: Tessa Bailey
Publication Date: March 1, 2022
Publisher:  Avon Books
FTC Disclosure: I received a complimentary copy of this book from Netgalley.  All opinions are my own.
Tessa Bailey's new novel Hook, Line and Sinker is the follow-up to last year's popular romance, It Happened One Summer. The main characters of this installment are Hannah Bellinger and Fox Thornton, who we met in the first book.  It was pretty clear in that first book that the two of them were attracted to one another, and I loved both characters so I was very excited to head back to the small coastal town of Westport, Washington to see what, if anything, might develop between them. I was also hoping for a few glimpses of Hannah's sister, Piper, and her significant other, Brendan, our sunshine/grumpy duo from the first book and was not disappointed.
What I found most intriguing about Hannah and Fox is how truly vulnerable they both are.  On the surface, Fox seemingly prides himself on being a ladies' man and his reputation precedes him everywhere he goes.  The more we get to know Fox though, the more we see that Fox is actually quite uncomfortable with his reputation.  It has almost beaten him down to the point that he feels like he has nothing to offer any woman he actually cares about.  He's also attracted to Hannah but has been warned by pretty much everyone in Westport to stay away from her, that's she's too sweet for a player like him. He therefore settles for a friendship with her.
Hannah also has some insecurities.  She is passionate about music and would love to pursue a career putting together soundtracks for films, but she just doesn't feel she has what it takes.  As she tells Fox, she's just not "leading lady" material and will always be in the background.  Fox knows about her passion for music because it was at a vinyl album convention that the two of them first bonded and he makes it his mission to get her to see that she can do anything she puts her mind to.  Hannah treasures his friendship and support, and they grow even closer when Hannah, who is planning to stay with her sister when she comes to Westport, ends up staying with Fox instead due to some logistical issues.  Temporarily living together is all it takes for their friendship to grow into something more and I enjoyed watching them navigate the waters between friendship and more than friendship.
It takes a while for Fox and Hannah to get to where I wanted them to be, but I found their friendship to be very endearing so the slow burn didn't bother me at all.  They always have a great time together, but they are also there for each other when it counts, offering emotional and moral support as they each set out to figure themselves out and what they're actually capable of. Just as Fox makes it his mission to give Hannah the boost she needs, she does the same for him, making it her mission to prove to him that he is so much more than just a ladies' man with a handsome face.
Bottom line, Hook, Line, and Sinker is a slow burn romance that is worth the wait.  4 STARS
Mr. Wrong Number Goodreads

Author: Lynn Painter
Publication Date: March 1, 2022
Publisher: Berkley
FTC Disclosure: I received a complimentary copy of this book from Netgalley.  All opinions are my own.
Lynn Painter's novel Better Than the Movies was one of my favorite YA reads last year, but I think she has really outdone herself with Mr. Wrong Number, her new adult rom-com.
The story follows Olivia Marshall, a young woman who has a streak of bad luck a mile long.  She was cheated on and then dumped by her longtime boyfriend, she loses her job, and in a freak accident involving a bucket of burning love letters and a runaway possum, she manages to burn her apartment down and has to temporarily move in with her brother and his roommate, whom she loathes.  Olivia feels like she has pretty much hit rock bottom, but then life throws an unexpected twist at her in the form of a steamy text from a random wrong number.  With nothing else better to do, Olivia strikes up a conversation with Mr. Wrong Number and their exchanges form the basis of the hottest, most entertaining relationship she has ever had.
I adored Olivia. She's hilarious, sarcastic, down to earth, and just so relatable. I love that she's able to laugh at herself even when she's dealt a terrible hand and that she's even able to take her bad luck and spin it into a writing gig for herself.  Her text exchanges with Mr. Wrong Number also kept me in stitches. Without even having met, the two of them obviously had major chemistry.
I also quite enjoyed the relationship between Olivia and Colin Beck, the roommate she loathes.  Olivia's hatred of him springs from a childhood of him mocking and teasing her.  Olivia soon realizes that Colin isn't that obnoxious boy anymore. He has in fact grown up into a sexy beast with abs to die for, and he's actually quite thoughtful and kind-hearted.  I loved watching the two of them realize they're attracted to one another and then proceed to fight that attraction every step of the way.  Colin, in particular, tries hard to fight his growing attraction to her because she's his best friend's little sister, but then everything goes off the rails for him, when to his horror, he spots Olivia's phone one night and realizes she's the Miss Misdial he has been sexting with for weeks!  What's he supposed to do now?!
I don't want to give anything away but what a ride! The shenanigans, the miscommunication, it's the perfect blend of high drama and humor as we journey to the end to see if there's the possibility of a happy ending for Mr. Wrong Number and Miss Misdial.  I loved every page of this book and devoured it in a day. I honestly can't remember the last time I've laughed out loud so many times while reading a book – Mr. Wrong Number was pure joy for me and left me all the more eager to read more from Lynn Painter. 5 STARS
https://thebookishlibra.com/wp-content/uploads/2022/02/reviews-16.jpg
1240
1748
Suzanne
https://thebookishlibra.com/wp-content/uploads/2018/06/trimmed-Copy-of-Bookish-Logo-copy.png
Suzanne
2022-02-18 05:35:03
2022-02-17 21:47:02
Romance Reviews: HOOK, LINE AND SINKER & MR. WRONG NUMBER