Weekly Recap #17: Week of 9/3 – 9/9
Hey everyone!  It's time for another weekly recap post of all things happening on and off the blog. This week I'll be linking to the Sunday Post, which is hosted by Caffeinated Book Reviewer and to Stacking the Shelves, which is hosted by Tynga's Reviews.
What a busy week!  Between getting my son back into the school routine and getting caught up at work from being on vacation, I didn't really have much time or energy left over for reading.  I don't even want to think about how many hours I wasted just vegging in front of the TV after I got home from work each night, haha.  I watched an entire season of Shameless on Netflix and am almost finished with that show so I spent a lot of time just randomly scrolling through shows on there looking for something new to watch.  Wow, who knew how much time you could waste doing that?!
We also had our first soccer game yesterday.  It was a little stressful because we lost a few of our best players over the summer because they decided they wanted to join one of those travel soccer leagues.  We didn't have the money to go with them, so this year so this season is a rebuilding season for our team.  That said, we still managed to squeak out a victory yesterday so that was very exciting.  My son took a ball to the wrist and had to sit out most of the second half, but thankfully he's fine and ready to play again this week.  The game is right in the middle of the week so I've been hard at work this weekend making sure my blog posts are scheduled and ready to go.
Even with the busy schedule this week, I was still able to read a couple of great books, A Gentleman's Guide to Vice and Virtue and The Alice Network.  I hadn't originally planned to read Alice but found myself not in the mood to read anything I had originally planned to read and so grabbed that.  If you're into historical fiction, that one is a fantastic read about an all-female spy network during WWI.  I also started Forest of a Thousand Lanterns yesterday and am really enjoying it so far.  I'm not sure what I thought it was about, but the heroine seems to be somewhat of an anti-heroine so I'm pretty excited to keep reading.
I think that's it for me.  Have a great week, everyone!
WHAT I POSTED LAST WEEK
WHAT I'M READING THIS WEEK
UPCOMING REVIEWS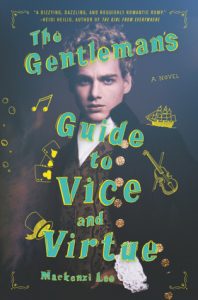 STACKING THE SHELVES
TOTALLY RANDOM
https://thebookishlibra.com/wp-content/uploads/2017/05/weekly-recap.jpg
1200
800
Suzanne
https://thebookishlibra.com/wp-content/uploads/2018/06/trimmed-Copy-of-Bookish-Logo-copy.png
Suzanne
2017-09-10 09:16:41
2017-09-10 09:37:50
Weekly Recap #17: Week of 9/3 – 9/9