Reviews: WITH LOVE FROM LONDON & COUNT YOUR LUCKY STARS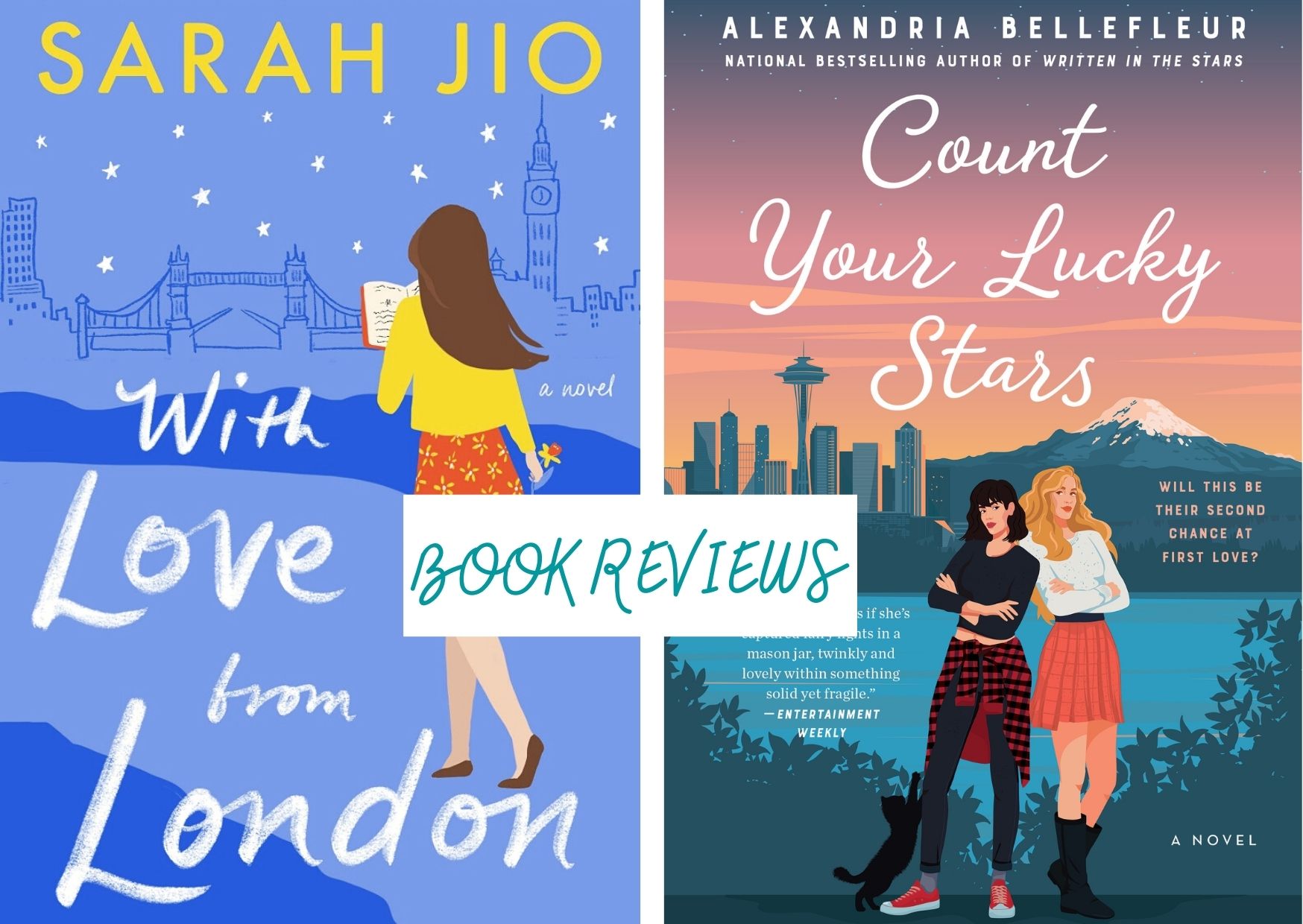 Happy Monday all!  I hope everyone had a nice weekend.  Mine was pretty quiet.  I did a few chores, read a little, and took a least a couple of accidental naps, lol.  Work has had me super busy so I guess my body was telling me it needed to recharge. Anyway, I'll be blog hopping today to catch up on what I missed while I was napping.  Today I'm sharing two wonderful reads that I enjoyed this week.  One came out last week and the other comes out this week so if they sound good to you, you won't have long to wait to pick up a copy. 🙂
With Love from London
Goodreads
Author:  Sarah Jio
Publication Date: February 8, 2022
Publisher:  Random House Publishing Group – Ballantine
FTC Disclosure: I received a complimentary copy of this book from Netgalley.  All opinions are my own.
Based on the number of tears I cried by the time I got to the end of Sarah Jio's new novel, With Love from London, I think it's safe to say this book is going to end up on my Best of 2022 list. Happy tears, sad tears, angry tears – I cried them all.
The story follows Valentina Baker, a librarian who is at a crossroads in her life.  She is recently divorced and has inherited a bookshop in London from her estranged mother, Eloise.  Valentina hasn't seen her mother since she was 12 and her mother abandoned her to move to London, so it's bittersweet news to hear that her mother is gone and there's no chance for a reconciliation or even an explanation as to why she left her child and never tried to contact her again. As Valentina heads to London to settle her mother's affairs and decide what to do about the bookshop, she also decides it's time to learn more about who her mother was and why she left. Unbeknownst to Valentina, Eloise has put together a special scavenger hunt for her that will allow her to learn everything she wants to know.
What I especially adored about this book is that we are given both Valentina's and Eloise's perspective. Even though I started out thinking what an awful, coldhearted woman Eloise must have been, as soon as I started learning her story and why she did what she did, my heart just broke for her and I just felt so angry on her behalf. We learn the truth about why Eloise left before Valentina does and that lends a sense of urgency. I desperately wanted Valentina to hurry up and solve all the clues so that she knew the truth about her mother and how much she truly did love her.  In that sense, both Eloise's and Valentina's stories were equally compelling and engaging.
It was a given that I would love the quaint London bookshop setting and I just knew that Valentina would have second thoughts about selling the building as soon as she laid eyes on what her mother had created. The bookshop is also where the scavenger hunt begins and what a special hunt it is.  It takes Valentina all around the local community so that she meets and befriends so many wonderful people who knew and loved her mother. I'm a sucker for books that feature found families and that's exactly what Valentina finds in London.  All of the characters she meets are great too – from her mom's stern but loveable best friend Millie, to the fun and quirky tenant who lives above the bookshop, and so many more.  They all immediately treat her like the family she never really had, which really makes her question whether or not she really even wants to return to her old life, where she was just lonely and unhappy.
There is a bit of romance in the book, but for me, With Love from London is more about Valentina's journey to know her mother than anything else.  It's a beautifully written story about the unbreakable bond that is mother-daughter love. 5 STARS
Count Your Lucky Stars (Written in the Stars, #3) Goodreads

Author: Alexandria Bellefleur
Publication Date: February 1, 2022
Publisher:  Avon and Harper Voyager
FTC Disclosure: I received a complimentary copy of this book from Netgalley.  All opinions are my own.
Nothing makes my heart sing more than a second chance romance so I couldn't resist requesting Alexandria Bellefleur's latest novel, Count Your Lucky Stars, as soon as I saw that it's a contemporary romance about two former best friends who might be the key to each other's second chance at love.  I'm so glad I did too!  To sum it up in 3 words, this book was sweet, swoony, and steamy!
Margot Cooper has sworn off relationships. Casual hookups are great, but no thanks to anything that involves love and a commitment. Margot has been fine with that for a while, but now that everyone in her friend group seems to have found their special someone, she feels more and more like she's on the outside looking in.  Those feelings intensify as the wedding plans for her friends Brendan and Annie are in full swing and love and romance are in the air 24/7.
When Margot comes face to face with Brendan's wedding planner, however, her world gets turned upside down.  The wedding planner is none other than Olivia Grant, Margot's childhood best friend and first love.  They haven't seen each other in a decade, but the moment their eyes meet, it's clear the feelings and the chemistry are still there. The only question is whether Margot will be brave enough to give love another chance.
I really loved watching Margot and Olivia rediscover each other.  They've been out of touch for so long, and Olivia is recently divorced so, like Margot, she's feeling vulnerable when it comes to love. The progression of their relationship felt very natural as we learn about their history together and watch them get reacquainted.  I especially loved the change in Margot, who we meet in the earlier books in the series.  She typically comes across as snarky, blunt, and downright hilarious so it was fun to finally see her softer side come out with Olivia.
While Count Your Lucky Stars could probably be read as a standalone, I highly recommend reading the first two books in the series before diving into this latest installment as those books introduce everyone in Margot's friend group and how each of them ended up with their special someone.  Reading the books in order had me completely invested in every character in the friend group, which made Count Your Lucky Stars all the more special for me. The writing is wonderful, the characters are lovable and their romances are all so moving. I flew through all three books in less than a week.  I don't know if there will be more books in the Written in the Stars series, but if not, I think Count Your Lucky Stars is a very satisfying conclusion. 4 STARS
https://thebookishlibra.com/wp-content/uploads/2022/02/reviews-14.jpg
1240
1748
Suzanne
https://thebookishlibra.com/wp-content/uploads/2018/06/trimmed-Copy-of-Bookish-Logo-copy.png
Suzanne
2022-02-07 05:35:02
2022-02-06 22:05:47
Reviews: WITH LOVE FROM LONDON & COUNT YOUR LUCKY STARS