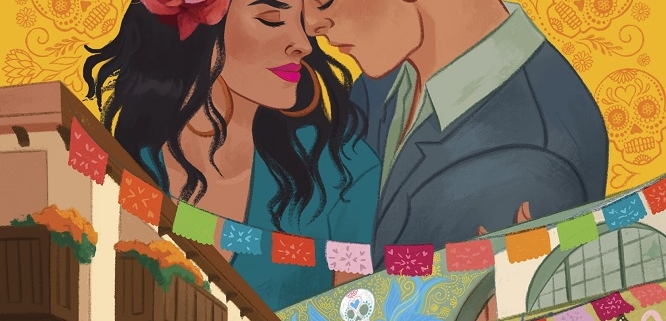 Blog Tour Review: Ramón and Julieta by Alana Quintana Albertson
Ramón and Julieta
by
Alana Albertson
,
Alana Quintana Albertson

Published by
Berkley Books
on February 1, 2022
Genres:
Contemporary Fiction
,
Romance
,
Retelling
Pages:
304
Source:
Netgalley
Amazon
|
Barnes & Noble
|
The Book Depository
Goodreads
FTC Disclosure: I received a complimentary copy of this book from the publisher via Netgalley. All opinions are my own.
As you can probably tell from its name, Ramón and Julieta by Alana Quintana Albertson is a retelling of the Shakespearean tragedy Romeo and Juliet.  Julieta Campos is a gifted chef who specializes in seafood based Mexican dishes.  She and her mother own a restaurant in Barrios Logan.  They have both sacrificed a lot to keep their restaurant open, but when Ramón Montez and his father, who own the Taco King fast food chain, buys up the entire street their restaurant is located on, they know their days as restaurant owners are numbered.  It stings all the more because the fish taco recipe Ramón's father used to build his Taco King empire is one he stole from Julieta's mother years ago. Needless to say, the Campos hate the Montez.
Ramón and Julieta have no idea their families hate each other when they first meet at the local Dia de los Muertos celebration. Ramón helps Julieta properly honor her recently deceased father after she misses the official procession to the cemetery.  Then he proceeds to serenade Julieta with romantic Mexican ballads.  The chemistry between them is undeniable and they can't wait to see each other again.  That is, until Julieta realizes who Ramón is. Even though she has very strong feelings for Ramón and he feels the same attraction, how can they possibly be together when his father betrayed her mother? Not to mention the fact that he's now her landlord and wants to turn her beautiful little restaurant and the other Mexican-American owned businesses on the block into Taco Kings and Starbucks.
I really loved Albertson's contemporary romantic spin on the original Romeo and Juliet.  The obstacles that threaten to tear Ramón and Julieta apart, while modern in nature, are still essentially the same obstacles Romeo and Juliet faced. If Ramón wants to be with Julieta, he cannot strip her beloved community of its culture, which means he must stand up to his father.  If Julieta wants to be with Ramón, she has to convince her mother that Ramón is not like his father, but she also has to face the fact that she may lose her business because of his family, as well as the love of her community since they will brand her a traitor if she chooses him.  They both have very tough decisions to make.  Do they choose each other or do they remain loyal to their families?
What I also loved about this take on Romeo and Juliet was that aside from the drama surrounding the star-crossed lovers, there's also a much lighter element to the story and that involves the Mexican food and the infusion of Mexican culture.  I loved the author's vivid descriptions of both the incredible sounding fish tacos Julieta was known for, and of the Dia de los Muertos festivities and costumes.  She brought it to life in such a way that I felt like I was there and a part of the wonderful community vibe.  She also had me seriously craving beer battered fish tacos, haha!
The big question though is that even though Ramón and Julieta is technically a contemporary romance, can a contemporary romance that is inspired by a Shakespearean tragedy have a happily ever after?  You'll have to pick up a copy of Ramón and Julieta if you want to find out!
https://thebookishlibra.com/wp-content/uploads/2022/02/ramon.jpg
1000
666
Suzanne
https://thebookishlibra.com/wp-content/uploads/2018/06/trimmed-Copy-of-Bookish-Logo-copy.png
Suzanne
2022-02-04 05:35:33
2022-02-04 07:11:37
Blog Tour Review: Ramón and Julieta by Alana Quintana Albertson