Reviews: MAGIC LESSONS and IN A HOLIDAZE
Today I'm sharing reviews of two of my most anticipated reads of 2020, Alice Hoffman's latest installment in her Practical Magic series and the new holiday-themed novel from Christina Lauren, In a Holidaze.  If these two books are any indication of the caliber of reads we can expect in October, I think we're all in for a real treat!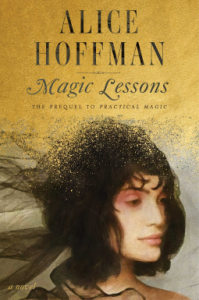 Magic Lessons
Goodreads
Author: Alice Hoffman
Publication Date: October 6, 2020
Publisher:  Simon & Schuster
FTC Disclosure: I received a complimentary copy of this book from Netgalley.  All opinions are my own.
Alice Hoffman is one of my favorite authors so, as you can guess, her latest novel, Magic Lessons, is one of my most anticipated reads of 2020.  I'm thrilled to say, not only did Magic Lessons meet my high expectations, it far exceeded them. I haven't had many 5 star reads this year, but Magic Lessons is definitely one of them.
Magic Lessons is Hoffman's third venture into the world of her beloved Owens witches.  Where Hoffman's second venture into this world, The Rules of Magic, gave us the backstory for the Owens sisters who grew up to be the aunts in Practical Magic, with Magic Lessons, Hoffman ventures back to the 1600s and the Salem Witch Trials, this time to give us the origin of the Owens bloodline as well as the events that led to the curse that has haunted their family for generations.
As always, what I love most about Hoffman's novels is that her storytelling is truly exquisite.  I felt transported back in time as soon as I started reading and was immediately caught up in the life of Maria Owens, the matriarch of the Owens witches.  Hoffman does such a beautiful job creating an unforgettable character and crafting an origin story for her that flows seamlessly into the other two books in the series.  As an infant, Maria was abandoned by her own mother, left in a snowy field in the English countryside.  A woman named Hannah Owens, who is gifted in the "Unnamed Arts" finds Maria and raises her as her own.  She recognizes that Maria shares her gift and therefore teaches her everything she knows.  After Hannah's death, Maria falls in love with a man and when he abandons her, she decides to follow him. This is how she ends up in Salem, right as the infamous witch hunts are getting underway, and this man's betrayal of her is what ultimately leads to the Owens curse everyone who has read the other books is so familiar with.
Magic Lessons is a gorgeous and atmospheric read and I found myself completely invested in Maria's journey, which is filled with both love and heartbreak, but also with hope, and of course with magic.  I especially loved watching all of the pieces fall into place, with little shout outs here and there to the magic we see in the books that come later in the Owens timeline.
If you're looking for the perfect atmospheric read to kick off spooky season, look no further than Alice Hoffman's Magic Lessons. It was everything I wanted for this series and more! 5 STARS
In a Holidaze
Goodreads
Author: Christina Lauren
Publication Date: October 6, 2020
Publisher:  Gallery Books
FTC Disclosure: I received a complimentary copy of this book from Netgalley.  All opinions are my own.
I don't normally start my holiday reading this early in the year, but I'm more than happy to make the exception when it's to read a new novel by Christina Lauren. Their latest collaboration, In a Holidaze,,  follows Mae Jones, a young woman who has found herself in a bit of a rut. She's stuck in a job that's going nowhere and is currently living with her parents.  Mae's life spirals in an even more downward direction when, at her family's traditional Christmas vacation at their best friends' cabin in Utah, two terrible things happen:  1) she drunkenly kisses the brother of the guy she's in love with, and 2) she learns their friends have decided to sell the cabin.
While Mae is mortified about kissing the wrong brother, she's truly heartbroken about the cabin because it's her absolute favorite place in the world and they've been coming there every Christmas for her entire life.  As they prepare to leave the cabin for what will be the last time, Mae makes one simple wish to the universe:  "Show me what will make me happy."  The universe is more than happy to oblige Mae's request, in its own special way, and Mae ends up somehow reliving this last week at the cabin over and over again because apparently the key to her happiness can only be found there.
I had so much fun reading this book!  I've always enjoyed the movie Groundhog Day so having that kind of déjà vu, time travel element in the story was such a treat for me.  I also really loved Mae and found her entire situation, and particularly her sadness about the potential loss of such a huge family tradition incredibly relatable.  I was in her corner every step of the way, hoping she would not only figure out what would make her truly happy but that she would also find a way to convince the family not to sell the cabin.
While I adored Mae, what really made the story such a special read for me was the family tradition and how it brought both family and friends together in such a wonderful way. I loved watching them spend the holidays together, especially all of their often hilarious holiday traditions.  They really did become one giant extended family over the years and it was just so heartwarming to read.
And it wouldn't be a Christina Lauren book if there wasn't a romance and I was totally on board with the romance in In a Holidaze.  Mae's chemistry with the brother she really is attracted to is undeniable, and he's adorable, so I really wanted her to figure out a way as she keeps reliving this week to make it work out between them.
If a mashup of the film Groundhog Day and your favorite Hallmark Christmas movie sounds good to you, I highly recommend Christina Lauren's In a Holidaze.  It's the perfect read to get you into the holiday spirit! 4 STARS
https://thebookishlibra.com/wp-content/uploads/2020/10/October-ARCs.jpg
800
800
Suzanne
https://thebookishlibra.com/wp-content/uploads/2018/06/trimmed-Copy-of-Bookish-Logo-copy.png
Suzanne
2020-10-05 05:35:52
2020-10-04 22:51:25
Reviews: MAGIC LESSONS and IN A HOLIDAZE