Reviews: THE MAID & RECKLESS GIRLS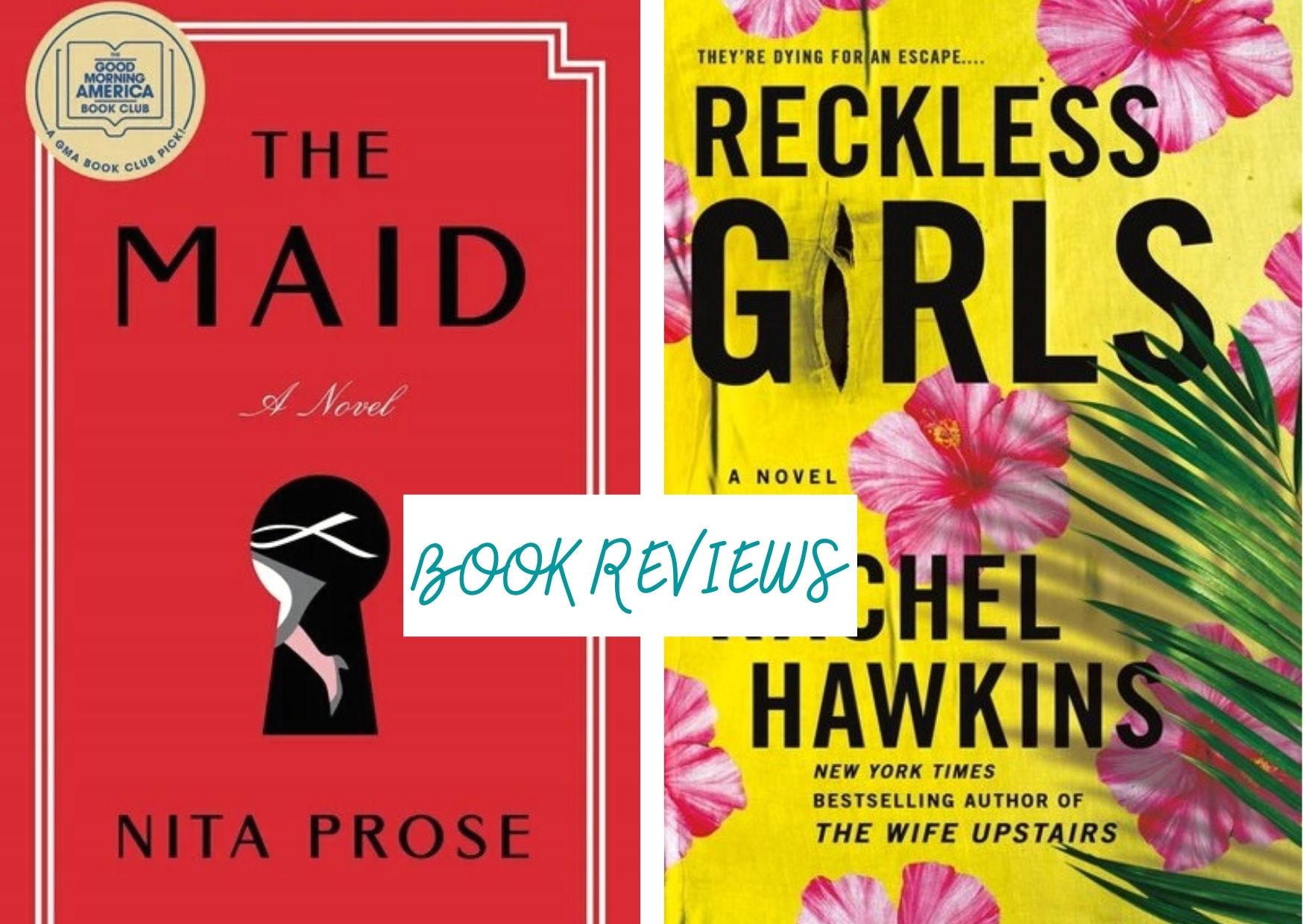 I'm not Sharon and it's not Thriller Thursday, but today I have two mystery/thriller reviews to share.  One is in the vein of a cozy mystery, while the other is somewhat of a locked door mystery that reminds me a lot of the TV show Lost.  I read both of these while I was on vacation the week after Christmas and quite enjoyed them.
The Maid
Goodreads
Author:  Nita Prose
Publication Date: January 4, 2022
Publisher:  Ballatine Books
FTC Disclosure: I received a complimentary copy of this book from Netgalley.  All opinions are my own.
The Maid by Nita Prose follows a lovable, quirky maid named Molly who discovers a dead man in one of the hotel rooms she cleans and then ends up wrongfully accused of the man's murder.
Molly is such a unique and charming character that I fell in love with her right away.  She may only be 25 but she has somewhat of an old soul, probably because she was raised by her recently-deceased grandmother.  Molly is all about cleanliness and order, and so she loves working as a maid to help bring a sense of order to the lives of others.  It was actually adorable listening to her describe her work with such pride and passion.  She reminded me a bit of Mary Poppins! Although she comes across as this old soul, Molly is also quite naïve and innocent in the ways of the world.  When someone befriends her, she immediately trusts that their motives are sincere.  Her trusting nature, endearing as it is, is unfortunately what lands her in hot water regarding Mr. Black, the murdered hotel guest.
The bulk of the story follows Molly as she sets out to prove her innocence and to figure out what really happened to Mr. Black. I don't want to give away too many details about the plot itself since it is a murder mystery, but I did want to share that what made this such a special read for me was that the entire story comes to us from Molly's perspective.  As you can imagine based on what I've shared about Molly and the way she views the world, it's quite an interesting and unique perspective.
Molly stole my heart and had me cheering her on to prove her innocence, but there were also several other fantastic characters in the story, a number of whom come to Molly's aid because they believe in her and because they know she has no one else in her corner now that her grandmother has passed away.  There's a definite "found family" vibe with these characters and I loved that for Molly.  It's not often that I think of a murder mystery as having a heart-warming element, but this one definitely does.
The Maid is an engaging mystery that is filled with twists and turns and features a heroine that you can't help rooting for.  I highly recommend this to anyone who enjoys mysteries, especially cozies. 4.5 STARS
Reckless Girls Goodreads

Author: Rachel Hawkins
Publication Date: January 4, 2022
Publisher:  St. Martin's Press
FTC Disclosure: I received a complimentary copy of this book from Netgalley.  All opinions are my own.
Reckless Girls by Rachel Hawkins is advertised as being perfect for fans of Lucy Foley and Ruth Ware and I agree wholeheartedly as those two authors immediately came to mind once I started reading this book. Reckless Girls is a variation on the locked door mystery in the sense that it takes place on an isolated island in the Pacific Ocean and the characters in the book end up stranded there.  We all know that no good can come from that and as the story unfolds, we get to see firsthand just how bad things can get.
The novel's main character is Lux, a young woman who has recently been fired from her job and is temporarily crashing at a friend's place with her boyfriend.  In need of cash and eager for an adventure, Lux and her boyfriend accept an offer to earn a tremendous amount of money by sailing two women, Amma and Britney, out to a remote island in the South Pacific that they keep hearing about.  What they don't realize is that they're about to get way more adventure than they had planned on, starting with a treacherous storm that nearly capsizes their boat before they even get to the island.  When they finally make it to the island, they realize they won't be alone because another man and woman apparently had the same idea they did.  No worries though. The more the merrier, right?  That is, until yet another stranger shows up and things take an ominous turn.  Missing people, disappearing boats, sabotaged radio equipment, the list goes on and on. If they're alone on the island, who is responsible?
I don't want to give away any spoilers, but I will say that the most fascinating part of the book for me were the backstories we get on each of the other characters who are on the island with Lux.  As their stories unfold, it becomes clear that no one is as they seem and there are definitely some hidden agendas as to why they have all converged on this island at the same time.  I enjoyed watching all of their threads come together to give a complete picture, especially as we follow Lux who is trying to put all of the same pieces together we are.  Hawkins definitely kept me guessing the truth about all of them until the very end.
Aside from the twisty mystery itself, I also really loved how atmospheric the story is. The island itself has an ominous, creepy history that we learn about as the story progresses.  It reminded me a lot of the TV show, Lost.  The story also has a Gothic, almost supernatural vibe to it at times.
One element that surprised me was that I didn't really like any of the characters in the book. I guess Lux is probably the one I cared about the most, but even then, I wasn't overly attached to her. Normally I don't like books where I don't feel like I'm rooting for anyone, but with this book, I was so curious about what bad things would happen next and whether or not they would all make it off the island alive, that not liking them didn't really bother me.
 If twisty thrillers, locked door mysteries, and Gothic settings are your jam, be sure to check out Reckless Girls.  3.5 STARS
https://thebookishlibra.com/wp-content/uploads/2022/01/reviews-10.jpg
1240
1748
Suzanne
https://thebookishlibra.com/wp-content/uploads/2018/06/trimmed-Copy-of-Bookish-Logo-copy.png
Suzanne
2022-01-07 05:35:33
2022-01-06 22:20:54
Reviews: THE MAID & RECKLESS GIRLS