Reviews: THE INITIAL INSULT & DESTINATION ANYWHERE
Happy Friday!  I hope you've all had a great week.  Mine was pretty good, just swamped at work as our busy season gets fully underway.  I still managed to get some reading done this week though, so I have two new ARC reviews to share today.  On the surface these are two books that are very different from one another, one with a dark vibe and one with a more uplifting vibe.  The theme that they both share, however, is friendship — friendships lost and friendships found.
The Initial Insult (The Initial Insult, #1)
Goodreads
Author: Mindy McGinnis
Publication Date: February 23, 2021
Publisher:  Katherine Tegen Books
FTC Disclosure: I received a complimentary audio copy of this book from Netgalley.  All opinions are my own.
Even though I haven't really been in the mood for dark reads lately, I couldn't resist Mindy McGinnis' new novel, The Initial Insult.  First because I'm a big fan of McGinnis' writing, and second, because The Initial Insult is a modern day retelling of the classic Edgar Allan Poe short story, The Cask of Amontillado.  I love Edgar Allan Poe and The Cask of Amontillado is a favorite of mine, so this was a must read.  You don't have to have read the classic Poe tale to understand and appreciate McGinnis' version though so don't let not having read the original deter you.  While it somewhat mirrors Poe's classic tale of revenge, The Initial Insult is at its core a story about a friendship that has fallen apart and all of the residual hurt feelings that still linger between the two former friends.
The Initial Insult follows Tress Montor, whose parents disappeared without a trace seven years ago.  The last person to see them alive?  Tress' then best friend, Felicity Turnado.  Tress' life has pretty much fallen apart since her parents disappeared, while Felicity has become the social climbing belle of the ball, so to speak. As their lives have moved in such opposite directions, so has their friendship until they basically become more enemies than friends.  It drives Tress crazy that Felicity can offer no insight into what happened to her parents, so she devises a dark and twisted plan to force Felicity to confess everything she remembers about that night because Tress is convinced she has been lying for all of these years.  Tress' plan involves bricks, mortar, manacles, and a party with lots of distractions so that no one will notice she and Felicity have gone missing. Sounds sinister, right?  Because it totally is!
I don't want to give away anything else about the story, but it's definitely a wild ride and a dark and twisted one at that.  I do have to say that I wasn't a huge fan of either girl, although I did sympathize with them both as we learn more and more about their friendship and about some other secrets they are each hiding.  They are both tragic characters in their own way, and Tress is definitely one of the more interesting and complex morally gray characters I've come across.
I do want to forewarn anyone who is sensitive when it comes to animals being harmed in books, there is a pretty devastating incident involving a family pet.  I hope that's not a spoiler, but I wish I had known it was coming when I started reading so I could mentally prepare myself for it.
The Initial Insult is a dark and heartbreaking read that ends on a jaw dropping note.  I didn't realize until I got to the end that it's actually the first book in a duology, so I can't wait to get my hands on the second book, which is apparently named The Last Laugh.  4 STARS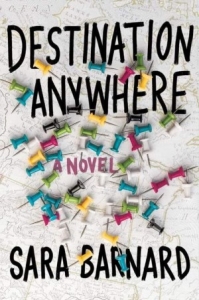 Destination Anywhere
Goodreads
Author: Sara Barnard
Publication Date: February 23, 2021
Publisher:  Simon & Schuster Books for Young Readers
FTC Disclosure: I received a complimentary copy of this book from Netgalley.  All opinions are my own.
Sara Barnard writes some of the most relatable stories I've ever read.  The struggles her characters face are struggles that I almost always identify with and that is definitely the case with her new novel, Destination Anywhere.  Destination Anywhere follows Peyton King, a seventeen-year-old college student who has struggled her entire life to make friends.  As if having no friends wasn't bad enough, she was also the target of relentless bullying for most of her school career.  Desperate to make friends once she arrives at college, she falls in with the wrong crowd and ends up in a world of trouble.  Between that and the fact that she's miserable at college because her parents are forcing her to study something she's not interested in, Peyton takes matters into her own hands.  She packs a bag and her sketchbook, buys a one-way plane ticket from England to Canada, and sets out to find herself and her own path in life.
Peyton's journey is presented in present day chapters, alternated with chapters from her past, and I have to say that those past chapters were truly heartbreaking.  I felt so bad for her as I was reading the feelings of self-doubt that Peyton expresses as she is rejected by classmate after classmate and then bullied by them on top of it.  Those thoughts of "What is wrong with me?"  or when she does finally find a potential friend and then overthinking it to the point where she's trying too hard and makes things awkward.  While I always had a core group of friends when I was in school, I was painfully shy and could relate to some of Peyton's inner monologue.
While those past chapters were somewhat painful to read, however, the present chapters were pretty amazing.  I loved watching Peyton's confidence start to grow as she learned from past mistakes and challenged herself to get out there, pursue her passion, and find like-minded people.  I was especially impressed with the way she stands her ground when it comes to her parents.  That can be a hard thing to do.
I don't want to give away any details of Peyton's journey, but one of the highlights of her trip for me was the friend group she meets when she checks in to the hostel in Canada.  It's a group of young travelers from all around the globe and they practically adopt her as their little sister and make it their mission to ensure she gets the most out of her trip and finds whatever it is she's looking for.  Their mission even turns into a road trip at one point and I'm all about a good road trip, so I especially loved those adventures and of course the gorgeous Canadian scenery.
Destination Anywhere is a lovely and heartwarming story about finding yourself and about finding your people.  It's one of those wonderful reads that engaged all of my emotions. I went from being heartbroken for Peyton to absolutely elated for her, and pretty much everything in between.  And don't even get me started on the ending, which left me crying happy tears.  Such an all around satisfying read.  4.5 STARS
https://thebookishlibra.com/wp-content/uploads/2021/02/friendship-1.jpg
1240
1747
Suzanne
https://thebookishlibra.com/wp-content/uploads/2018/06/trimmed-Copy-of-Bookish-Logo-copy.png
Suzanne
2021-02-19 05:45:36
2021-02-18 22:38:20
Reviews: THE INITIAL INSULT & DESTINATION ANYWHERE