Reviews: SPELLS FOR FORGETTING & THE WITCH AND THE TSAR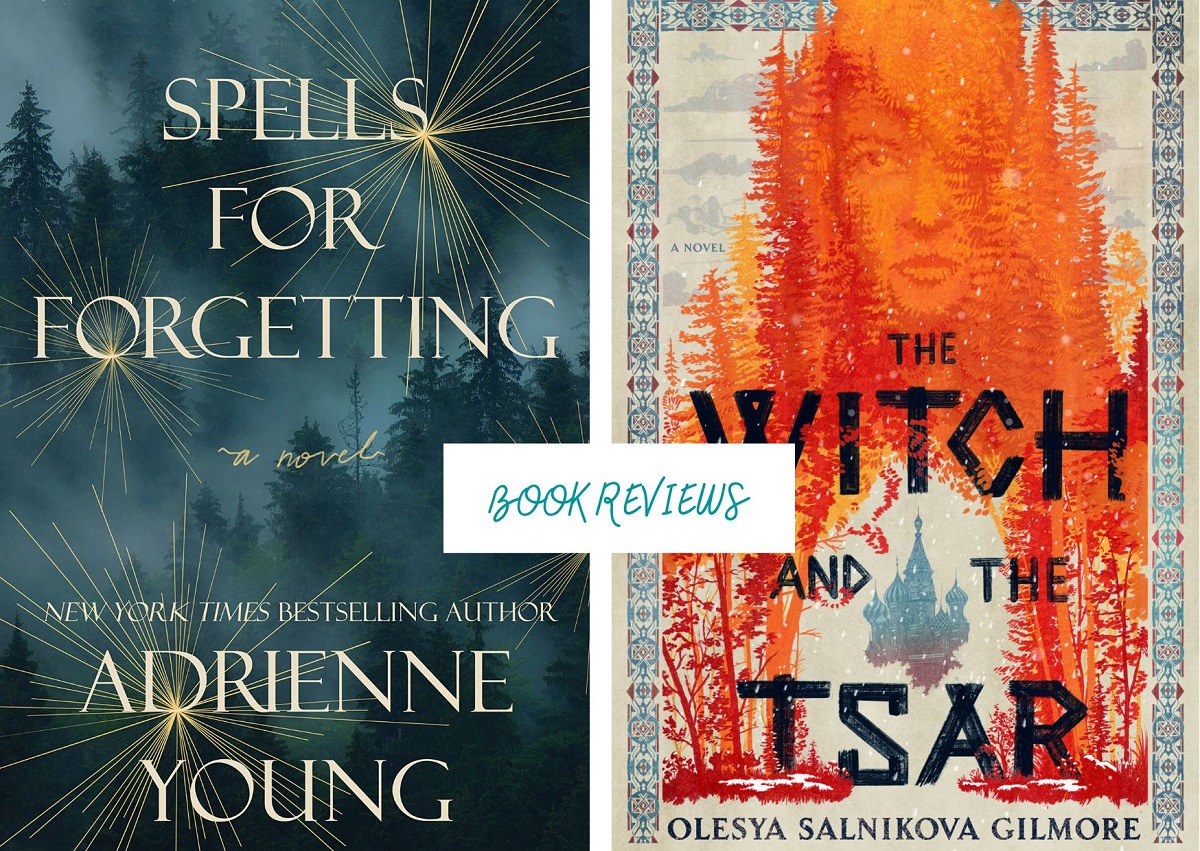 Hey everyone! Welcome to today's episode of life has gotten in the way of my blogging again.  Between trying to make a huge deadline at work this past Friday as well as being obsessed with where Hurricane Ian would go once it made landfall, blogging was the last thing on my mind so I have a lot of catching up to do this week.  Today I'm back to share reviews for two pretty unusual books, considering what a romance kick I've been on.  The first is a new favorite from an author I've been enjoying for a while now, and the second is a wonderful debut that I was drawn to because it's inspired by Russian folklore and mythology.
Spells for Forgetting
Goodreads
Author:  Adrienne Young
Publication Date: September 27, 2022
Publisher:  Random House Publishing Group – Ballantine, Delacorte Press
FTC Disclosure: I received a complimentary copy of this book from Netgalley.  All opinions are my own.
Spells for Forgetting by Adrienne Young was truly the perfect book to start off my spooky season reads.  Set on a remote and mysterious island that is steeped in folklore and magic, the story features a mystery surrounding an unsolved murder as well as a second chance at love for two individuals whose lives were deeply impacted by the murder.
Spells for Forgetting follows Emery Blackwood, a young woman whose life was turned upside down when her best friend Lily was murdered and her boyfriend, August Salt, is accused of killing her.  Although August is never formally charged with murder, nearly everyone on the island assumes he is guilty and so he and his mom leave Saoirse Island and attempt to start a new life elsewhere.  Emery is left behind to pick up the pieces of her own life.  For the past fourteen years, she has done so by working at her family's business, a tea shop that specializes in herbal tonics and tea leaf readings.  Emery senses that something strange is about to happen and her suspicions are confirmed when all of the trees on the island suddenly change color in a single night. A few hours later, Emery learns that August has returned to the island.  He has come home to bury his mother, and from the moment she sees him, Emery knows things will never be the same.
There's so much to love about this story, but Young's atmospheric writing is really the star of the show.  She really brings the island of Saoirse to life to the extent that it feels like an actual character in the book.  Surrounded by mist and with tourist life winding down as they head into the colder months, the island has an almost ominous and lonely vibe to it.  The hints of magical realism further bring the island to life as it seems to sense the return of August and the trouble his return will bring.
Speaking of August, I really felt for him and for Emery.  They were each other's first love and, according to everyone who knew them, their relationship was a special one.  I can't even imagine how devastating it must have been to have their relationship torn apart like it was.  It's also clear that they both still have intense feelings for one another and that they won't be able to stay away from each other even though everyone else on the island wants August gone immediately. I also felt sympathetic toward Emery once she decides it's time to dig deeper and find out what really happened to Lily.  She wants to clear August's name once and for all but what if he's not as innocent as she thinks he is?
I can't say much about what Emery finds, but oh boy, does she really shake things up.  It quickly becomes apparent that the island of Saoirse is full of secrets, lies, and betrayals.  Pretty much everyone who lives there seems to be hiding something.  I was on the edge of my seat watching Emery slowly unravel all of the secrets and lies until the truth of what happened to Lily is finally revealed.  I also loved that there were enough twists and turns that I didn't guess the big reveal either.
If you're in the mood for an atmospheric story about first loves and unsolved murders, be sure to pick up a copy of Spells for Forgetting.  You won't regret it! 4.5 STARS
The Witch and the Tsar Goodreads

Author: Olesya Salnikova Gilmore
Publication Date: September 20, 2022
Publisher: Berkley Publishing Group, Ace
FTC Disclosure: I received a complimentary copy of this book from Netgalley.  All opinions are my own.
The Witch and the Tsar is  Olesya Salnikova Gilmore's debut novel and it is a wonderful read!  Part historical fiction, part mythological retelling, the story takes us to medieval Russia where Ivan the Terrible rules and the country is on the brink of destruction.  Ivan is of course the Tsar in the novel's title, and the witch is none other than the legendary Baba Yaga.
The story centers around Yaga, who is half mortal, half goddess, and has been living alone in the forest for years, with only her animals and those who seek her out for her magical healing powers as companions.  One such person who seeks her out is Anastasia, her long-time friend and the wife of the Tsar. Anastasia has fallen ill and worries that someone in Moscow is trying to hurt her.  She begs Yaga to come out of exile and come to Moscow as her companion and protector.  Yaga can't refuse her friend but has no idea that she's about to find herself caught in a struggle to save the people of Russia from Ivan the Terrible, who is apparently being influenced (and driven mad) by the dark influences, specifically the immortal Lady of Death.  The Lady of Death hates Yaga because Yaga's healing work is at such odds with her own need for the souls of the dead, which sets up a showdown of sorts between the two.
I don't want to give any details of the plot away, but I just loved how the author has woven together actual events from Russian history alongside the mythological elements and Russian folklore to create an engaging and plausible tale as to why Ivan the Terrible goes mad.  The plot is intricate and well thought out and I found myself very invested in the author's version of the legendary Baba Yaga and the journey she finds herself on as the underdog in this story, not fitting in with the human world but not fitting in with the Gods either.  As she fights to save the people of Russia, she learns so much about her own history, her magic, and her place in the world.
With The Witch and the Tsar, Gilmore has an impressive debut on her hands and I look forward to reading more from her.  I highly recommend this book to anyone who enjoys stories inspired by Russian folklore and mythology and to anyone who enjoys witchy reads.  If you like witches, you'll love Baba Yaga.  4 STARS
https://thebookishlibra.com/wp-content/uploads/2022/10/reviews-40.jpg
851
1200
Suzanne
https://thebookishlibra.com/wp-content/uploads/2018/06/trimmed-Copy-of-Bookish-Logo-copy.png
Suzanne
2022-10-03 05:35:41
2022-10-02 22:50:50
Reviews: SPELLS FOR FORGETTING & THE WITCH AND THE TSAR