Top Ten Tuesday – Books I Finally Read in 2020 That Have Been on my TBR for Ages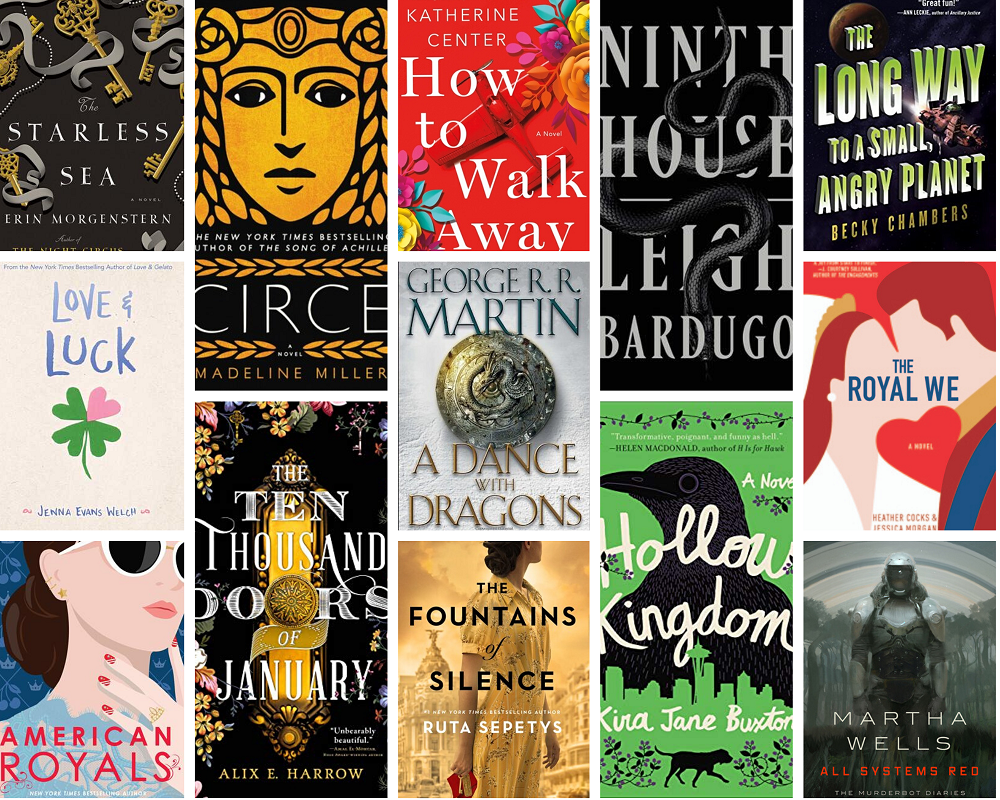 Top Ten Tuesday was created by The Broke and the Bookish in June of 2010 and was moved to That Artsy Reader Girl in January 2018. It was born of a love of lists, a love of books, and a desire to bring bookish friends together.  Top Ten Tuesday has been one of my favorite memes ever since I started blogging, so huge thanks to Jana for taking over the hosting duties!
This week's TTT topic is actually Book Events/Festivals I'd Love to Go to Someday.  As much as I'd like to go to a bookish event, I just wasn't feeling this topic so I decided to go rogue and share a topic I have been feeling lately.  What has me excited lately is that I've managed to knock quite a few older books off my TBR in 2020.  I've taken part in backlist challenges for the past three years but even with those challenges, I still only manage to knock about 30-35 books that I already own off my TBR each year.
I'm guessing it's because of the pandemic and just having so much more time to read, but whatever the case, I've already managed to knock 31 older books off my TBR and am over halfway through my 32nd.  I don't know if I'll be able to keep up with that pace since I haven't cut back on ARCs like I had originally planned to, but I had bumped up my goal to 50 backlist books for 2020 and I think/hope I'm going to crush that goal!
While I've been reading the older books, I really haven't been reviewing them, especially since some of them have been on my TBR for 5 years or more.  I did one backlist recap earlier in the year, so with this post, I'm covering everything I've read since then. I don't have much to say about them, but I'll share a few words and my rating for each.
* * * * *
Books I Finally Read in 2020 That Have Been on my TBR for Ages
The first two books are science fiction titles that have each been sitting on my TBR for several years now and I've had Martha Wells and Becky Chambers on my list of authors I need to try for a couple of years as well. I finally made it happen this year and loved both books.  The Long Way to a Small, Angry Planet is a fun space opera that features the most delightful "found family", while All Systems Red features a self-aware security droid who calls itself "Murderbot", doesn't like humans, and has hacked its own regulating module.  Murderbot fascinated me because, without that regulator in place, it could have easily turned on the humans and killed them all, but instead Murderbot chooses to help them.  Murderbot also loves to watch TV shows, which just cracked me up. Such fun reads and I gave them both 4 stars.
Hollow Kingdom is a surprisingly hilarious read about a crow named Shit Turd (S. T. for short) and a dog named Dennis who are trying to stop a zombie apocalypse and save the world.  Ten Thousand Doors of January is just a gorgeous and unique read.  The worldbuilding is incredible (kind of Narnia-esque with its use of the doors, which I just loved!) and the characters and their relationships and connections are just so wonderfully complicated. The story is filled adventure and danger, history and secret societies, family and love. You name it, this book has it. There's even a dog named Bad who's the best boy ever.  I rated each of these books 4.5 STARS.
I've also breezed through numerous contemporary reads this year.  The Royal We and American Royals fed my need for need for all things royal.  The Royal We explores the misadventures of what happens when the future King of England falls in love with an American, while American Royals reimagines American History and gives us a monarchy instead of a Presidency.  Both were fun reads and I gave them each 3.5 stars.  I just finished Love & Luck earlier this week and thought it was a such a fun read. I loved the road trip through Ireland aspect as well as the sibling dynamic between Addie and Ian.  Opposite of Always was another great read with a unique storyline. I was a big fan of the time travel element that has Jack in a loop where he keeps going back in time to see if there's anything he can change in order to save Kate, the girl he loves.  Is there choice he can make that ends with her not dying?  Stories like that fascinate me since it makes us examine the choices we make in life.  I rated both of these 4 stars.
How to Walk Away was my second read by Katherine Center and just like with the first, it was a 5 star, emotional roller coaster of a read for me.  I also squeezed in an older Christina Lauren book, Dating You Hating You, and thought it was delightful, everything I enjoy in an enemies to lovers story.  I loved the tension between the two rival coworkers and found myself chuckling most of the way through the book.  I rated this one 4 stars.  The Husband's Secret was next and while not my favorite Liane Moriarty novel, it was still a compelling read that follows the fallout after a woman opens a letter from her husband that she wasn't meant to open until after his death.  Those kinds of domestic dramas are always entertaining and this book earned 3.5 stars from me.  I read The Hamilton Affair after I watched Hamilton on Disney Plus.  I thought this historical fiction was a very nice companion piece to the musical and it fills in some gaps in Eliza's narrative that I found very interesting.  I rated this one 3.5 stars as well.
This group of titles were all anticipated reads for me during the year they were released but that I then set aside in favor of newer, shinier releases.  I just loved the way Madeline Miller brought so many well known mythological figures to life in Circe, while I gave myself a huge pat on the back for finally making my way through another George R.R. Martin book.  A Dance with Dragons was everything I wanted the previous book in the series to be and I'm now back to twiddling my thumbs and impatiently waiting for Martin to finish writing book 6.  Both of these reads were 4.5 stars for me.   The Starless Sea and Ninth House were also excellent reads. I loved the worldbuilding in each, and while they weren't my favorite novels by either author, I was still very pleased with them both and rated them 4 stars each.
This last group is a bit of a hodge-podge.  The Fountains of Silence is an excellent work of historical fiction by Ruta Sepetys that follows what life was life living under the rule of a Spanish dictator.  It featured a time period I hadn't read much about before and it held my interest from beginning to end and gave me characters I could easily root for.  Before I Fall is similar in story to Opposite of Always in the sense that the protagonist keeps reliving the last day of her life over and over again, each time making different choices to see if the outcome would be different.  Again, that kind of story fascinates me so I was hooked from beginning to end.  The Book Woman of Troublesome Creek is a work of historical fiction that focuses on the life of a Kentucky woman who works as a Pack Horse Librarian. She loads library books onto her mule, Junia, and takes them out to residents who live in the hills of Kentucky.  Without her, those folks would have no access to books, newspapers, etc.  This fascinated me because I had no idea there were ever librarians who worked in this manner.  Like Her Husband's Secret above, Never Have I Ever is a domestic drama that starts with a book club night gone wrong and is filled with secrets, lies, and lots of twists and turns.  Last but not least is Julie Murphy's Dumplin'.  I read this one and watched the Netflix adaptation and just loved everything about Willowdean Dickson and her larger than life personality and her love of all things Dolly Parton.  All of these books were 4 star reads for me.
* * * * * *
And there you have it, until the next time I feel motivated to share what older books I've been reading.
How are you doing with reading books you already own this year?  Have you read any of these yet?
https://thebookishlibra.com/wp-content/uploads/2020/07/backlist.png
800
1000
Suzanne
https://thebookishlibra.com/wp-content/uploads/2018/06/trimmed-Copy-of-Bookish-Logo-copy.png
Suzanne
2020-07-21 05:30:56
2020-07-20 21:15:30
Top Ten Tuesday – Books I Finally Read in 2020 That Have Been on my TBR for Ages