Can't Wait Wednesday – MAGIC LESSONS by Alice Hoffman
"Waiting On" Wednesday is a weekly event, hosted at Breaking the Spine, which encourages fellow bloggers to spotlight upcoming releases that we're excited about.  It is a meme that I have  loved participating in for over a year now, but as Jill is no longer actively posting, from now on I'll be linking to Can't Wait Wednesday, hosted by Tressa at Wishful Endings, which is a spinoff of the original WoW meme.
* * * * *
My selection for this week is MAGIC LESSONS by Alice Hoffman.  If you've followed my blog for a while, you'll know that Alice Hoffman is one of my all-time favorite authors.  I just love the way she tells a story and I think her writing is just so gorgeous and atmospheric.  Practical Magic is probably her best known book and in 2017, Hoffman gave us The Rules of Magic, a prequel that gave us some backstory for the beloved characters from Practical Magic.  Now with Magic Lessons, Hoffman is taking us back even further, all the way back to 1660's Salem to meet the matriarch of the Owens family, accused witch Maria Owens.  I'm so excited for this book and even more so because I just found out this morning that I got approved for an e-ARC. It's taking everything in me to not just shove all of my other review books aside and dive into this one.
MAGIC LESSONS by Alice Hoffman
Publication Date: October 6, 2020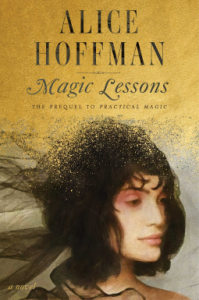 From Netgalley:
In an unforgettable novel that traces a centuries-old curse to its source, beloved author Alice Hoffman unveils the story of Maria Owens, accused of witchcraft in Salem, and matriarch of a line of the amazing Owens women and men featured in Practical Magic and The Rules of Magic.
Where does the story of the Owens bloodline begin? With Maria Owens, in the 1600s, when she's abandoned in a snowy field in rural England as a baby. Under the care of Hannah Owens, Maria learns about the "Unnamed Arts." Hannah recognizes that Maria has a gift and she teaches the girl all she knows. It is here that she learns her first important lesson: Always love someone who will love you back.
When Maria is abandoned by the man who has declared his love for her, she follows him to Salem, Massachusetts. Here she invokes the curse that will haunt her family. And it's is here that she learns the rules of magic and the lesson that she will carry with her for the rest of her life. Love is the only thing that matters.
Magic Lessons is a celebration of life and love and a showcase of Alice Hoffman's masterful storytelling.
* * * * *
I'd love to hear what upcoming book releases you're waiting on this Wednesday? Leave me your link in the comments below and I'll stop by and check out your CWW selection for this week. 🙂
https://thebookishlibra.com/wp-content/uploads/2020/04/magic-lessons-lg.jpg
2113
1400
Suzanne
https://thebookishlibra.com/wp-content/uploads/2018/06/trimmed-Copy-of-Bookish-Logo-copy.png
Suzanne
2020-04-15 05:35:38
2020-04-14 20:41:37
Can't Wait Wednesday – MAGIC LESSONS by Alice Hoffman