Top Ten Tuesday – My Ten Favorite Movies to Watch During the Holiday Season
Top Ten Tuesday was created by The Broke and the Bookish in June of 2010 and was moved to That Artsy Reader Girl in January 2018. It was born of a love of lists, a love of books, and a desire to bring bookish friends together.  Top Ten Tuesday has been one of my favorite memes ever since I started blogging, so huge thanks to Jana for taking over the hosting duties!
This week's TTT topic is actually Holiday Reads (Books you love reading during the holiday season.).  I really did try to do this week's topic, but I honestly couldn't think of ten books that I like to read during the holiday season.  I'm not a big re-reader anyway so A Christmas Carol is the only book that really came to mind aside from children's books, which I haven't read since my son outgrew most of my favorites.  So yeah, I ended up going rogue this week because even though I'm not a big re-reader, it has always been a tradition in my family to watch lots of Christmas movies together every year and I have a list of perennial favorites.  The holidays just aren't complete if we haven't watched all of these.  Some are childhood favorites that I just can't resist watching every year and some are newer favorites, basically movies that my son loves that have been incorporated into our yearly tradition.
* * * * *
10 Favorite Movies to Watch During the Holiday Season
1. NATIONAL LAMPOON'S CHRISTMAS VACATION
I'm sure there are some that find this movie tacky and appalling and completely inappropriate for Christmas, but I'm not one of them.  This is my all-time favorite Christmas movie.  I've watched it every year since it came out in 1989, practically have the entire movie memorized, and I still laugh at it just as much now as I did when I first watched it all those years ago.
* * * * *
2. MIRACLE ON 34TH STREET
I enjoy the original version of this film too, but this one from 1994 starring Richard Attenborough, Mara Wilson, and Elizabeth Perkins is the one my family watches every year.  I've always loved the premise of this story, where a lawyer and a six-year old girl must prove that a man claiming to be Santa Claus is the real thing, and we all love Mara Wilson from Mrs. Doubtfire  and Matilda, so this film is a great fit for us.
* * * * *
3. HOME ALONE
Like Christmas Vacation, Home Alone is a movie that I've watched every year since it first came out and it's still just as funny now as it was the first time I saw it.  Both Home Alone and Home Alone 2 (mainly because of my obsession with NYC) are staples in my family's holiday movie lineup.
* * * * *
4. IT'S A WONDERFUL LIFE
Now I have to confess that until I got married, I had never watched this film.  It's my husband's favorite though so he introduced me to it and we have watched it together every year since.  It truly is a classic.
* * * * *
5. A CHRISTMAS STORY
Talk about your timeless classics.  It never gets old watching poor little Ralphie trying to convince everyone that a Red Ryder BB gun is the perfect Christmas gift for him.  "I triple dog dare you" to watch it!
* * * * *
6. THE SANTA CLAUSE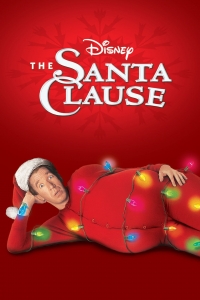 This is another of my son's favorites that has made it into our holiday viewing every year.  He loves all three of the movies, but the first one is my favorite.
* * * * *
7. THE NIGHTMARE BEFORE CHRISTMAS
This is yet another of my son's favorites (He loves Jack Skellington and Oogie Boogie) and Tim Burton's films always fascinate me anyway, so I'm game to watch it every year, especially because the animation is so impressive.
8. A CHRISTMAS CAROL
Several versions of the classic Dickens tale get a lot of play in my house every year at Christmas.  I have a soft spot for Mickey's Christmas Carol and the Disney version pictured above, but I also really like the version where Patrick Stewart plays Scrooge.
9. CHILDHOOD FAVORITES
I know these aren't actually movies, but it's my list so whatever.  Anyway, I don't know about you guys, but I still love to watch all of my old childhood favorites.  Charlie Brown and the Grinch are my favorites, but I also love Rudolph and Frosty.  Sometimes I'm the only one in my house who watches these, but they just give me such nostalgia which is a huge part of the holiday season for me.
10. ALL THE HALLMARK CHANNEL MOVIES!
Yeah, this one is all me too and it's a recent obsession going back just a couple of years.  I pretty much have the Hallmark Channel on in the background every day from Thanksgiving through New Year's. My husband just rolls his eyes at me, but I love the warm fuzzy vibe that all of the Hallmark holiday films have.  Plus it's fun when some of my favorite actors pop up in the occasional film.  So far this season I've seen Liz Mitchell from Lost, Elizabeth Henstridge from Marvel: Agents of SHIELD, and Lacy Chabert from Party of Five.
Question:  Do you have any favorite holiday films that you watch every year?
https://thebookishlibra.com/wp-content/uploads/2018/01/TTT-Big2.png
203
500
Suzanne
https://thebookishlibra.com/wp-content/uploads/2018/06/trimmed-Copy-of-Bookish-Logo-copy.png
Suzanne
2019-12-03 05:35:25
2019-12-02 22:11:11
Top Ten Tuesday – My Ten Favorite Movies to Watch During the Holiday Season