Can't Wait Wednesday – Spotlight on The Hazel Wood
"Waiting On" Wednesday is a weekly event, hosted at Breaking the Spine, which encourages fellow bloggers to spotlight upcoming releases that we're excited about.  It is a meme that I have  loved participating in for over a year now, but as Jill is no longer actively posting, from now on I'll just be linking to Can't Wait Wednesday, hosted by Tressa, which is a spinoff of the original WoW meme.
* * * * *
My selection for this week is THE HAZEL WOOD by Melissa Albert.  I just think everything about this book sounds so brilliant, like nothing I've ever read before and all of the advance praise I've seen for it (see below!) have me thinking it will be a real contender for my 2018 favorites reads list!
THE HAZEL WOOD by Melissa Albert
Publication Date:  January 30, 2018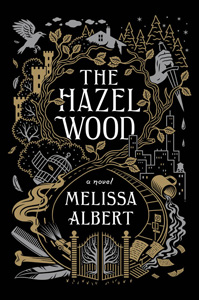 From Goodreads:
Seventeen-year-old Alice and her mother have spent most of Alice's life on the road, always a step ahead of the uncanny bad luck biting at their heels. But when Alice's grandmother, the reclusive author of a cult-classic book of pitch-dark fairy tales, dies alone on her estate, the Hazel Wood, Alice learns how bad her luck can really get: Her mother is stolen away―by a figure who claims to come from the Hinterland, the cruel supernatural world where her grandmother's stories are set. Alice's only lead is the message her mother left behind: "Stay away from the Hazel Wood."
Alice has long steered clear of her grandmother's cultish fans. But now she has no choice but to ally with classmate Ellery Finch, a Hinterland superfan who may have his own reasons for wanting to help her. To retrieve her mother, Alice must venture first to the Hazel Wood, then into the world where her grandmother's tales began―and where she might find out how her own story went so wrong.
* * * * *
"Simultaneously wondrous and horrific, dreamlike and bloody, lyrical and creepy, exquisitely haunting and casually, brutally cruel. Not everybody lives, and certainly not 'happily ever after'―but within all the grisly darkness, Alice's fierce integrity and hard-won self-knowledge shine unquenched."  ―Kirkus Reviews, starred review
"An empowering read that will be especially popular with fans of fairy-tale retellings."  ―SLJ, starred review
"The Hazel Wood is thoroughly, creepily captivating, with surprises I never saw coming! Such a refreshing and beautifully written inversion of the classic fairy tale-inspired story."
―Kristin Cashore, award-winning and New York Times bestselling author of the Graceling Realm series and Jane, Unlimited
"This book will be your next literary obsession. Welcome to the Hazel Wood, where bad luck is a living thing, princesses are doomed, and every page contains a wondrously terrible adventure―it's not safe inside these pages, but once you enter, you may never want to leave. The Hazel Wood is pure imagination candy." ―Stephanie Garber, New York Times bestselling author of Caraval

"Dark, spellbinding, and magical. One of the most original books I've read in years―The Hazel Wood is destined to be a classic." ―Kami Garcia, #1 New York Times bestselling coauthor of Beautiful Creatures and author of The Lovely Reckless

"Reader, I warn you: this book beckoned me in with delicate claws then sank its teeth into my heart. I fear a part of me will never escape The Hazel Wood." ―Heidi Heilig, author of The Girl from Everywhere and The Ship Beyond Time
"Melissa Albert's The Hazel Wood is an elegant dark fairy tale, full of the power of story. It's creepy and gorgeous, and I loved every word." ―Kat Howard, author of Roses and Rot

"Elegant, ethereal, and beautifully brutal, The Hazel Wood is a fairy tale worth falling for. This is a dream of a book I cannot recommend highly enough. It's like falling into a nautilus shell: every time you think you've found the end, another chamber opens. Absolutely breathtaking." ―Seanan McGuire, New York Times bestselling author of Every Heart a Doorway

"WOW. The Hazel Wood is absolutely mesmerizing, magical, and inventive. Hats off to Melissa Albert!" ―Karen McManus, New York Times bestselling author of One of Us Is Lying
"Dark, haunting, and absolutely mesmerizing: The Hazel Wood grabbed me with its mysterious, upside-down fairy tales, full of thorns and sharp twists. In no time at all, I became obsessed with this book, willing to follow it anywhere―even deep into the Hinterland." ―Jodi Meadows, New York Times bestselling coauthor of My Lady Jane and author of Before She Ignites
"The Hazel Wood kept me up all night. I had every light burning and the covers pulled tight around me as I fell completely into the dark and beautiful world within its pages. Terrifying, magical, and surprisingly funny, it's one of the very best books I've read in years." ―Jennifer Niven, New York Times bestselling author of All the Bright Places
"A winding, creepy, insidiously delicious novel. Utterly spectacular. I read it in one sitting!" ―Melinda Salisbury, author of The Sin-Eater's Daughter

"Full of dark, twisty corners and eerie beauty, The Hazel Wood is like nothing else I've read before." ―Evelyn Skye, New York Times bestselling author of The Crown's Game
* * * * *
I'd love to hear what upcoming book releases you're waiting on this Wednesday? Leave me your link in the comments below and I'll stop by and check out your CWW selection for this week. 🙂
https://thebookishlibra.com/wp-content/uploads/2017/10/hazel-wood.jpg
1000
662
Suzanne
https://thebookishlibra.com/wp-content/uploads/2018/06/trimmed-Copy-of-Bookish-Logo-copy.png
Suzanne
2017-10-18 06:00:07
2017-10-17 21:33:33
Can't Wait Wednesday – Spotlight on The Hazel Wood