Reviews: TO HAVE AND TO HEIST, THE CHEAT SHEET, & THE BOYFRIEND CANDIDATE
Happy Monday! I hope you all had a wonderful weekend.  Today I'm back to share my thoughts on some fun romance novels I read this past week.  One is a brand new release from Sara Desai, while the other two are books I purchased when they came but hadn't gotten around to yet.  I'm still actively working on the goal to read more books from my own shelves so I was excited to actually read two of them back to back.  Anyway on to the reviews!
To Have and to Heist Goodreads

Author: Sara Desai
Publication Date: July 18, 2023
Publisher: Berkley
FTC Disclosure: I received a complimentary copy of this book from the publisher via Netgalley.  All opinions are my own.
Sara Desai is one of my favorite rom com authors.  I always know I'm going to be in for a good time and lots of laughs when I pick up one of her novels and her latest release To Have and To Heist is no exception.  I love a good heist story and this one is just full of shenanigans and such a fun time.  Imagine a mashup between the Ocean's 11 movies and the Finlay Donovan series and that's the vibe of this book.
When we first meet the protagonist, Simi Chopra, her life is a mess. She has just been fired, is drowning in student loan debt, and has been forced to move back in with her parents because her apartment flooded. Worse than all of that combined though, her best friend Chloe has just been accused of stealing a multimillion dollar diamond necklace.  I adored Simi. She's smart and resourceful, and her messy life is all too relatable.
I also loved how much of a loyal friend she is. It's her sense of loyalty that really drives the plot of this story, because as soon as Chloe calls Simi and tells her she's trapped in a museum that someone else has broken into, Simi's first instinct is to drop everything and try to rescue Chloe all by herself. When her attempts fail and she hears the police sirens, Simi refuses to give up and even tries to scale the outside of the museum with nothing but her bare hands.  Who wouldn't want a friend like that? Simi then makes it her mission in life to exonerate Chloe and with the guidance of Jack, the mysterious man who grabbed Simi before the police could spot her, Simi orchestrates a jewelry heist of her own to steal the necklace back from the thieves, all while serving as the wedding planner for the biggest wedding in town. What could possibly go wrong?
My absolute favorite part of the novel is the motley crew that Simi assembles for this heist.  Aside from her bestie Chloe, Simi's team consists of Rose, her octogenarian landlord; Jack the mystery man; Cristian, who works with her dad at his tailor shop but also has a side hustle as a male escort; Emma, the aggressive Uber driver who drove Simi to the museum to try to save Chloe; Anil, a tech nerd who still lives with her meddlesome matchmaker parents; and lastly, gun-toting, broody Gage, who Jack has brought in as the muscle.  It was hilarious to watch this crew in action as they fumbled and bumbled their way through every aspect of the heist, and I just adored them all!
There's a bit of a slow burn romance as well, and while I definitely enjoyed that aspect, it took a backseat in comparison to all of the action and comedy of the heist plot.  I was fine with that though since the book was just such a fun time!  If you've enjoyed books like the Finlay Donovan series, you'll definitely want to check out To Have and To Heist.  4 STARS
The Cheat Sheet Goodreads

Author: Sarah Adams
Publication Date: August 17, 2021
Publisher:  Originally self-published, later re-released by Dell
I've really enjoyed Sarah Adam's most recent romances, When in Rome and Practice Makes Perfect, so I decided it was time to go back and read one of her earlier novels, The Cheat Sheet, which apparently was a huge hit on BookTok. As soon as I started reading it, I was hooked and wanted to kick myself for not picking it up sooner.
The Cheat Sheet features two of my favorite tropes, friends to lovers and fake dating, as well as two of the most adorable protagonists.  Bree Camden has been in love with her best friend Nathan for as long as she can remember.  Bree is sure that Nathan doesn't feel the same way though so she keeps her feelings a secret so as not to make things awkward between them.  Nathan also happens to be a huge NFL star so the paparazzi is always in his business. When a bitter ex girlfriend tries to embarrass Nathan by criticizing his skills in the bedroom, Bree defends his honor, albeit unwittingly to a tabloid reporter.  When her video goes viral and the internet decides Bree and Nathan are perfect together (even though they aren't actually together), Nathan's publicist cooks up a fake dating scheme to capitalize on all of the media attention. Although reluctant, both Bree and Nathan agree to go along with it, mainly because they both know how much the money would help Bree who is struggling to keep her dance studio open.
I'm probably the last person on the planet to have read this book, so I'm sure I don't have anything left to say about it that hasn't already been said.  Bottom line, I just loved both Bree and Nathan. They were so sweet together, even if I did occasionally want to knock their heads together for not realizing how they really felt about one another sooner.  I thoroughly enjoyed watching the show they put on for the media give rise to the real feelings that had been hidden right in front of them for so long. If like me, you started your Sarah Adams journey with When in Rome and Practice Makes Perfect, I highly recommend grabbing a copy of The Cheat Sheet.  You won't regret it! 4 STARS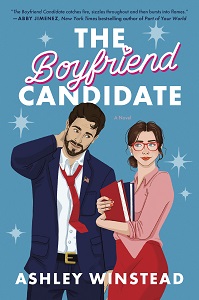 The Boyfriend Candidate Goodreads

Author: Ashley Winstead
Publication Date: May 9, 2023
Publisher:  Graydon House
I'm a big fan of Ashley Winstead's thrillers, but somehow had yet to read one of her romance novels.  When I saw that both Lynn Painter and Abby Jimenez, two of my favorite romance authors had praised The Boyfriend Candidate, I knew I had to read it.   I'm so glad I did too because it was an absolute delight!
I'm a sucker for a book that features bookish characters and the main character Alexis is a school librarian.  When we meet Alexis, she is reeling from an embarrassing breakup where her ex has just dumped her for being too meek in the bedroom.  She takes this as a sign that she needs to change and decides that her first step in that direction will be her very first one-night stand. She heads to a hotel bar and meets Logan, a handsome outspoken stranger who says whatever he's thinking, without regard for who he might offend.  Alexis is shy and retreating, the total opposite of Logan, but there is definitely some serious chemistry between them.  Their imminent hookup is disrupted by an unexpected fire at the hotel, and Logan is caught on camera carrying Alexis out of the building.  As soon as Logan sees the cameras, he abruptly abandons Alexis and flees the scene.  Alexis is shocked until she gets home and sees herself on the news. Logan is apparently none other than up and coming politician, Logan Arthur, who is running to be the governor of Texas.  When the rival campaign tries to seize on this opportunity to make Logan look like a womanizer, Logan's campaign decides that Alexis and Logan should pretend to be a couple until after the election to save his image.  The campaign promises Alexis anything she wants in exchange for her help on the campaign and to everyone's surprise, even her own, Alexis declares that she wants her own political platform to push for more funding for education and specifically for her beloved libraries.
Fake dating is one of my favorite tropes so I was of course fully invested in their journey to discover that they have feelings for one another. I also just really loved both characters.  Even though Logan is a politician, he's the real deal in the sense that, just as in the bar when he and Alexis first meet, he says what he means and he means what he says.  He is passionate about the issues that are important to him and he doesn't just make promises that he has no intention of keeping.  I admired that about him and I also loved that he was so obviously in love with Alexis from the beginning even though he was afraid to admit it.  It added a layer of vulnerability to this otherwise bold and brash man that I really liked.  As much as I loved Logan though, it was Alexis and her journey that made this such a special read for me.  The way she grows as she starts to push her education platform is fantastic. I loved seeing her passionate side and it was truly wonderful to watch her shine on stage.  I'm also not normally a fan of having any kind of politics in my romance reads, but I didn't mind it here since the focus mostly stayed on the issue of education and library funding rather than something more divisive.
I thoroughly enjoyed The Boyfriend Candidate and highly recommend it to anyone who enjoys bookish main characters and romances that features the opposites attract and fake dating tropes.  4.5 STARS
https://thebookishlibra.com/wp-content/uploads/2023/07/romance-reviews-14.jpg
1240
1748
Suzanne
https://thebookishlibra.com/wp-content/uploads/2018/06/trimmed-Copy-of-Bookish-Logo-copy.png
Suzanne
2023-07-31 08:42:48
2023-07-31 08:42:48
Reviews: TO HAVE AND TO HEIST, THE CHEAT SHEET, & THE BOYFRIEND CANDIDATE