Reviews: LOVE INTEREST & FRIENDS DON'T FALL IN LOVE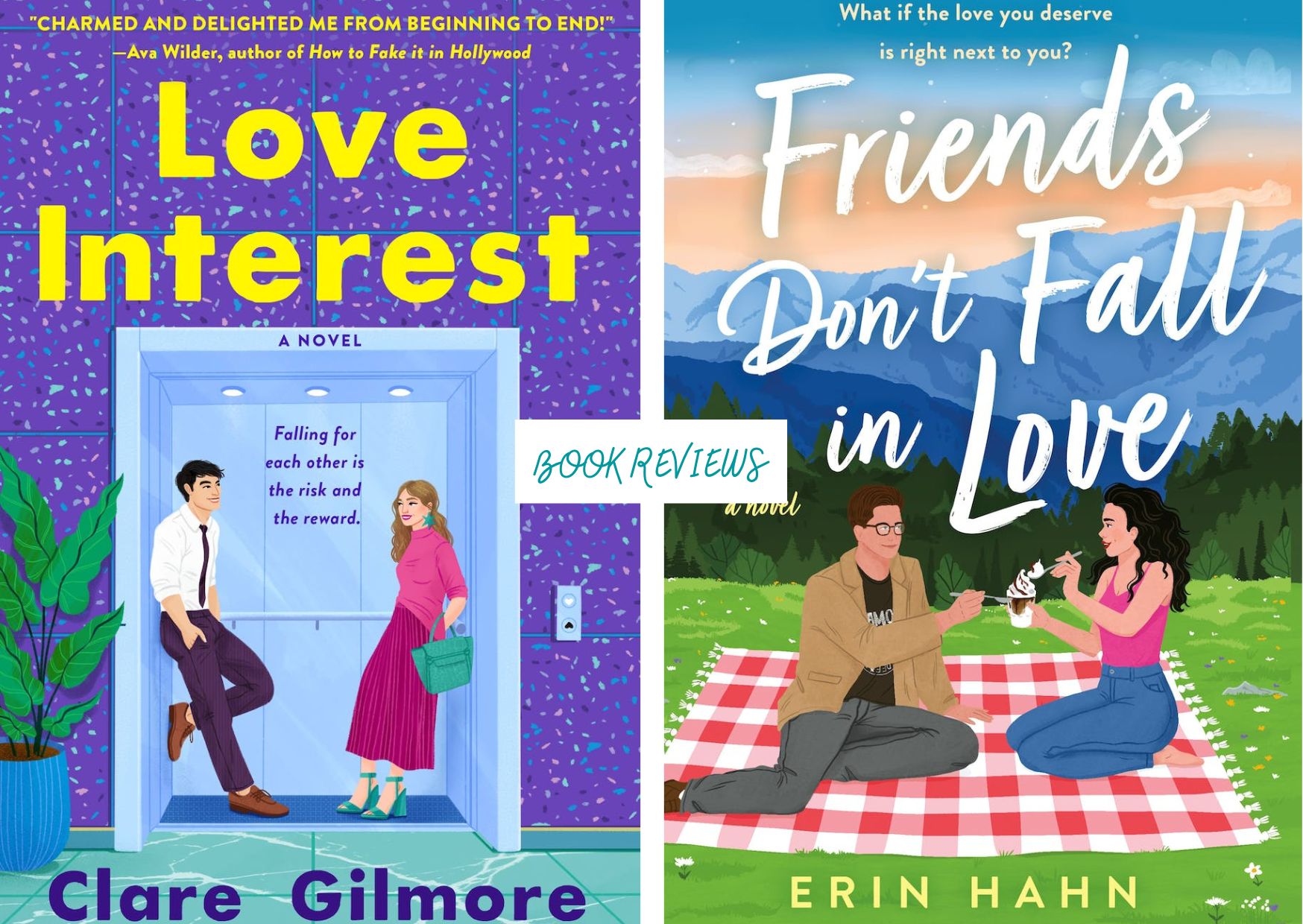 Happy Monday everyone! Knock on wood, but I think I finally have the commenting issue resolved on the blog.  Some research and hours of troubleshooting eventually revealed the issue to be a bad update to a plugin I was using and as soon as I deactivated it, the comments started flowing in again.  I'm not a tech savvy person so it was very frustrating to say the least, as I would have much rather been spending all of that time visiting your blogs instead of trying to figure out why mine was trying to implode, lol.  Anyway, I'm back in business now and I'm also back with two reviews I meant to post last week.  Both of these books are out in the wild now, so if you like the sound of them, you can grab copies today!
Love Interest Goodreads

Author: Clare Gilmore
Publication Date: October 10, 2023
Publisher: St. Martin's Griffin
FTC Disclosure: I received a complimentary copy of this book from the publisher via Netgalley.  All opinions are my own.
Set in Manhattan at a magazine publishing firm, Clare Gilmore's debut novel Love Interest follows Casey Maitland, a 24 year old finance expert who has decided to spread her wings and apply for a project manager position at her company.  Her aspirations for this new career path are dashed, however, when she is passed over and the job is given to Alex Harrison, who happens to be the Chairman of the Board's son and who also happens to be the mysterious hot guy Casey had an adorable meet cute with before she realized they were vying for the same position.  Alex is well educated, charming, and is immediately well liked by everyone at the company, except for Casey, that is, who can't stand him.  Everything changes, however, when the two of them are forced to work on a project together.
I really enjoyed Love Interest.  Gilmore's writing is wonderful, and I especially enjoyed her character development as Casey and Alex slowly begin to open up to one another about their dreams and aspirations. I loved how open and trusting they became with one another, and I especially liked the growth we see in Casey as she realized she has unfairly misjudged Alex, who turns out to be serious book boyfriend material!  Some of the workplace scenes weren't the most entertaining, but the chemistry Gilmore creates between Casey and Alex nicely balances that out and keeps the story flowing smoothly.
Love Interest is a delightful workplace romance that is sure to please fans of the rivals-to-lovers and forced proximity tropes. 4 STARS
Friends Don't Fall in Love Goodreads

Author: Erin Hahn
Publication Date: October 17, 2023
Publisher: St. Martin's Griffin
FTC Disclosure: I received a complimentary copy of this book from the publisher via Netgalley.  All opinions are my own.
Erin Hahn's latest novel Friends Don't Fall in Love is a friends-to-lovers romance set against the backdrop of the country music industry in Nashville. I enjoyed Hahn's book Built to Last so much that I requested this one for review without reading the synopsis, so it was a wonderful surprise to realize we were going to revisit my favorite characters from Built to Last.
This story follows Lorelai Jones, a country music superstar who fell from grace when she performed a protest song in support of gun control at a concert. Five years later she decides to mount a comeback and reaches out to the one man who has always been in her corner, her best friend Craig (or Huck as she calls him), who also happens to be a successful music producer.
Huck has issues of his own that he's dealing with, including a former bandmate who refuses to give him credit for songs that Huck wrote for him.  But no matter what Huck is dealing with, he has never been able to say no to Lorelai. In fact, he has been quietly in love with her for years.  It is this complicated dynamic between Lorelai and Huck that really made this an excellent read for me.  Hahn presents their relationship through both present-day scenes and flashbacks to show just how layered and complicated things are between them and I loved watching their relationship unfold this way and seeing Lorelai slowly wake up to what has been right in front of her all along.
Huck is an absolute cinnamon roll and I adored him, and I'll always root for an underdog so Lorelai and her comeback story really appealed to me as well.  The presence of the gun control debate and the cancel culture that surrounds it was right on the edge of being too much for me since I read romance to escape things like that, but thankfully Lorelai and Huck's personal journey was enough to keep the story enjoyable for me. I also really appreciated the behind-the-scenes look at the country music industry.
If slow-burn, friends to lovers romances are your vibe, you're going to want to pick up a copy of Friends Don't Fall in Love. 4 STARS
https://thebookishlibra.com/wp-content/uploads/2023/11/reviews-81.jpg
1240
1748
Suzanne
https://thebookishlibra.com/wp-content/uploads/2018/06/trimmed-Copy-of-Bookish-Logo-copy.png
Suzanne
2023-11-06 05:35:44
2023-11-05 22:38:26
Reviews: LOVE INTEREST & FRIENDS DON'T FALL IN LOVE