Reviews: HER DEADLY GAME & WHAT HAVE WE DONE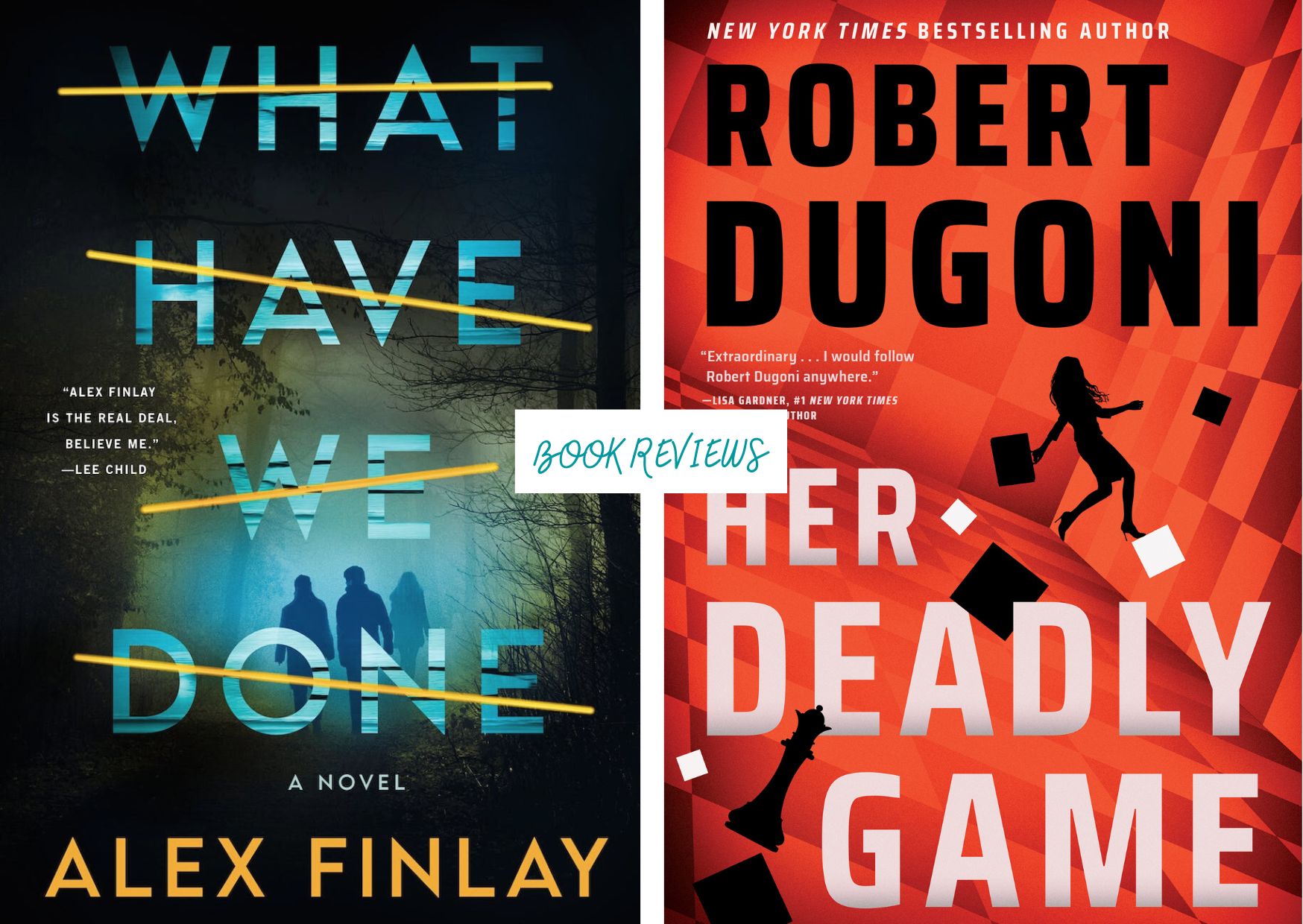 Hey everyone! I hope your week is off to a great start.  At this point, I'm just hoping mine will be better than last week. I spent most of the week fighting a sinus headache and then someone on my team at work resigned so there way chaos and drama galore.  Between not feeling well and being tired of the drama, I pretty much laid on the couch like a blob every night from 5pm on.  Needless to say, no blog hopping happened so my apologies for that.  Anyway, enough of that, today I'm back to share some rare thriller reviews from me.  Alex Finlay and Robert Dugoni are two authors that have been on my list of authors to try for years now, and I decided it was time to finally make that happen.  Today I'm reviewing each of their newest releases.
Her Deadly Game
Goodreads
Author: Robert Dugoni
Publication Date: March 28, 2023
Publisher:  Thomas & Mercer
FTC Disclosure: I received a complimentary copy of this book from Netgalley.  All opinions are my own.
My favorite legal thriller reads are those that offer up a perfect balance of police procedure, courtroom drama, and well developed characters.  Robert Dugoni's latest standalone thriller, Her Deadly Game, delivers in all those areas and more.
The story follows Keera Duggan, a prosecutor in Seattle who has to leave her job for personal reasons. She ends up working at her family's once successful but now failing criminal defense law firm.  The family firm's reputation has taken a hit since Keera's dad's alcoholism started to impact his performance in court. When Keera is retained by Vince LaRussa, a successful investment advisor accused of murdering his wife, Keera hopes that her return to the firm will help to restore its reputation, give her own career a jumpstart, and most importantly, help to repair her relationship with her dad, which has also become strained due to the alcoholism.
The LaRussa case itself was fascinating and kept me on the edge of my seat.  I loved following all elements of the investigation, from the crime scene unit gathering evidence at the scene all the way through to the courtroom action once the case goes to trial.  All of these scenes were so detailed that I truly felt like I was there watching the case unfold in person.  I'm also always a big fan of underdogs, so I was Team Keera all the way.  Keera is up against not only the fact that in cases like this, the killer often is the husband, but also the fact that the prosecutor on the case is none other than her ex-boyfriend who would love nothing more than to take her down in court.  There's also an anonymous tipster that has Keera chasing down possible leads in an intricate cat and mouse style game.
As riveting and twisty as the LaRussa case was on its own, the complicated family dynamic of the Duggan family was what really made this book a standout for me.  Patsy Duggan, the patriarch of the family, built his firm from the ground up, earning himself the reputation as 'The Irish Brawler," along the way.  Now that his drinking has made him unreliable, it's up to Keera and her two sisters to keep the firm afloat.  The sisters of course love their dad, but there is definitely tension and resentment that they can't count on him.  Some of my favorite scenes were those where Keera and her dad were working together on the case, with Keera holding him to his promise that he wouldn't drink or let her down.  I became so invested in their relationship and was rooting for Patsy all the way to keep his promise and not let his girls down.
Her Deadly Game was my first time reading one of Robert Dugoni's novels, but it definitely won't be my last! 4.5 STARS
What Have We Done Goodreads

Author: Alex Finlay
Publication Date: March 7, 2023
Publisher: Minotaur Books
FTC Disclosure: I received a complimentary copy of this book from Netgalley.  All opinions are my own.
What Have We Done is the latest thriller from Alex Finlay.  This was my first time reading anything from this author and I have to say it was a pretty wild ride!
This twisty story follows five seemingly different characters who on the surface have little in common – Ben is a federal judge, Donnie is a mostly washed-up rock star, Nico is a television producer, Jenna is a former assassin turned housewife, and Artemis is a wealthy entrepreneur.  What these five do have in common is that 25 years ago, they all lived at Savior House, a group home for orphaned teens.  While Savior House was meant to be a safe place for these teens, instead it was an environment of abuse and neglect and also a place where several teen girls that lived there mysteriously disappeared.  The home is eventually shut down and the teens all eventually go on to lead successful lives, although they all still have painful memories from their time at Savior House, as well as a deadly secret.
When one of them is killed, and attempts are made on the lives of the other four, it leads the now-grown Savior House kids to have a reunion they never expected to have.  It surely isn't a coincidence that all of them have been targeted and they need to get to the bottom of who is after them after all these years and why.
I love a good twisty thriller so I really enjoyed how this novel was structured. The story unfolds primarily from the perspectives of Jenna, Nico, and Donnie, who were best friends while at Savior House.  We follow each of them from the moment the attempt is made on their lives and get their perspective on everything as they try to piece together what is going on, first solo, and then as a team once they finally meet up.  The story also alternates between past and present so that in addition to following these characters as they try to figure out who is after them, we also get flashbacks to when they were teens and therefore get a bird's eye view of all of the horrors that took place at Savior House.
While I really enjoyed the story overall, I did have a couple of issues as I was reading, the first being that I didn't particularly like any of the characters.  I was definitely sympathetic to what they were going through and how terrifying it must have been, but that was the end of my connection to any of them.  I also found myself preferring some of the perspectives over others, Jenna's was much more interesting than the others so I found myself skimming through their chapters to hurry up and get back to hers. Overall, I enjoyed all three perspectives, but this did make for an uneven read for me. The skeptic in me also found all of their career choices to be somewhat farfetched – entertaining yes, believable not really.
Even with those few issues, I would still say I enjoyed my first Alex Finlay novel. I liked the suspenseful build up to the reveal and that the closer we got to the reveal, the wilder the ride became, and I definitely loved that the story kept me guessing until the final pages.  If you like twisty reads filled with dark secrets from the past, you'll want to check out What Have We Done.  3.5 STARS
https://thebookishlibra.com/wp-content/uploads/2023/03/reviews-58.jpg
1240
1748
Suzanne
https://thebookishlibra.com/wp-content/uploads/2018/06/trimmed-Copy-of-Bookish-Logo-copy.png
Suzanne
2023-03-20 05:35:47
2023-03-19 21:45:02
Reviews: HER DEADLY GAME & WHAT HAVE WE DONE