Top Ten Tuesday – Ten of My Favorite Fictional Heroines
Top Ten Tuesday was created by The Broke and the Bookish in June of 2010 and was moved to That Artsy Reader Girl in January 2018. It was born of a love of lists, a love of books, and a desire to bring bookish friends together.  Top Ten Tuesday has been one of my favorite memes ever since I started blogging, so huge thanks to Jana for taking over the hosting duties!
This week's TTT topic is Favorite Heroines (or Heroes).  I decided to focus most of my list on more recent reads and I wouldn't necessarily call all of them heroines, so let's just says they're my favorite female protagonists and leave it at that.
Ten of My Favorite Fictional Heroines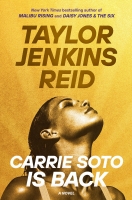 1. Tara Chen from EXES & O's by Amy Lea  –  Tara made my list this week because with her obsession with all things romance and her passion for her bookstagram account, I just found her to be so endearing and relatable.
2.  Delilah Green from DELILAH GREEN DOESN'T CARE by Ashley Herring Blake – Delilah made my list because even though she's a successful photographer who is living her best life in NYC, when she returns to her hometown, she is suddenly the underdog that her stepsister and all of her friends made fun of and I just love  a good underdog story
3.  Astrid Parker from ASTRID PARKER DOESN'T FAIL by Ashley Herring Blake  – As you can tell, I'm a big fan of the female characters in Ashley Herring Blake's Bright Falls series.  Astrid made my list this week because I just loved how she was trying so hard to find her own way, all while dealing with the pressure of her overbearing mother.  Her journey of self discovery was everything!
4.  Alexis Montgomery from PART OF YOUR WORLD by Abby Jimenez – Alexis made my list because of the tenacity she displays with respect to her career.  Even though she hails from a family of world renowned surgeons and her parents pressure her to follow suit, Alexis just wants to help the people in her local community.
5. Evelyn Hugo from THE SEVEN HUSBANDS OF EVELYN HUGO by Taylor Jenkins Reid – Evelyn made my list because she is just iconic in every way!
6. Addie LaRue from THE INVISIBLE LIFE OF ADDIE LARUE by V.E. Schwab – Addie's unforgettable journey after she makes a pact with the Devil to escape an unwanted marriage just stole my heart.
7.  Carrie Soto from CARRIE SOTO IS BACK by Taylor Jenkins Reid – Carrie made my list this week because she is a flawed character, unliked by many in her profession because she can be arrogant and too bold, but who still managed to make me fall in love with her.
8.  Finlay Donovan from FINLAY DONOVAN IS KILLING IT by Elle Cosimano – Finlay makes my list this week because she just brings me so much joy when I read this book series.  Finlay is hilarious, snarky, resourceful, and is just always involved in the most entertaining shenanigans.
9. Elizabeth Zott from LESSONS IN CHEMISTRY by Bonnie Garmus – Elizabeth Zott made my list because she is just such a fantastically quirky feminist, a chemist and a woman ahead of her time.  When a TV producer becomes fascinated by Elizabeth's unique and quirky, no-nonsense personality, he convinces her to host an afternoon cooking show geared towards housewives, and has no idea what he gets himself into because in true Elizabeth Zott fashion, she turns the show on its end. I really loved what she did with this show and found myself rooting for her every step of the way because what she creates is an environment that educates, celebrates and empowers women, reminding them of their self-worth in what is often a thankless job, that of being a homemaker and raising children.
10. Mila Pavlichenko from THE DIAMOND EYE by Kate Quinn – How can you not love a quiet bookworm who goes on to become history's deadliest female sniper?
* * * * * *
Question:  Who are some of your favorite female protagonists?
https://thebookishlibra.com/wp-content/uploads/2018/01/TTT-Big2.png
203
500
Suzanne
https://thebookishlibra.com/wp-content/uploads/2018/06/trimmed-Copy-of-Bookish-Logo-copy.png
Suzanne
2023-02-21 05:35:26
2023-02-19 16:35:39
Top Ten Tuesday – Ten of My Favorite Fictional Heroines