Review: THE ROOM ON RUE AMELIE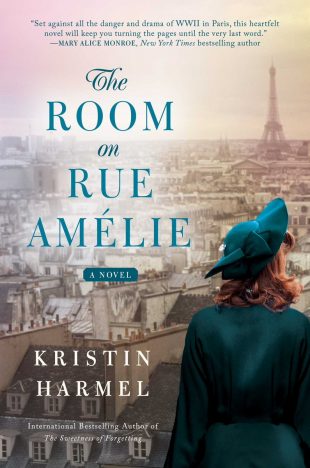 The Room on Rue Amélie
by
Kristin Harmel
Also by this author:
The Forest of Vanishing Stars

Published by
Gallery Books
on March 27th 2018
Genres:
Historical Fiction
Pages:
400
Source:
Netgalley
Amazon
Goodreads
FTC Disclosure: I received a complimentary copy of this book from the publisher via Netgalley. All opinions are my own.
MY REVIEW:
Kristin Harmel's The Room on Rue Amelie takes place in Nazi-occupied Paris in WWII and follows the lives of three people whose lives unexpectedly cross paths during the course of the war:  Ruby Benoit, an American woman living in Paris, Charlotte Dacher, a Jewish teen who lives next door to Ruby, and Thomas Clark, a British RAF pilot who is flying missions over France.
As the novel opens, Ruby meets and marries the man of her dreams, Marcel, a handsome Frenchman.  She and Marcel move to Paris and Ruby dreams of walking hand in hand in the most romantic city in the world.  Her dreams are soon shattered, however, as the Nazis invade France and everything changes, including Marcel, who becomes secretive and who also disappears for days at a time, only to come back and refuse to tell Ruby where he has been or what he is up to.  The tension and the secrecy begin to take a toll on their marriage.  When Marcel is unexpectedly killed, Ruby discovers what he has been so secretive about.  Her discovery is life-changing…
Next door to Ruby and Marcel live Charlotte Dacher and her family, who are Jewish.  They have been hearing rumors about what the Nazis are doing to Jews throughout Eastern Europe.  Sure enough, as soon as the Nazis enter Paris, they begin imposing restrictions on the Jewish people, forcing them out of work and also requiring them to sew yellow stars on all of their clothing.  Soon after, Charlotte and her family realize that all of the rumors they've been hearing about Hitler and the Nazis are true, as mass deportations begin and their lives are torn apart.
Thomas Clark is a British Royal Air Force Pilot.  He has joined the RAF because he wants to protect England from Hitler and the Nazis but when his mother is killed in the Blitz, Thomas begins to doubt that anything he is doing is making a difference and questions whether it's worth it to keep fighting.  That is, until he meets Ruby and Charlotte.  The unexpected connection he makes with them reignites his will to fight and he's more motivated than ever to defeat the Nazis.
The Room on Rue Amelie is a riveting story about resistance, courage, and defiance in the face of seemingly impossible odds, and it's also a moving story about love, fate, family, and the sacrifices we're willing to make for those we love.

I was drawn to The Room on Rue Amelie primarily because the synopsis indicates it would be a great read for fans of Kristin Hannah's The Nightingale and Martha Hall Kelly's The Lilac Girls and in many respects, I was not disappointed with the comparison.
My favorite part of The Room on Rue Amelie was its focus on all of the regular citizens of Paris and surrounding areas and the subtle and not-so-subtle ways that they defied Hitler and the Nazis.  The spirit of those people were what really made the book for me, especially those who worked on the "Escape Line" that is featured prominently throughout the novel.  The purpose of the Escape Line was to locate downed Allied pilots before the Nazis could get them and then provide them safe passage over the mountains and into Spain where they could then be sent back to rejoin their units and continue the fight against Hitler.  In many ways the Escape Line reminded me of the Underground Railroad with its many stops at different safe houses along the way and I just found it so inspiring that so many citizens were willing to risk their lives to work as part of the Resistance.
In addition to that, I also really loved the characters of Ruby and Charlotte.  They are fiercely, independent women who want to do their part to fight Hitler in any way they can, even though all of the men they encounter want to push them aside and tell them it's too dangerous and that it's man's work.  I was especially drawn to Charlotte since, as a Jew, she was taking even more of a risk than Ruby was by putting herself out there.  I also loved how close Ruby and Charlotte became as the novel progressed.  They go from being mere neighbors to practically being like sisters, and their bond is wonderful to watch, especially since it contrasted so much with all of the tumult and danger that surrounded them.
The way Harmel structured the novel also appealed to me.  It's told in alternating chapters from the viewpoints of Ruby, Charlotte, and Thomas so it allows us to watch the war progress from three very different perspectives, which I thought really gave the story a lot of depth.

As much I enjoyed the story overall, I still had a few issues with it. The first is that it was more focused on romance than I expected it to be based on the comparisons in the synopsis to The Nightingale and The Lilac Girls, which don't really rely on romance at all.  There were a few times while I was reading when it felt like the events of WWII served merely as a backdrop to Ruby and Thomas's thoughts about each other.  Along similar lines, I was disappointed in the character development of Thomas.  At first I enjoyed following the story from his perspective as he joined the British Royal Air Force, hoping to do his part to defeat the Nazis.  It was interesting following along through his training and as he began to fly missions in the war.  I thought Harmel did a wonderful job of showing all the conflicting emotions Thomas was feeling while in the sky shooting down other men, and then especially after his mother is killed during the Blitz, when he begins to doubt that his efforts are even making a difference in the war.
 But then he just fell sort of flat for me.  Once he meets Ruby, it seems like she's all he ever thinks about.  He only thinks about the events of the war in terms of how they can get him back to her.  If he gets shot down again, it's a way back to her.  If he doesn't go back and fight this time, he can stay with her, etc.  It was a little disappointing how one-track minded he became, especially since it was insta-love between he and Ruby in the first place, which was my final issue with the story.  I guess I just don't believe in love at first sight because I was not at all sold on the idea that such an all-consuming romance could convincingly take place between two people who interacted for only a few days before parting company.

Even though I had a few issues with The Room on Rue Amelie, I'm still glad I read it because I very much enjoyed reading about the pockets of resistance throughout France and how big of an impact that they had on the war.  Based on its focus on the relationship between Thomas and Ruby, however, I'm not sure I was really the ideal audience for this book. I think fans of romance would easily find this a 4 or 5 star book.

GOODREADS SYNOPSIS:

For fans of Kristin Hannah's The Nightingale and Martha Hall Kelly's Lilac Girls, this powerful novel of fate, resistance, and family—by the international bestselling author of The Sweetness of Forgetting and When We Meet Again—tells the tale of an American woman, a British RAF pilot, and a young Jewish teenager whose lives intersect in occupied Paris during the tumultuous days of World War II.

When newlywed Ruby Henderson Benoit arrives in Paris in 1939 with her French husband Marcel, she imagines strolling arm in arm along the grand boulevards, awash in the golden afternoon light. But war is looming on the horizon, and as France falls to the Nazis, her marriage begins to splinter, too.

Charlotte Dacher is eleven when the Germans roll into the French capital, their sinister swastika flags snapping in the breeze. After the Jewish restrictions take effect and Jews are ordered to wear the yellow star, Charlotte can't imagine things getting much worse. But then the mass deportations begin, and her life is ripped forever apart.

Thomas Clarke joins the British Royal Air Force to protect his country, but when his beloved mother dies in a German bombing during the waning days of the Blitz, he wonders if he's really making a difference. Then he finds himself in Paris, in the shadow of the Eiffel Tower, and he discovers a new reason to keep fighting—and an unexpected road home.

When fate brings them together, Ruby, Charlotte, and Thomas must summon the courage to defy the Nazis—and to open their own broken hearts—as they fight to survive. Rich with historical drama and emotional depth, this is an unforgettable story that will stay with you long after the final page is turned.
https://thebookishlibra.com/wp-content/uploads/2018/04/room-on-rue.jpg
1199
795
Suzanne
https://thebookishlibra.com/wp-content/uploads/2018/06/trimmed-Copy-of-Bookish-Logo-copy.png
Suzanne
2018-04-02 05:45:53
2018-04-01 22:36:14
Review: THE ROOM ON RUE AMELIE