Top Ten Tuesday – Ten Characters I Hate in Books That I Love
Top Ten Tuesday was created by The Broke and the Bookish in June of 2010 and was moved to That Artsy Reader Girl in January 2018. It was born of a love of lists, a love of books, and a desire to bring bookish friends together.  Top Ten Tuesday has been one of my favorite memes ever since I started blogging, so huge thanks to Jana for taking over the hosting duties!
This week's TTT topic is Characters I liked That Were In Non-Favorite/Disliked Books.  I completely blanked out when it came to books that I didn't like so I decided to flip the topic and do Top 10 Characters I Hate in Books I Love.
Top 10 Characters I Hate in Books That I Love
* * * * *
 1. DOLORES UMBRIDGE from HARRY POTTER AND THE ORDER OF THE PHOENIX
What a horrible, horrible woman.  I loathed her just as much as I loathed Lord Voldemort, especially after the awful things she did to Harry when he had detention.
* * * * *
2. MISS TRUNCHBULL from MATILDA
This lady could be Umbridge's evil sister.  She's just plain evil, clearly hates children, and has no business being the headmistress of a school.
* * * * *
3. PRINCESS SOPHIA from THE BELLES
I just finished this book last week and couldn't get over how awful Princess Sophia was.  She's cruel and sadistic, using the Belle's powers to make those she doesn't like ugly and deformed.  When she forced a Belle to transform a woman's nose into a pig snout, I was beyond done with Sophia.
* * * * *
4. JOFFREY BARATHEON from A SONG OF ICE AND FIRE series
Is there anymore of an ass in literature than Joffrey?  He's' nasty, spoiled rotten, and I'm pretty sure he never had a single redeeming moment throughout the entire series.  When he finally got what was coming to him, I could have danced for joy.
* * * * *
5. GEORGE WICKHAM from PRIDE AND PREJUDICE
Wickham almost had me fooled in the beginning of this novel since he was just so much nicer and more charming than Darcy.  Funny how things quickly changed though and Darcy became my favorite, while I thought of Wickham as little more than a rogue.
* * * * *
6. DRACO MALFOY from the HARRY POTTER series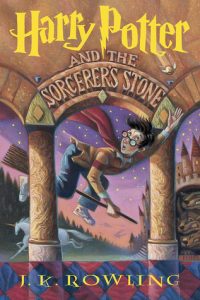 I guess I probably had a few moments in this series where I didn't want to throttle Draco, but those moments were few and far between.  For the most part, Draco was an arrogant little jerk and I cheered when Hermione punched him in the face in one of the books.
* * * * *
7. THE WHITE WITCH from THE LION, THE WITCH, AND THE WARDROBE
What a cold and calculating woman!  I mean, seriously, what kind of person uses their power to stop Christmas from coming?  She's like a more attractive version of The Grinch.
* * * * *
8. PRESIDENT SNOW & PRESIDENT COIN in THE HUNGER GAMES series
Yep, a two-fer here. I totally hated both of these characters, Snow for perpetuating the Hunger Games so that he could stay in power and Coin because she tricked me into thinking she was the good guy and I don't like to be tricked.  They're both just rotten leaders who sees the citizens as expendable as long as it furthers their agenda.
* * * * *
9. AMY DUNNE from GONE GIRL
Amy Dunne was so unlikable and manipulative that even though I enjoyed Gone Girl, I got to the point where I just didn't care what happened to her.  It was just disturbing to follow her. I think she was an actual psychopath.
* * * * *
10. JOHN WILLOUGHBY from SENSE AND SENSIBILITY
In many ways, John Willoughby reminds me of Henry Wickham from Pride and Prejudice.  When we first meet him, he is charming and very handsome, sure to win all the ladies' hearts and the reader's.  And then we find out he's a philandering pig; the charming good guy routine is just an act.
* * * * *
Question:  Who are some characters you hate in books that you otherwise love?
https://thebookishlibra.com/wp-content/uploads/2018/01/TTT-Big2.png
203
500
Suzanne
https://thebookishlibra.com/wp-content/uploads/2018/06/trimmed-Copy-of-Bookish-Logo-copy.png
Suzanne
2018-04-03 05:30:26
2018-04-02 17:50:55
Top Ten Tuesday – Ten Characters I Hate in Books That I Love