Review: I WAS ANASTASIA by Ariel Lawhon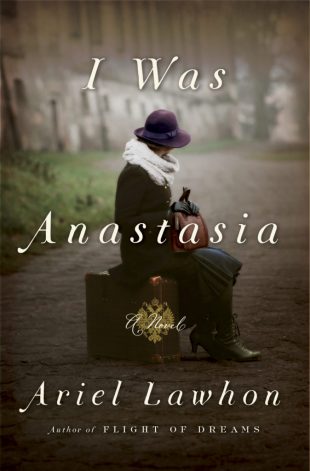 I Was Anastasia
by
Ariel Lawhon
Also by this author:
Code Name Hélène

Published by
Doubleday Books
on March 27th 2018
Genres:
Historical Fiction
Pages:
352
Source:
Netgalley
Amazon
Goodreads
FTC Disclosure: I received a complimentary copy of this book from the publisher via Netgalley. All opinions are my own.
MY REVIEW:
Most of us are at least somewhat familiar with the subject matter of Ariel Lawhon's I Was Anastasia.  One half of the novel chronicles the imprisonment and subsequent assassination of Tsar Nicholas II and his entire royal family following the Bolshevik Revolution.  Even if you don't know all of the details, you've probably at least heard the name Anastasia Romanov, who was one of Tsar Nicholas's daughters and who was rumored to have survived the assassination attempt.  Whether or not Anastasia survived is the focus of the other half of I Was Anastasia, as we follow a woman named Anna Anderson who claimed to be Anastasia for 50 years until her death in 1970.
Is it possible that Anastasia survived?  If Anna isn't really Anastasia, what would lead her to so desperately claim that she is for so many years?
Even though those of us who are familiar with the Anna/Anastasia story know how it ends, it's still quite compelling to see how it all unfolds in this incredibly well researched retelling.

What fascinated me most about this novel is the way Lawhon captured both Anna and Anastasia.  Whether they are one in the same or two different people, I was completely invested in both journeys I was reading about.  Anastasia's story of course immediately had me sympathetic, just knowing the history of how her family suffered at the hands of first, Alexander Kerensky after he forced her father to abdicate, then later the Bolsheviks after they overthrew Kerenksy's provisional government.   Lawhon chronicles these painful events in great detail, making the reader want, all the more, for someone from the Romanov family to have survived the brutal massacre.
Anna's story, however, was equally compelling as Lawhon shows how she spent much of those 50 years trying to prove her identity — being shuffled from place to place, having no real home or financial security of her own.  Some are sympathetic to her cause and believe she truly is Anastasia and want to help her prove her case in a court of law, while others don't care who she is but just want a piece of the spotlight that is bound to come from being associated with possible royalty.  And still others pursue her relentlessly, trying to do everything they can to prove that there's no way she can be Anastasia.
Even though I was already familiar enough with the story to know how it all ends, what I loved about I Was Anastasia is that the author focuses more on showing us how the story began and she does this using a unique dual timeline structure where she alternates the chapters between Anna's story and Anastasia's, presenting Anastasia's timeline in chronological order, while presenting Anna's timeline in reverse chronological order.  It was fascinating to watch these two timelines on a collision course and I couldn't wait to see how the author would have them crash into one another to give us the truth about whether Anna Anderson and Anastasia Romanov are one in the same.

Even though it was fascinating watching each of the timelines unfold and waiting to see how the author would merge them in the end, I have to admit that I found Anna's timeline much more difficult to follow than Anastasia's.  Where Anastasia's is a straight forward chronological rendering of events in the months leading up to the Romanov family facing a firing squad in 1918, Anna's journey is actually presented in reverse chronological order, working backwards from 1970 to 1918.  That wouldn't have been an issue in itself, but the way her story unfolded it meant that sometimes she would be referring to someone in earlier chapters but who that person is and how they came to be connected to Anna and her cause isn't really revealed until later chapters as we continue to travel back in time.  It took me a few chapters to get used to this structure and slowed me down a few times throughout my reading as I tried to remember what I had read about a certain character in later years now that I was meeting him for the first time as I continued to journey back in time.

If you're not at all familiar with Anastasia Romanov and Anna Anderson, I'd definitely recommend reading I Was Anastasia.  Lawhon has crafted together a suspenseful mystery that will keep you guessing as to whether or not Anna is Anastasia, and at the same time, will have you hoping against hope that she really is.  And even if you do know the story, as I did, I'd still recommend it because it is a powerful and emotional retelling and because the journey to 1918 and the "birth" of Anna Anderson makes for an engaging read.
GOODREADS SYNOPSIS:

Countless others have rendered their verdict. Now it is your turn.

Russia, July 17, 1918 Under direct orders from Vladimir Lenin, Bolshevik secret police force Anastasia Romanov, along with the entire imperial family, into a damp basement in Siberia where they face a merciless firing squad. None survive. At least that is what the executioners have always claimed.

Germany, February 17, 1920 A young woman bearing an uncanny resemblance to Anastasia Romanov is pulled shivering and senseless from a canal in Berlin. Refusing to explain her presence in the freezing water, she is taken to the hospital where an examination reveals that her body is riddled with countless, horrific scars. When she finally does speak, this frightened, mysterious woman claims to be the Russian Grand Duchess Anastasia.

Her detractors, convinced that the young woman is only after the immense Romanov fortune, insist on calling her by a different name: Anna Anderson.

As rumors begin to circulate through European society that the youngest Romanov daughter has survived the massacre, old enemies and new threats are awakened.
https://thebookishlibra.com/wp-content/uploads/2018/03/i-was-anastasia.jpg
1024
674
Suzanne
https://thebookishlibra.com/wp-content/uploads/2018/06/trimmed-Copy-of-Bookish-Logo-copy.png
Suzanne
2018-03-23 05:45:38
2018-03-23 06:26:04
Review: I WAS ANASTASIA by Ariel Lawhon