Top 10 Books I Was Required to Read for School But Ended Up Loving
Top Ten Tuesday is a fun weekly meme hosted by The Broke and the Bookish. This week's topic is Back To School Freebie: anything "back to school" related like 10 favorite books I read in school, books I think should be required reading, Required Reading For All Fantasy Fans, required reading for every college freshman, Books to Pair With Classics or Books To Complement A History Lesson, books that would be on my classroom shelf if I were a teacher, etc.
* * * * *
When I think of back-to-school, the first thing that comes to mind are Required Reading Lists.  I don't know about you guys, but even though I'm a lifelong bookworm, I still hate it when someone tells me what I HAVE to read.  Even if they were books I probably would have read at some point myself, making it a requirement instead of a choice just irritated me.  I was a good student though so of course I always completed my required reading assignments.  And yes, there were quite a few times where I actually ended up loving the books even though I was annoyed that I was forced to read them in the first place.  So that's what I'm focusing on this week – Top 10 Books I Was Required to Read for School But Ended Up Loving.
In some cases like Jane Eyre and Pride and Prejudice, I loved them for their feisty heroines.  In other cases like 1984, Fahrenheit 451, and Lord of the Flies resonated with me because they were a reminder that no matter how bad I thought my life was at any given moment, things could really be a lot worse.  Books like To Kill a Mockingbird and Anne Frank's The Diary of a Young Girl remain some of the most powerful and eye-opening books I've ever read.  Shakespeare's tragedies spoke to me in that even though they're hundreds of years old, their themes are still just as relevant today as they were when originally penned.  And the list goes on…All of these books went from required readings to all-time favorites so I'll send out a huge thanks to every English teacher who ever made me read a book.
Top 10 Books I Was Required to Read for School But Ended Up Loving
1. JANE EYRE by Charlotte Bronte
* * * * *
2. TO KILL A MOCKINGBIRD by Harper Lee
* * * * *
3.  THE DIARY OF A YOUNG GIRL by Anne Frank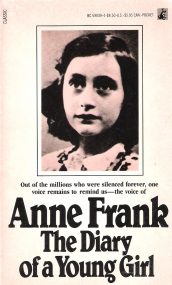 * * * * *
4. PRIDE AND PREJUDICE by Jane Austen
* * * * *
5. 1984 by George Orwell
* * * * *
6. OF MICE AND MEN by John Steinbeck
* * * * *
7. FAHRENHEIT 451 by Ray Bradbury
8. THE LORDS OF DISCIPLINE by Pat Conroy
9. LORD OF THE FLIES by William Golding
10. THE TRAGEDIES OF WILLIAM SHAKESPEARE (Basically All of Them!)
Question: What are some books you were forced to read for school that you ended up loving?
https://thebookishlibra.com/wp-content/uploads/2016/08/toptentuesday.png
864
1600
Suzanne
https://thebookishlibra.com/wp-content/uploads/2018/06/trimmed-Copy-of-Bookish-Logo-copy.png
Suzanne
2017-08-22 05:52:55
2017-08-22 05:52:55
Top 10 Books I Was Required to Read for School But Ended Up Loving