Top Ten Tuesday – Books I Plan to Read This Summer
Top Ten Tuesday was created by The Broke and the Bookish in June of 2010 and was moved to That Artsy Reader Girl in January 2018. It was born of a love of lists, a love of books, and a desire to bring bookish friends together.  Top Ten Tuesday has been one of my favorite memes ever since I started blogging, so huge thanks to Jana for taking over the hosting duties!
This week's TTT topic is Books I Plan to Read This Summer.  I'm a mood reader and, on top of that, I'm also ridiculously indecisive so putting together TBR lists is always challenging for me.  Needless to say, what I'm sharing is a tentative list and it's more than ten because I just couldn't narrow down to just ten I'm excited about.  I'm also still actively working on my backlist challenge so my list is a mix of ARCs and older books I'm planning to read.
* * * * *
Books I Plan to Read This Summer
1. MEXICAN GOTHIC by Silvia Moreno-Garcia
An isolated mansion. A chillingly charismatic artistocrat. And a brave socialite drawn to expose their treacherous secrets. . . .
From the author of Gods of Jade and Shadow comes "a terrifying twist on classic gothic horror" (Kirkus Reviews) set in glamorous 1950s Mexico—"fans of classic novels like Jane Eyre and Rebecca are in for a suspenseful treat" (PopSugar).  After receiving a frantic letter from her newly-wed cousin begging for someone to save her from a mysterious doom, Noemí Taboada heads to High Place, a distant house in the Mexican countryside. She's not sure what she will find—her cousin's husband, a handsome Englishman, is a stranger, and Noemí knows little about the region. (Read more...)
* * * * *
2. WHAT YOU WISH FOR by Katherine Center
From Katherine Center, the New York Times bestselling author of How to Walk Away comes a stunning new novel full of heart and hope.
Samantha Casey loves everything about her job as an elementary school librarian on the sunny, historic island of Galveston, Texas—the goofy kids, the stately Victorian building, the butterfly garden. But when the school suddenly loses its beloved principal, it turns out his replacement will be none other than Duncan Carpenter—a former, unrequited crush of Sam's from many years before.
When Duncan shows up as her new boss, though, he's nothing like the sweet teacher she once swooned over. He's become stiff, and humorless, and obsessed with school safety. Now, with Duncan determined to destroy everything Sam loves about her school in the name of security—and turn it into nothing short of a prison—Sam has to stand up for everyone she cares about before the school that's become her home is gone for good.
* * * * *
3.  10 THINGS I HATE ABOUT PINKY by Sandhya Menon
The follow-up to When Dimple Met Rishi and There's Something about Sweetie follows Pinky and Samir as they pretend to date—with disastrous and hilarious results.
Pinky Kumar wears the social justice warrior badge with pride. From raccoon hospitals to persecuted rock stars, no cause is too esoteric for her to champion. But a teeny-tiny part of her also really enjoys making her conservative, buttoned-up corporate lawyer parents cringe.  Samir Jha might have a few . . . quirks remaining from the time he had to take care of his sick mother, like the endless lists he makes in his planner and the way he schedules every minute of every day, but those are good things. They make life predictable and steady.
Pinky loves lazy summers at her parents' Cape Cod lake house, but after listening to them harangue her about the poor decisions (aka boyfriends) she's made, she hatches a plan. Get her sorta-friend-sorta-enemy, Samir—who is a total Harvard-bound Mama's boy—to pose as her perfect boyfriend for the summer. As they bicker their way through lighthouses and butterfly habitats, sparks fly, and they both realize this will be a summer they'll never forget.
* * * * *
4. PARIS IS ALWAYS A GOOD IDEA by Jenn McKinlay
It's been seven years since Chelsea Martin embarked on her yearlong post-college European adventure. Since then, she's lost her mother to cancer and watched her sister marry twice, while Chelsea's thrown herself into work, becoming one of the most talented fundraisers for the American Cancer Coalition, and with the exception of one annoyingly competent coworker, Jason Knightley, her status as most talented fundraiser is unquestioned.
When her introverted mathematician father announces he's getting remarried, Chelsea is forced to acknowledge that her life stopped after her mother died, and that the last time she can remember being happy, in love, or enjoying her life was on her gap year. Inspired to retrace her steps–to find Colin in Ireland, Jean Claude in France, and Marcelino in Italy–Chelsea hopes that one of these three men who stole her heart so many years ago, can help her find it again.
From the start of her journey nothing goes as planned, but as Chelsea reconnects with her old self, she also finds love in the very last place she expected.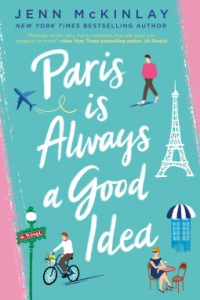 * * * * *
5. BLACKTOP WASTELAND by S.A. Cosby
A husband, a father, a son, a business owner…And the best getaway driver east of the Mississippi.
"Sensationally good—new, fresh, real, authentic, twisty, with characters and dilemmas that will break your heart. More than recommended." —Lee Child
Beauregard "Bug" Montage is an honest mechanic, a loving husband, and a hard-working dad. Bug knows there's no future in the man he used to be: known from the hills of North Carolina to the beaches of Florida as the best wheelman on the East Coast. He thought he'd left all that behind him, but as his carefully built new life begins to crumble, he finds himself drawn inexorably back into a world of blood and bullets. When a smooth-talking former associate comes calling with a can't-miss jewelry store heist, Bug feels he has no choice but to get back in the driver's seat. And Bug is at his best where the scent of gasoline mixes with the smell of fear.
Haunted by the ghost of who he used to be and the father who disappeared when he needed him most, Bug must find a way to navigate this blacktop wasteland…or die trying.
Like Ocean's Eleven meets Drive, with a Southern noir twist, S. A. Cosby's Blacktop Wasteland is a searing, operatic story of a man pushed to his limits by poverty, race, and his own former life of crime.
* * * * *
6. WHEN WE LEFT CUBA by Chanel Cleeton
In 1960s Florida, a young Cuban exile will risk her life–and heart–to take back her country in this exhilarating historical novel from the author of Next Year in Havana, a Reese Witherspoon Book Club pick.
Beautiful. Daring. Deadly.
The Cuban Revolution took everything from sugar heiress Beatriz Perez–her family, her people, her country. Recruited by the CIA to infiltrate Fidel Castro's inner circle and pulled into the dangerous world of espionage, Beatriz is consumed by her quest for revenge and her desire to reclaim the life she lost.
As the Cold War swells like a hurricane over the shores of the Florida Strait, Beatriz is caught between the clash of Cuban American politics and the perils of a forbidden affair with a powerful man driven by ambitions of his own. When the ever-changing tides of history threaten everything she has fought for, she must make a choice between her past and future–but the wrong move could cost Beatriz everything–not just the island she loves, but also the man who has stolen her heart…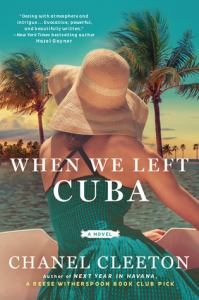 * * * * *
7. THE GIVER OF STARS by Jojo Moyes
From the author of Me Before You, set in Depression-era America, a breathtaking story of five extraordinary women and their remarkable journey through the mountains of Kentucky and beyond.
Alice Wright marries handsome American Bennett Van Cleve hoping to escape her stifling life in England. But small-town Kentucky quickly proves equally claustrophobic, especially living alongside her overbearing father-in-law. So when a call goes out for a team of women to deliver books as part of Eleanor Roosevelt's new traveling library, Alice signs on enthusiastically. The leader, and soon Alice's greatest ally, is Margery, a smart-talking, self-sufficient woman who's never asked a man's permission for anything. They will be joined by three other singular women who become known as the Packhorse Librarians of Kentucky.
What happens to them–and to the men they love–becomes an unforgettable drama of loyalty, justice, humanity and passion. These heroic women refuse to be cowed by men or by convention. And though they face all kinds of dangers in a landscape that is at times breathtakingly beautiful, at others brutal, they're committed to their job: bringing books to people who have never had any, arming them with facts that will change their lives.
Based on a true story rooted in America's past, The Giver of Stars is unparalleled in its scope and epic in its storytelling. Funny, heartbreaking, enthralling, it is destined to become a modern classic–a richly rewarding novel of women's friendship, of true love, and of what happens when we reach beyond our grasp for the great beyond.
* * * * *
8. THE GARDEN OF SMALL BEGINNINGS by Abbi Waxman
In the spirit of A Man Called Ove and Good Grief–a poignant, funny, and utterly believable novel about life and loss. 
Give grief a chance . . .
Lilian Girvan has been a single mother for three years–ever since her husband died in a car accident. One mental breakdown and some random suicidal thoughts later, she's just starting to get the hang of this widow thing. She can now get her two girls to school, show up to work, and watch TV like a pro. The only problem is she's becoming overwhelmed with being underwhelmed.
At least her textbook illustrating job has some perks–like actually being called upon to draw whale genitalia. Oh, and there's that vegetable-gardening class her boss signed her up for. Apparently, being the chosen illustrator for a series of boutique vegetable guides means getting your hands dirty, literally. Wallowing around in compost on a Saturday morning can't be much worse than wallowing around in pajamas and self-pity.
After recruiting her kids and insanely supportive sister to join her, Lilian shows up at the Los Angeles botanical garden feeling out of her element. But what she'll soon discover–with the help of a patient instructor and a quirky group of gardeners–is that into every life a little sun must shine, whether you want it to or not…
* * * * *
9. WITH THE FIRE ON HIGH by Elizabeth Acevedo
With her daughter to care for and her abuela to help support, high school senior Emoni Santiago has to make the tough decisions, and do what must be done. The one place she can let her responsibilities go is in the kitchen, where she adds a little something magical to everything she cooks, turning her food into straight-up goodness. Still, she knows she doesn't have enough time for her school's new culinary arts class, doesn't have the money for the class's trip to Spain — and shouldn't still be dreaming of someday working in a real kitchen. But even with all the rules she has for her life — and all the rules everyone expects her to play by — once Emoni starts cooking, her only real choice is to let her talent break free.
* * * * *
10. THE HAMILTON AFFAIR by Elizabeth Cobbs
Set against the dramatic backdrop of the American Revolution, and featuring a cast of iconic characters such as George Washington, Thomas Jefferson, and the Marquis de Lafayette, The Hamilton Affair tells the sweeping, tumultuous, true love story of Alexander Hamilton and Elizabeth Schuyler, from tremulous beginning to bittersweet ending—his at a dueling ground on the shores of the Hudson River, hers more than half a century later after a brave, successful life.
Hamilton was a bastard son, raised on the Caribbean island of St. Croix. He went to America to pursue his education. Along the way he became one of the American Revolution's most dashing—and unlikely—heroes. Adored by Washington, hated by Jefferson, Hamilton was a lightning rod: the most controversial leader of the American Revolution.
She was the well-to-do daughter of one of New York's most exalted families—feisty, adventurous, and loyal to a fault. When she met Alexander, she fell head over heels. She pursued him despite his illegitimacy, and loved him despite his infidelity. In 1816 (two centuries ago), she shamed Congress into supporting his seven orphaned children. Elizabeth Schuyler Hamilton started New York's first orphanage. The only "founding mother" to truly embrace public service, she raised 160 children in addition to her own.
With its flawless writing, brilliantly drawn characters, and epic scope, The Hamilton Affair will take its place among the greatest novels of American history.
* * * * *
Question:  What are you planning to read this summer?  Are we planning to read any of the same books?
https://thebookishlibra.com/wp-content/uploads/2018/01/TTT-Big2.png
203
500
Suzanne
https://thebookishlibra.com/wp-content/uploads/2018/06/trimmed-Copy-of-Bookish-Logo-copy.png
Suzanne
2020-06-16 05:45:04
2020-06-15 22:19:21
Top Ten Tuesday – Books I Plan to Read This Summer