Waiting on Wednesday: Spotlight on Once, In Lourdes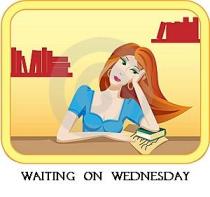 "Waiting On" Wednesday is a weekly event, hosted at Breaking the Spine, which encourages fellow bloggers to spotlight upcoming releases that we're excited about.
My "Waiting On" Wednesday selection for this week is Once, In Lourdes by Sharon Solwitz.  I just unexpectedly received an ARC of this book from the publisher yesterday, along with a message saying that if I enjoyed Emma Cline's The Girls, then I should enjoy this book as well. That piqued my curiosity because even though The Girls has had very mixed reviews, I loved it. It was one of my favorite reads from last year.  Reading the synopsis and the advance praise for Once, In Lourdes makes me think that I could easily love this book as well.
Once, In Lourdes by Sharon Solwitz
Publication Date:  May 30, 2017
From Amazon.com:
In the turbulent summer of 1968, four high school friends make a pact that will change their lives forever.
As the Vietnam War rages overseas, four friends make a vow. For the next two weeks, they will live for each other and for each day. Then, at the end of the two weeks, they will sacrifice themselves on the altar of their friendship.
Loyal Kay, our narrator, dreams of being an artist and escaping her stifling family—the stepmother and stepsister she gained after her mother's early death, and the father she no longer feels she knows. As she struggles with her weight, her schoolwork, and her longing for her mother, she feels loyalty only to her three friends, determined to keep their group together at any cost. Brilliant, charismatic CJ appears to have everything—though even those closest to him can't see him as he really is. Steady, quiet Saint wants to do right by everyone, trying not to let his emotions destroy himself and those around him. And beautiful Vera's family secrets are too dark to share, even with her closest friends; caught in a web of family dysfunction, she can only hope the others won't get tangled up in the danger she senses around her.
In the two-week span in which the novel takes place, during the summer before their senior year of high school, the lives of Kay, CJ, Saint, and Vera will change beyond their expectations, and what they gain and lose will determine the novel's outcome. Once, in Lourdes is a gripping, haunting novel about the power of teenage bonds, the story of four young people who will win your heart and transport you back to your own high school years. As the heady 1960s shift the ground beneath their feet, all of them must face who they are—and who they want to be.
* * * * *
Praise for Once, In Lourdes 
"After writing a spate of short stories, [Sharon Solwitz] returns to the longer form with a ravishing sense of place . . . and a heightened, almost surreal, feel for how intense emotions alter our perception of the world, especially in youth. Solwitz's surging, many-threaded, complexly insightful tale dramatizes not only personal crises, but also the violence of the infamous 1968 Democratic convention in Chicago. Timely and timeless."—Booklist (starred review)
"What makes Once, in Lourdes such a moving read is how deeply and finely Sharon Solwitz has observed and portrayed her characters. They are recognizable teenagers with recognizable desires and miseries and hardships, but they are so well rendered in their particulars that we follow them less and less as familiar types and more and more as the actual friends with whom we attempt to struggle through this part of life, making promises and pacts, breaking and keeping them, living and dying by them."—Paul Harding, Pulitzer Prize–winning author of Tinkers and Enon
"This is a story that reads achingly true to young angst, then, now, and always. It's an achievement of remarkable empathy—and gorgeous prose."—Janet Burroway, author of Raw Silk and Writing Fiction
"Sharon Solwitz has an ear so attuned to teen speech, teen humor, and, finally and most convincingly, teen angst that her novel crackles with urgency. She follows the rise and fall of adolescent moods, patient with their extremes and sympathetic to the neediness her characters struggle to hide. Once, in Lourdes will make you think you're eavesdropping on what you're not supposed to hear."—Rosellen Brown, New York Times bestselling author of Before and After
* * * * *
I'd love to hear what upcoming book releases you're waiting on this Wednesday? Leave me your link in the comments below and I'll stop by and check out your WoW selection for this week. 🙂
https://thebookishlibra.com/wp-content/uploads/2017/03/once-in-lourdes.jpg
700
461
Suzanne
https://thebookishlibra.com/wp-content/uploads/2018/06/trimmed-Copy-of-Bookish-Logo-copy.png
Suzanne
2017-03-29 06:14:01
2017-03-29 06:14:01
Waiting on Wednesday: Spotlight on Once, In Lourdes