Top Ten Tuesday: Top Ten Authors I'm Dying to Meet
Top Ten Tuesday is a fun weekly meme hosted by The Broke and the Bookish. This week's topic is Top Ten Authors I'm Dying To Meet / Ten Authors I Can't Believe I've Met (some other "meeting authors" type spin you want to do).  I've never actually met any authors before so I have a very long wishlist.  My wishlist got a little shorter when favorites like Harper Lee and Maya Angelou passed away in recent years, but there are still so many I would love to meet in person so that I can thank them for feeding my love of wonderful books.
Top Ten Authors I'm Dying to Meet
1. TONI MORRISON
Toni Morrison is a legend!  I took a seminar in college where we exclusively studied her fiction and her nonfiction, and I remember just being spellbound every word she wrote.  I'm sure I'd make a fool of myself if I were ever to meet her in person, but I would still just love to thank her for sharing her exquisite words with the world.   I remember reading this quote from Morrison back when I was in that class and it still resonates with me today, nearly 20 years later:
"If there's a book that you want to read, but it hasn't been written yet, then you must write it."
* * * * *
2. HILLARY CLINTON
Speaking of legends…although I don't often speak of politics and my adoration of Hillary Clinton since this is a blog about books, I sometimes forget that in addition to all of her other many accomplishments, she is also a successful author.  I first became a fan of Hillary's after reading her groundbreaking book "It Takes a Village and Other Lessons Children Teach Us" and would love to have the opportunity to meet with her and thank for inspiring me and so many other women of all ages.
"Human rights are women's rights and women's rights are human rights…"
* * * * *
3. BEVERLY CLEARY
I seem to be on a roll with legends, so here's one more that I would love to meet.  Beverly Cleary's stories were such an important part of my childhood. I adored them all and Beverly Cleary is, without a doubt, one of the main reasons why I still love to read as much as I do.  I'm now sharing her stories with my son and he loves them too, so I'd just love to meet her and give her a huge hug and thank her for Beezus and Ramona and all of those wonderful characters that added such magic to my childhood.
"I hope children will be happy with the books I've written, and go on to be readers all of their lives."
* * * * *
4. JUDY BLUME
I would love to meet Judy Blume, another author who definitely gave me my love for reading, to thank her for creating Fudge.  Fudgie is my son's favorite so I'd love to introduce him to the author who came up with such an entertaining fictional character.
"The best books come from someplace deep inside…. Become emotionally involved. If you don't care about your characters, your readers won't either."
* * * * *
5. STEPHEN KING
I actually haven't read that many of Stephen King's book because I'm not a big horror fan, but I'd still love to meet him because I follow him on social media and he just seems like such a fascinating person.  I'd love to pick his brain to see where he gets these horrifying brilliant story ideas from, but I'd also love to talk politics with him.
"People want to know why I do this, why I write such gross stuff. I like to tell them I have the heart of a small boy… and I keep it in a jar on my desk."
* * * * *
6. J. K. ROWLING
Seriously, is there anyone out there who doesn't want to meet J.K. Rowling to thank her for the brilliance that is the Harry Potter series?  Plus, following her on twitter, she just seems like such a hoot. I love watching her shut down the trolls, haha!
"If it's a good book, anyone will read it. I'm totally unashamed about still reading things I loved in my childhood."
* * * * *
7. V.E. SCHWAB
I'm such a huge fan of Schwab's A Darker Shade of Magic series and would love to meet her and make a fool of myself telling her how freaking awesome Lila Bard is.  She is also another who seems like she would be a lot of fun to chat with based on her hilarious tweets.
"I am a firm believer that a good plot makes for a fun enough read, but it's not what binds us. If we don't care about the characters, we won't care – not in a lasting way – about what's happening to them."
* * * * *
8. YAA GYASI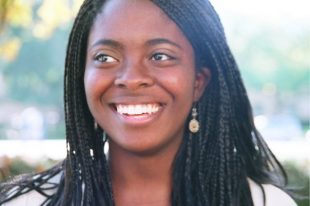 I just read Yaa Gyasi's beautiful debut HOMEGOING recently and it's one of those books that I just can't stop thinking about.  I read in an interview that she has started writing another book and I'd love to meet her and hear about the new book.
"We believe the one who has power. He is the one who gets to write the story. So when you study history you must ask yourself, Whose story am I missing?, Whose voice was suppressed so that this voice could come forth? Once you have figured that out, you must find that story too. From there you get a clearer, yet still imperfect, picture." (Homegoing)
* * * * *
9. MARGARET ATWOOD
I'm sure I would just end up making a complete ass out of myself, but Margaret Atwood just has such a brilliant mind that I'd love to just sit down and talk about anything and everything with her – her books, her writing process, politics– you name it and I just know she'd have something profound to say on the subject.  And I would just sit there in awe.
"Sooner or later, I hate to break it to you, you're gonna die, so how do you fill in the space between here and there? It's yours. Seize your space."
* * * * *
10. MARISSA MEYER
Marissa Meyer is an author who is fairly new to me, but I'm absolutely in love with The Lunar Chronicle Series. I'd love to meet her to find out how in the world she came up with such a creative and mind-blowingly fascinating take on the classic fairytales.  I mean, seriously…Cinderella as a cyborg? Freaking genius!
"Even in the Future the Story Begins with Once Upon a Time." (Cinder)
* * * * *
Question:  So there's my 10.  What authors are you dying to meet?  Would any of mine make your list?
https://thebookishlibra.com/wp-content/uploads/2016/08/toptentuesday.png
864
1600
Suzanne
https://thebookishlibra.com/wp-content/uploads/2018/06/trimmed-Copy-of-Bookish-Logo-copy.png
Suzanne
2017-03-28 06:19:42
2017-03-28 06:20:20
Top Ten Tuesday: Top Ten Authors I'm Dying to Meet