Top Ten Tuesday – Top Ten Books I'm Planning to Read this Fall
Top Ten Tuesday is a fun weekly meme hosted by The Broke and the Bookish. This week's topic is Top Ten Books on my Fall TBR List.  My list is a mix of books that I already own and need to finally get off of my TBR pile, plus some upcoming releases that I'm planning to acquire and read as well.  My goal is to get the five older books off my list first and then reward myself with the five new releases, but we'll see how that goes. 😉
Top Ten Books I'm Planning to Read This Fall 
1. Today Will Be Different by Maria Semple
I'm a huge fan of Maria Semple and her novel Where'd You Go, Bernadette so I was thrilled to hear that she has a new book coming out in October.  Her writing is just so fresh and fun and this will certainly be a book that I'll read as soon as I can get my hands on it!
Goodreads Synopsis: The new novel from Maria Semple, author of bestselling Where'd You Go, Bernadette and writer for hit US TV shows Ellen and Saturday Night Live. Meet Eleanor Flood, who wakes up one day determined to be her best self.
Eleanor Flood is going to clean up her act, only change into yoga clothes for yoga, which today she will actually attend, and be a better version of herself. But then, as it always does, life happens. Eleanor's husband is missing, and their son, Timby, is wearing eye shadow to school and getting into fashion battles on the playground. (It's true that it's Eleanor's fault: She did put makeup in his Christmas stocking.) Just when it seems like things can't get weirder or more in the way of Eleanor's personal transformation, a graphic memoir called The Flood Sisters surfaces, and the dramatic story it tells reveals long-buried secrets and a sister to whom Eleanor never speaks.
With all the artistic madness, genius plotting, and bold social observation that made Bernadette a hit, TODAY WILL BE DIFFERENT is a hilarious and heart filled day-in-the-life romp filtered through Maria Semple's brilliant eyes.   (Read more…)
* * * * *
2. Born to Run by Bruce Springsteen
As I shared in last week's Top Ten Tuesday, I am a huge Bruce Springsteen fan, and while I don't typically read much in the way of celebrity memoirs, there's just something about Springsteen that makes me want to read about his life in his own words.  Born to Run actually comes out today, so I'm asking for it as a birthday gift because my birthday is next month. 🙂
Goodreads Synopsis:  "Writing about yourself is a funny business…But in a project like this, the writer has made one promise, to show the reader his mind. In these pages, I've tried to do this."
—Bruce Springsteen, from the pages of Born to Run
In 2009, Bruce Springsteen and the E Street Band performed at the Super Bowl's halftime show. The experience was so exhilarating that Bruce decided to write about it. That's how this extraordinary autobiography began.  Over the past seven years, Bruce Springsteen has privately devoted himself to writing the story of his life, bringing to these pages the same honesty, humor, and originality found in his songs.
He describes growing up Catholic in Freehold, New Jersey, amid the poetry, danger, and darkness that fueled his imagination, leading up to the moment he refers to as "The Big Bang": seeing Elvis Presley's debut on The Ed Sullivan Show. He vividly recounts his relentless drive to become a musician, his early days as a bar band king in Asbury Park, and the rise of the E Street Band. With disarming candor, he also tells for the first time the story of the personal struggles that inspired his best work, and shows us why the song "Born to Run" reveals more than we previously realized.
Born to Run will be revelatory for anyone who has ever enjoyed Bruce Springsteen, but this book is much more than a legendary rock star's memoir. This is a book for workers and dreamers, parents and children, lovers and loners, artists, freaks, or anyone who has ever wanted to be baptized in the holy river of rock and roll.  (Read more…)
* * * * *
3. Holding Up the Universe by Jennifer Niven
I fell in love with Jennifer Niven's writing and storytelling abilities when I read All the Bright Places, so I am so looking forward to the release of her latest book Holding Up the Universe, which sounds just as fantastic.
Goodreads Synopsis: From the author of the New York Times bestseller All the Bright Places comes a heart-wrenching story about what it means to see someone—and love someone—for who they truly are.
Everyone thinks they know Libby Strout, the girl once dubbed "America's Fattest Teen." But no one's taken the time to look past her weight to get to know who she really is. Following her mom's death, she's been picking up the pieces in the privacy of her home, dealing with her heartbroken father and her own grief. Now, Libby's ready: for high school, for new friends, for love, and for EVERY POSSIBILITY LIFE HAS TO OFFER. In that moment, I know the part I want to play here at MVB High. I want to be the girl who can do anything.
Everyone thinks they know Jack Masselin, too. Yes, he's got swagger, but he's also mastered the impossible art of giving people what they want, of fitting in. What no one knows is that Jack has a newly acquired secret: he can't recognize faces. Even his own brothers are strangers to him. He's the guy who can re-engineer and rebuild anything in new and bad-ass ways, but he can't understand what's going on with the inner workings of his brain. So he tells himself to play it cool: Be charming. Be hilarious. Don't get too close to anyone.
Until he meets Libby. When the two get tangled up in a cruel high school game—which lands them in group counseling and community service—Libby and Jack are both pissed, and then surprised. Because the more time they spend together, the less alone they feel. . . . Because sometimes when you meet someone, it changes the world, theirs and yours.
Jennifer Niven delivers another poignant, exhilarating love story about finding that person who sees you for who you are—and seeing them right back..  (Read more…)
* * * * *
4. Swing Time by Zadie Smith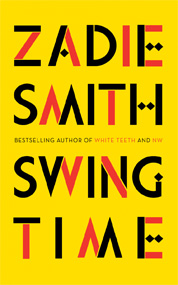 Doesn't this book sound amazing? I would be excited to read it even if I wasn't already a big fan of Zadie Smith.  This one comes out on November 15th, so I'm hoping to have knocked  out a few of my older reads and reward myself with Swing Time.
Goodreads Synopsis:  An ambitious, exuberant new novel moving from north west London to West Africa, from the multi-award-winning author of White Teeth and On Beauty.
Two brown girls dream of being dancers – but only one, Tracey, has talent. The other has ideas: about rhythm and time, about black bodies and black music, what constitutes a tribe, or makes a person truly free. It's a close but complicated childhood friendship that ends abruptly in their early twenties, never to be revisited, but never quite forgotten, either…
Dazzlingly energetic and deeply human, Swing Time is a story about friendship and music and stubborn roots, about how we are shaped by these things and how we can survive them. Moving from North-West London to West Africa, it is an exuberant dance to the music of time.   (Read more…)
* * * * *
5. Transcendent by Katelyn Detweiler
I just received a copy of this book from the publisher and am really looking forward to reading it. I have to admit I'm a little nervous about the bombing Disney World part since that's one of my favorite places in the world, but it still sounds like a powerful read so we'll see how it goes.
Goodreads Synopsis:  A beautiful work of magical realism, a story about a girl in the real world who is called upon to be a hero.
When terrorists bomb Disney World, seventeen-year-old Iris Spero is as horrified as anyone else. Then a stranger shows up on her stoop in Brooklyn, revealing a secret about the mysterious circumstances surrounding Iris's birth, and throwing her entire identity into question. Everything she thought she knew about her parents, and about herself, is a lie.
Suddenly, the press is confronting Iris with the wild notion that she might be "special." More than just special: she could be the miracle the world now so desperately needs. Families all across the grieving nation are pinning their hopes on Iris like she is some kind of saint or savior. She's no longer sure whom she can trust—except for Zane, a homeless boy who long ago abandoned any kind of hope. She knows she can't possibly be the glorified person everyone wants her to be… but she also can't go back to being safe and anonymous. When nobody knows her but they all want a piece of her, who is Iris Spero now? And how can she—one teenage girl—possibly heal a broken world? (Read more…)
* * * * *
6. Sweetbitter by Stephanie Danler
Sweetbitter was on a lot of the must-read book lists earlier this year and it sounded pretty interesting and is set in NYC, my favorite city in the world, so I had picked it up with the intention of reading it this summer.  I got distracted by other books though, as we bookworms often do, and forgot I even had it until recently. I started it last night actually and so far it's a good read.
Goodsreads Synopsis:  A lush, raw, thrilling novel of the senses about a year in the life of a uniquely beguiling young woman, set in the wild, alluring world of a famous downtown New York restaurant.
"Let's say I was born when I came over the George Washington Bridge…"
This is how we meet unforgettable Tess, the twenty-two-year-old at the heart of this stunning first novel. Shot from a mundane, provincial past, she's come to New York to look for a life she can't define, except as a burning drive to become someone, to belong somewhere. After she stumbles into a coveted job at a renowned Union Square restaurant, we spend the year with her as she learns the chaotic, punishing, privileged life of a "backwaiter," on duty and off. Her appetites—for food, wine, knowledge, and every kind of experience—are awakened. And she's pulled into the magnetic thrall of two other servers—a handsome bartender she falls hard for, and an older woman she latches onto with an orphan's ardor.
These two and their enigmatic connection to each other will prove to be Tess's hardest lesson of all. Sweetbitter is a story of discovery, enchantment, and the power of what remains after disillusionment. . (Read more…)
* * * * *
7. Cinder by Marissa Meyer
Over the summer, I picked up The Lunar Chronicles cheap at a local book fair.  I haven't started reading them yet because I had a few ARCs I needed to get through first for review purposes, but I really can't wait to start this series. It sounds so cool. Plus, once I get through them, I plan to reward myself with Melissa's newest release, Heartless, which sounds absolutely amazing!
Goodreads Synopsis:  Humans and androids crowd the raucous streets of New Beijing. A deadly plague ravages the population. From space, a ruthless lunar people watch, waiting to make their move. No one knows that Earth's fate hinges on one girl.
Cinder, a gifted mechanic, is a cyborg. She's a second-class citizen with a mysterious past, reviled by her stepmother and blamed for her stepsister's illness. But when her life becomes intertwined with the handsome Prince Kai's, she suddenly finds herself at the center of an intergalactic struggle, and a forbidden attraction. Caught between duty and freedom, loyalty and betrayal, she must uncover secrets about her past in order to protect her world's future.   (Read more…)
* * * * *
8. Girl in Pieces by Kathleen Glasgow
I just picked this book up a week or so ago and am trying to hold off until I get a few of the older books on my TBR taken care of, but I REALLY want to read it soon. It just sounds like it's going to be such a powerful and moving read.
Goodreads Synopsis:  Charlotte Davis is in pieces. At seventeen she's already lost more than most people lose in a lifetime. But she's learned how to forget. The broken glass washes away the sorrow until there is nothing but calm. You don't have to think about your father and the river. Your best friend, who is gone forever. Or your mother, who has nothing left to give you.   Every new scar hardens Charlie's heart just a little more, yet it still hurts so much. It hurts enough to not care anymore, which is sometimes what has to happen before you can find your way back from the edge.
A deeply moving portrait of a teenage girl on the verge of losing herself and the journey she must take to survive in her own skin, Kathleen Glasgow's debut is heartbreakingly real and unflinchingly honest. It's a story you won't be able to look away from.  (Read more…)
* * * * *
9. My Lady Jane by Cynthia Hand
I keep hearing that this is a hilarious read, so I'm planning to read it once I get through Girl in Pieces since that one sounds like it's going to be so gut-wrenching.
Goodreads Synopsis:  The comical, fantastical, romantical, (not) entirely true story of Lady Jane Grey. In My Lady Jane, coauthors Cynthia Hand, Brodi Ashton, and Jodi Meadows have created a one-of-a-kind fantasy in the tradition of The Princess Bride, featuring a reluctant king, an even more reluctant queen, a noble steed, and only a passing resemblance to actual history—because sometimes history needs a little help.
At sixteen, Lady Jane Grey is about to be married off to a stranger and caught up in a conspiracy to rob her cousin, King Edward, of his throne. But those trifling problems aren't for Jane to worry about. Jane is about to become the Queen of England.  (Read more…)
* * * * *
10. A Storm of Swords by George R.R. Martin
This bad boy has been on my TBR pile for far too long.  I adore this series but the books are so huge that I just keep shoving them aside in favor of shorter, less daunting reads.  I may not make it by fall, but winter is coming!  (Yes, I went there, haha).  Anyway, I am determined to finish this book before the end of the year.
Goodreads Synopsis:  Here is the third volume in George R.R. Martin's magnificent cycle of novels that includes A Game of Thrones and A Clash of Kings. Together, this series comprises a genuine masterpiece of modern fantasy, destined to stand as one of the great achievements of imaginative fiction.
Of the five contenders for power, one is dead, another in disfavor, and still the wars rage as alliances are made and broken. Joffrey sits on the Iron Throne, the uneasy ruler of the Seven Kingdoms. His most bitter rival, Lord Stannis, stands defeated and disgraced, victim of the sorceress who holds him in her thrall. Young Robb still rules the North from the fortress of Riverrun. Meanwhile, making her way across a blood-drenched continent is the exiled queen, Daenerys, mistress of the only three dragons still left in the world. And as opposing forces manoeuver for the final showdown, an army of barbaric wildlings arrives from the outermost limits of civilization, accompanied by a horde of mythical Others—a supernatural army of the living dead whose animated corpses are unstoppable. As the future of the land hangs in the balance, no one will rest until the Seven Kingdoms have exploded in a veritable storm of swords.  (Read more…)
* * * * * *
Question:  So what books are you looking forward to reading this fall?   Are yours all new releases or are you looking to clean out some oldies as well?  I'd love to hear from you 🙂
https://thebookishlibra.com/wp-content/uploads/2016/08/toptentuesday.png
864
1600
Suzanne
https://thebookishlibra.com/wp-content/uploads/2018/06/trimmed-Copy-of-Bookish-Logo-copy.png
Suzanne
2016-09-27 07:39:19
2016-09-27 07:40:27
Top Ten Tuesday – Top Ten Books I'm Planning to Read this Fall