Thriller Reviews: NONE OF THIS IS TRUE & DARK CORNERS
Happy Monday! I hope everyone is doing well.  I'm struggling to believe we're already eight months into the year. My son actually goes back to school this week even though it seems like he just got out. He'll be starting his junior year and hopefully driving soon, so it's a busy and exciting time around here.  I'm still reading lots though and have started pivoting a bit to some thrillers as we march toward spooky season.  Don't worry, I'll still have plenty of romance reviews to share.  I'm just getting back into the headspace where I can read these darker reads too and I'm excited to finally be at that point. Today I'm sharing my thoughts on thrillers from two of my favorite authors. I love that they both featured podcasters in their latest novels.
None of This Is True Goodreads

Author: Lisa Jewell
Publication Date: August 8, 2023
Publisher: Atria Books
FTC Disclosure: I received a complimentary copy of this book from the publisher via Netgalley.  All opinions are my own.
I'm a huge fan of Lisa Jewell's addictive psychological thrillers so I was beyond excited to get my hands on an advanced copy of her latest novel, None of This is True.  And wow, what a ride this book was. I think it may be her most twisty thriller yet!
The story follows Alix Summers, a popular podcaster who has shot to fame with her compelling interviews with women who have overcome tremendous odds to create new lives for themselves.  One night while she is out celebrating her 45th birthday, she runs into a woman named Josie Fair, who happens to be there celebrating her 45th birthday as well.  Birthday twins!  The two women spend a couple of minutes chatting and go back to their respective celebrations.  Alix thinks nothing else of it, but Josie becomes fixated on Alix and orchestrates a "chance" meeting with her at her kids' school. Josie has decided that she would be a great candidate to be interviewed on Alix's podcast and seeks to persuade Alix to her way of thinking. Once she convinces Alix that her story would really be great to take her podcast to the next level, Josie then begins to systematically insert herself into every aspect of Alix's life. Who is Josie and what in the world is she up to?
Josie starts off as just this kind of sad, quirky character but the more we follow her and listen to the stories she tells Alix, the more disturbing and creepy I found her to be. I think I became as fixated on Josie as she was on Alix.  She made me super uncomfortable but at the same time, I was completely fascinated by her and wanted to know what she was really up to.
I love Jewell's brand of storytelling anyway, but I felt like she really kicked this one up a notch and tried some new things with this book that really worked well for me.  I was an especially big fan of her use of excerpts from Alix's podcast as well as the Netflix documentary that covered the whole experience.  I thought those elements provided the perfect teasers to entice the reader to keep turning those pages.  Jewell also brilliantly uses the unreliable narrator in this story. It was nearly impossible to distinguish fact from fiction, and the story kept me guessing until the very end.  The novel is aptly named, that's for sure!
If you're in the mood for an addictive psychological thriller that is like nothing you've read before, definitely check out None of This is True.  It was my favorite read in July and I'm sure it will be on my end of year favorites list as well.  5 STARS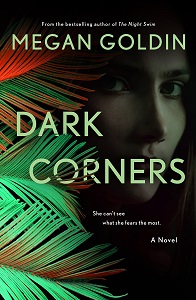 Dark Corners (Rachel Krall, #2) Goodreads

Author: Megan Goldin
Publication Date: August 8, 2023
Publisher:  St. Martin's Press
FTC Disclosure: I received a complimentary copy of this book from the publisher via Netgalley.  All opinions are my own.
Megan Goldin is an author I always know I can count on for an excellent read so I requested a review copy of her latest thriller, Dark Corners, without even reading the synopsis.  I was thrilled to start reading it and realized that it features Rachel Krall, the protagonist from The Night Swim, my favorite book from Goldin so far. Don't worry if you haven't read The Night Swim yet because Dark Corners works well as a standalone. That said, definitely go back and read it though because it's fabulous!
Rachel Krall is a badass.  She is a true crime podcaster who has become a household name because even though she has no experience in law enforcement and is not a detective, she has been able to solve cases that law enforcement agencies have not. Her instinctive investigative skills and her no nonsense attitude have grudgingly earned her the respect of the various agencies, including the FBI who has called her in to assist on the case that is the focus of this book.
Following Rachel as she puts together the pieces of a case was the most riveting part of The Night Swim for me and this was also the case here.  It's fascinating to see her mind at work and to follow her train of thought as she investigates.  This case, which focuses on a social media influencer who goes missing after paying a visit to a serial killer in prison, was especially interesting to follow as it takes Rachel into the world of influencers and even to an influencer convention, giving a sneak peek into that world and its narcissistic nature. Golden always weaves plenty of twists and turns in her novels to build suspense and when an unexpected twist actually puts a target on Rachel's back, I couldn't put the book down until I knew how that was going to play out.
I read the e-book and listened to the audio version of this book and highly recommend the audio since many excerpts from Rachel's podcast are woven into the story.  While it was fine to read those excerpts on the page, the audiobook really enhanced my reading experience.
I don't want to say anything else for fear of spoilers, but with Dark Corners, Megan Goldin has delivered another addictive and suspenseful read and I can't wait to read more from her. I also hope this isn't the last we've seen of Rachel Krall!  4 STARS
https://thebookishlibra.com/wp-content/uploads/2023/08/reviews-76.jpg
1240
1748
Suzanne
https://thebookishlibra.com/wp-content/uploads/2018/06/trimmed-Copy-of-Bookish-Logo-copy.png
Suzanne
2023-08-07 05:35:11
2023-08-06 21:16:26
Thriller Reviews: NONE OF THIS IS TRUE & DARK CORNERS