Reviews: ALL THE DANGEROUS THINGS & THE VILLA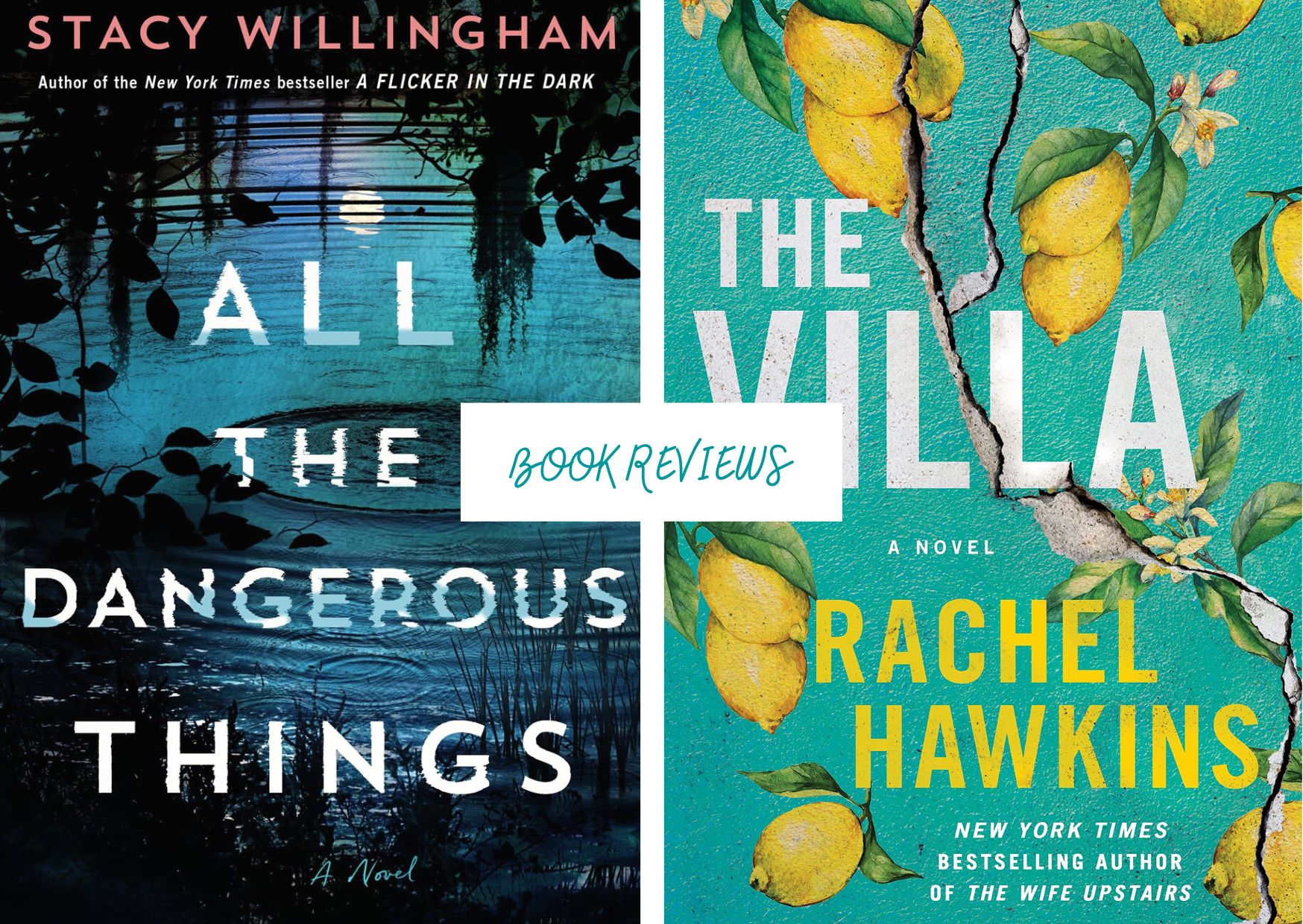 Happy New Year, everyone!  I hope that 2023 will be a wonderful year for all of us.  I wasn't originally planning on taking a week off from blogging but at the last minute, decided to take the last week of the year to just fully relax and recharge.  I did get lots of reading done during that week though and today I'm back to review two very entertaining books I ended the year with.
All the Dangerous Things
Goodreads
Author: Stacy Willingham
Publication Date: January 10, 2023
Publisher:  St. Martin's Press/Minotaur Books
FTC Disclosure: I received a complimentary copy of this book from Netgalley.  All opinions are my own.
Wow, what a book!  Stacy Willingham took the thriller world by storm with her debut novel A Flicker in the Dark and she has really outdone herself with her latest book, All the Dangerous Things.  As a mother, this new book is my worst nightmare, but as a reader, this is exactly the kind of thriller that grabs my attention and doesn't let go.
The story follows Isabelle Drake, a woman who has barely slept a wink for the past year, not since the night her young son was stolen from his bed in the middle of the night without a trace.  The police have turned up no leads or meaningful clues and are pretty much at a dead end with their investigation.  While everyone else, including Isabelle's husband, assumes the boy is dead and tries to move on, Isabelle refuses to give in to that way of thinking.  Desperate to find out what has happened to her son and to bring him home, she becomes fixated on doing whatever she can to find the truth, even if it costs her everything.
When a true crime podcaster who has had some success with cold cases approaches her about telling her story, Isabelle agrees to work with him.  The two of them work closely together at first, but when Isabelle realizes the podcaster is looking into some deeply troubling events from her past, she starts to doubt that his motives are as he presented them to her.  He is specifically focusing his attention on the fact that, as a child, Isabelle was a sleepwalker and often did things she later had no memory of.  Isabelle's past had already been on her mind before the podcaster started digging and now that he has brought it to the surface, not only does she now distrust him, but she also starts to distrust everyone else she knows, including herself.
I really enjoyed this story because it kept me guessing every step of the way and because every time I thought I had a main suspect in mind, the story took a completely unexpected turn that made me have to reevaluate and find another suspect.  I swear, by the end, just about every character had been on my suspect list and I was still wrong about who the perpetrator was, haha.  I just love stories that do that, and I also loved how complex the main character, Isabelle, is.  While she's clearly flawed and a bit messy, going rogue with her investigation whenever it suits her, I just loved how realistic she was.  Her exhaustion, and her desperation and longing for her child was palpable, and as a mom, I could easily relate to all the lengths she went to in order to try to find the truth.  I especially admired her commitment to finding the truth even if it led her somewhere she really didn't want to go.  The writing is also fantastic – sharp, smart, and very atmospheric, making me feel like I was fully immersed in the story and in the marshy, southern setting.
If you're looking for a twisty thriller that will keep you on your toes and guessing until the very end, you'll want to kick off your 2023 reading with All the Dangerous Things.  4.5 STARS
The Villa Goodreads

Author: Rachel Hawkins
Publication Date: January 3, 2023
Publisher: St. Martin's Press
FTC Disclosure: I received a complimentary copy of this book from Netgalley.  All opinions are my own.
I was a big fan of Rachel Hawkins' last two novels, The Wife Upstairs, and Reckless Girls, both of which were wild and twisty rides, so I was eager to get my hands on a copy of her latest thriller, The Villa.  The promise of another read that would keep me on the edge of my seat, coupled with the Gothic vibe of its Italian villa setting, was just irresistible to me.
The story is told through dual timelines, one set in the present and one set in the 1970s. In the present day timeline, we follow Emily and Chess, two writers who also happen to be lifelong friends who have drifted apart in recent years.  They decide to spend the summer in Italy as a way to reconnect and to both get in some quality writing time on their books.  When Emily does some research about the villa they'll be staying at, she learns a murder was committed in the house back in the 70's when a rockstar and his friends were staying there.  Emily becomes fixated on learning more about what happened there in the 70's, and so part of the present timeline follows her on her hunt for information.  The second timeline focuses on Mari, a young woman, who also happens to be a writer, who was staying at the villa at the time of the murder and who witnessed the events that led up to it and incorporated some of what she witnessed into what went on to become a best selling novel.
The 1970s timeline was, by far, my favorite.  The relationships between the rockstar and all his guests were so intriguing and so complicated that it was just fascinating to watch them interact, especially since you could tell trouble was brewing between them. Jealousy was often the driving force between their interactions and the vibe that surrounded them was often foreboding.  Mari often tried to remove herself from the drama by focusing on the book she was writing, but as tensions escalated, more and more of what she witnessed found its way into her book.
I wasn't quite as big of a fan of the present day timeline, mainly because I couldn't stand Chess.  She just came across as fake and shady, and I didn't trust her at all.  I did like Emily though and so was rooting for her because she has been struggling with her writing and dealing with an obnoxious soon to be ex-husband who seems to think he's entitled to a huge chunk of the profits from her books.  Emily writes a cozy mystery series but has writer's block because the love interest in her series was modeled on her ex-husband. Now that they're on the outs, she can't bear to write about his character anymore. When she finds a copy of Mari's famous novel on a bookcase at the villa, she devours it in a sitting and then pairs it up with what she knows about the murder. What she sees inspires her to write a book that is entirely different from anything she has ever written before.  I was cheering her on every step of the way, not just because I wanted to learn every little detail about what happened that fateful night in the 70s but also just because I wanted a win for Emily because she deserves one after all her ex puts her through.
The Villa is definitely what I would call a slow-burn thriller, but if you're patient as you follow those two timelines slowly merging and putting the pieces of the murderous puzzle together, the payoff is well worth it.  3.5 STARS
https://thebookishlibra.com/wp-content/uploads/2023/01/reviews-50.jpg
1240
1748
Suzanne
https://thebookishlibra.com/wp-content/uploads/2018/06/trimmed-Copy-of-Bookish-Logo-copy.png
Suzanne
2023-01-02 05:35:12
2023-01-01 22:04:32
Reviews: ALL THE DANGEROUS THINGS & THE VILLA