Review: FIRST CUT by Judy Melinek & T.J. Mitchell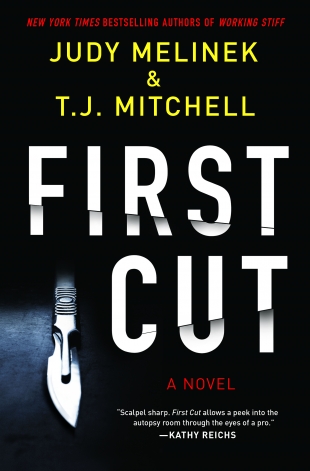 First Cut
by
Judy Melinek
,
T.J. Mitchell

Published by
Hanover Square Press
on January 7, 2020
Genres:
Mystery
,
Thriller
Pages:
368
Source:
Netgalley
Goodreads
FTC Disclosure: I received a complimentary copy of this book from the publisher via Netgalley. All opinions are my own.
Thanks so much to Justine Sha for inviting me to take part in Harlequin Trade Publishing's Winter 2020 Mystery/Thriller Blog Tour.  Today I'm sharing my thoughts on FIRST CUT by Judy Melinek & T.J. Mitchell.
First Cut is a gritty, fast-paced medical thriller that follows Dr. Jessie Teska, a scrappy medical examiner who has just taken a new job in San Francisco. Jessie doesn't want to rock the boat since she's new and because she desperately needs the job, but when one of her very first cases goes from looking like a woman who died from an accidental drug overdose to a straight up murder, Jessie surprisingly finds herself at odds with her supervisor.  While Jessie wants to dig deeper to find out what really happened to the young woman, especially after she starts to see connections between her case and a couple of others in the morgue, her supervisor is trying to force her to close the case immediately and sign off on it as an accidental death.  Why?
I thought Jessie was such a great character.  She's incredibly competent in her work and very professional, but she's also one of those complex, messy types that I love so much.  I was intrigued by the hints of a troubled past that drove her to leave her home and start over in San Francisco, and I especially loved how stubborn she was and how determined she was to find out what happened to the victim in her case, even if it meant butting heads with her superiors.  I loved that when her superiors try to force her to back off, she pushes back even harder because now she wants to know why they want the case closed when there are clearly still more questions than answers. Jessie is the quintessential scrappy little underdog that you can't help but cheer on in her relentless pursuit of the truth.
In addition to creating such a fantastic protagonist, the authors also craft an utterly gripping plot that takes the reader into the deep underbelly of the drug trafficking world.  The writing is raw and real, drawing from author Judy Melinek's experience working in forensic pathology. The story was also fast-paced and well written, with lots of intricate and seemingly unrelated threads that gradually get woven together as Jessie gets closer and closer to the truth. Just a small word of warning regarding the writing – First Cut does feature some pretty graphic autopsy scenes. While this isn't surprising, based on the nature of the book, I still wanted to give a head's up in case some readers get squeamish about blood and other bodily fluids.
If the world of forensic pathology is of interest to you and you like a good twisty thriller, you should add First Cut to your reading list.
PURCHASE LINKS:
Harlequin – Amazon – Barnes & Noble – Indie Bound – Kobo – Target – iBooks – Google – Books-A-Million
SUMMARY:
Wife and husband duo Dr. Judy Melinek and T.J. Mitchell first enthralled the book world with their runaway bestselling memoir Working Stiff—a fearless account of a young forensic pathologist's "rookie season" as a NYC medical examiner. This winter, Dr. Melinek, now a prominent forensic pathologist in the Bay Area, once again joins forces with writer T.J. Mitchell to take their first stab at fiction.
The result: FIRST CUT (Hanover Square Press; Hardcover; January 7, 2020; $26.99)—a gritty and compelling crime debut about a hard-nosed San Francisco medical examiner who uncovers a dangerous conspiracy connecting the seedy underbelly of the city's nefarious opioid traffickers and its ever-shifting terrain of tech startups.
Dr. Jessie Teska has made a chilling discovery. A suspected overdose case contains hints of something more sinister: a drug lord's attempt at a murderous cover up. As more bodies land on her autopsy table, Jessie uncovers a constellation of deaths that point to an elaborate network of powerful criminals—on both sides of the law—that will do anything to keep things buried. But autopsy means "see for yourself," and Jessie Teska won't stop until she's seen it all—even if it means the next corpse on the slab could be her own.
https://thebookishlibra.com/wp-content/uploads/2020/01/FIRST-CUT-cover-scaled.jpg
2560
1686
Suzanne
https://thebookishlibra.com/wp-content/uploads/2018/06/trimmed-Copy-of-Bookish-Logo-copy.png
Suzanne
2020-01-10 05:35:45
2020-01-09 19:37:05
Review: FIRST CUT by Judy Melinek & T.J. Mitchell