Top Ten Tuesday – My Favorite Grumpy/Sunshine Romances
Top Ten Tuesday was created by The Broke and the Bookish in June of 2010 and was moved to That Artsy Reader Girl in January 2018. It was born of a love of lists, a love of books, and a desire to bring bookish friends together.  Top Ten Tuesday has been one of my favorite memes ever since I started blogging, so huge thanks to Jana for taking over the hosting duties!
This week's TTT topic is Books With Your Favorite Trope/Theme.  I have to admit that I'm pretty obsessed with grumpy/sunshine romances right now, so I thought it would be fun to share some of my favorite romances that feature that trope. (All synopses taken from Goodreads)
My Favorite Grumpy/Sunshine Romances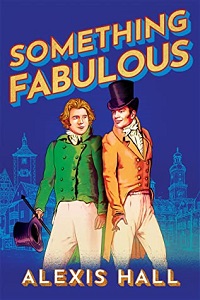 1. THE SINGLES TABLE by Sara Desai
Opposites attract in this romantic comedy about a free-spirited lawyer who is determined to find the perfect match for the grumpy bachelor at her friend's wedding.
2.  IT HAPPENED ONE SUMMER by Tessa Bailey
Tessa Bailey is back with a Schitt's Creek-inspired rom-com about a Hollywood "It Girl" who is cut off from her wealthy family and exiled to a small Pacific Northwest beach town… where she butts heads with a surly, sexy local who thinks she doesn't belong. 
3.  ACT YOUR AGE, EVE BROWN by Talia Hibbert
In Act Your Age, Eve Brown the flightiest Brown sister crashes into the life of an uptight B&B owner and has him falling hard—literally.
4.  SOMETHING FABULOUS by Alexis Hall
On Goodreads, Hall describes this book as: "It's a big gay regency romp about an overly dramatic beautiful rainbow sunshine unicorn and an overly dramatic demisexual grumpy duke, going on a cross-country chase."
5. BATTLE ROYAL by Lucy Parker
Dominic is His Majesty the King's favorite baker, the go-to for sweet-toothed A-List celebrities, and a veritable British institution. He's brilliant, talented, hard-working. And an icy, starchy grouch. Learning that the irksome Sylvie will be joining him on the Operation Cake judging panel is enough to make the famously dour baker even more grim. Her fantastical baking is only slightly more troublesome than the fact that he can't stop thinking about her pink-streaked hair and irrepressible dimple.  When Dominic and Sylvie learn they will be fighting for the once in a lifetime opportunity to bake a cake for the upcoming wedding of Princess Rose, the flour begins to fly as they're both determined to come out on top.
6. THE LOVE HYPOTHESIS by Ali Hazelwood
The Love Hypothesis by Ali Hazelwood is quite possibly the sweetest, most adorable romance novel I've ever read. It checked so many boxes for me (a STEM heroine, the fake dating trope, grumpy/sunshine, hilarious banter, and so much more) and it just had me grinning from ear to ear pretty much the entire time I was reading.
All's faire in love and war for two sworn enemies who indulge in a harmless flirtation in a laugh-out-loud rom-com from debut author, Jen DeLuca.  Emily knew there would be strings attached when she relocated to the small town of Willow Creek, Maryland, for the summer to help her sister recover from an accident, but who could anticipate getting roped into volunteering for the local Renaissance Faire alongside her teenaged niece? Or that the irritating and inscrutable schoolteacher in charge of the volunteers would be so annoying that she finds it impossible to stop thinking about him?
8.  THE SOULMATE EQUATION by Christina Lauren
The story follows Jess Davis, a freelance statistician.  Her passion is crunching numbers all day.  Jess has no time or interest in dating, but her curiosity about the data and the science behind a new DNA-based dating app called GeneticAlly leads her to actually submit a sample of her DNA to see if it actually works.  Even though she's all about science and numbers, when she is found to be 98% compatible with another subject in the database, she is skeptical, especially because she has actually met the guy and can't stand him! He's gruff, arrogant, rude, and obnoxious, or is he?  As Jess starts to get to know him, she realizes she may have been a bit hasty and overly harsh in her initial assessment.
9. WRITTEN IN THE STARS by Alexandria Bellefleur
With nods to Bridget Jones and Pride and Prejudice, a charming #ownvoices queer rom-com debut about a free-spirited social media astrologer who agrees to fake a relationship with an uptight actuary until New Year's Eve—with results not even the stars could predict!
A romance writer who no longer believes in love and a literary writer stuck in a rut engage in a summer-long challenge that may just upend everything they believe about happily ever afters.  Augustus Everett is an acclaimed author of literary fiction. January Andrews writes bestselling romance. When she pens a happily ever after, he kills off his entire cast. They're polar opposites. Until, one hazy evening, when one thing leads to another and they strike a deal designed to force them out of their creative ruts: Augustus will spend the summer writing something happy, and January will pen the next Great American Novel.
* * * * * *
Question:  Have you read any of these?
https://thebookishlibra.com/wp-content/uploads/2018/01/TTT-Big2.png
203
500
Suzanne
https://thebookishlibra.com/wp-content/uploads/2018/06/trimmed-Copy-of-Bookish-Logo-copy.png
Suzanne
2022-03-08 05:35:12
2022-03-07 22:22:55
Top Ten Tuesday – My Favorite Grumpy/Sunshine Romances