Reviews: BY ANY OTHER NAME & A BRUSH FOR LOVE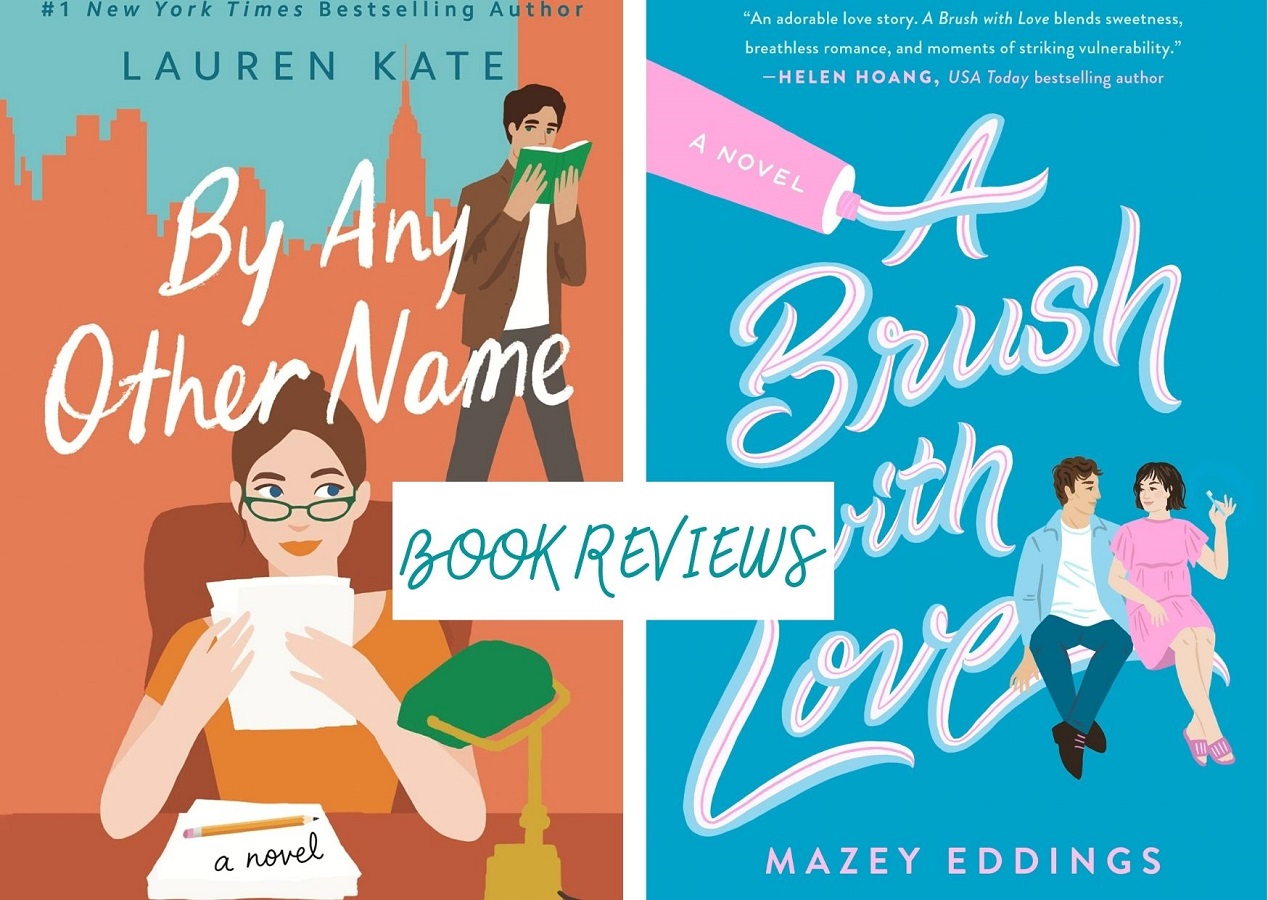 I'm back today to share some reviews for two wonderful new romances that are coming out on March 1. While I'm excited to share my thoughts on these two books, I did want to take a moment to say that my heart is with the people of Ukraine.  I don't know what the future holds for them, but their bravery and determination has really been inspirational.
By Any Other Name
Goodreads
Author: Lauren Kate
Publication Date: March 1, 2022
Publisher:  Penguin Publishing Group
FTC Disclosure: I received a complimentary copy of this book from Netgalley.  All opinions are my own.
Lauren Kate's new novel, By Any Other Name, follows Lanie Bloom, a young woman who chose to be a romance editor specifically because of her love of the novels of Noa Calloway. Lanie has learned everything she knows about love and romance from Noa's books and even agreed to marry her fiancé, Ryan, because he matched all the items on a checklist Lanie made, inspired by one of Noa's books.  Noa also happens to be a client at the publishing house where Lanie works.  Fans (and the publishing house of course) are anxiously awaiting Noa's latest novel, but there's a problem – the elusive Noa is four months late delivering the manuscript and no one knows why, not even her editor, who is Lanie's boss.
When Lanie's boss doesn't return to work after her maternity leave, Lanie is promoted, which means working side by side with her idol Noa.  There's one catch – Lanie only gets to keep the promotion (and probably her job as well) if she can get Noa to deliver a best-selling novel in the next three months.  Lanie is excited to meet her idol but feels like a rug has been pulled out from under her when the meeting takes place and Noa is not at all what Lanie was expecting. Once Lanie got over her initial feelings of shock and betrayal, she and Noa bonded quickly and I loved watching the two of them work together.  Noa's issue is of course writer's block and when Lanie hears the heartbreaking reason why Noa is struggling to write the latest book, she is determined to do everything she can to help make this book happen.
Working so closely with Noa makes Lanie reconsider some things in her own life and I really loved her journey and growth as a character.  I also loved Lanie's passion and her big heart and was really cheering her on to break through Noa's writer's block. Although Lanie and Noa were my favorite characters, I also had major love for the secondary characters as well, especially Lanie's best friends and her grandmother. They were all charming, hilarious, and the best possible support system for Lanie.
I was also a huge fan of the book's setting, which moved from New York to Italy, two of my favorite places in the world.  Noa's books have always been set in New York, but during their first big conversation about the writer's block, Noa confesses that New York feels used up. I loved that Lanie was able to find a way to refresh Noa's thoughts on New York and that we got to explore lesser known gems of the city with them.
One of the most special elements for me in By Any Other Name is Noa's book.  We are given an inside look at the premise of the story, as well as some actual excerpts. It's beautiful and romantic and had me wishing it was a real book so I could read it from cover to cover.
If you're like me and you enjoy books about books, books that make you laugh as well as shed the occasional tear, stories where a character's personal growth takes center stage and that also feature a slow-burn, low-key romance, By Any Other Name is the book for you.  4 STARS.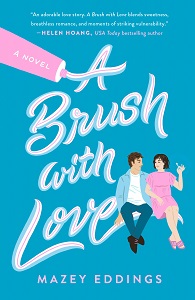 A Brush with Love Goodreads

Author: Mazey Eddings
Publication Date: March 1, 2022
Publisher: St. Martin's Griffin
FTC Disclosure: I received a complimentary copy of this book from Netgalley.  All opinions are my own.
I love stories that feature academic settings so I was drawn to Mazey Eddings new romance A Brush with Love because it's set in a dental school. I thought this was an absolutely delightful read and found myself cheering for Harper and Dan from their first fateful meeting when Harper falls down the stairs, crashes into Dan and shatters the dental mold he has been slaving over for hours.  I don't usually do insta-love but something about their eyes meeting during this funny, clumsy meet cute just really appealed to me and I was hooked on seeing where this first meeting would take them.
Harper has no time for romance.  She's in her final year of school and is hoping to earn a placement in one of the top oral surgery residency programs in the country.  She's intense and driven and dedicates all her free time to studying.  She also frequently experiences anxiety and feels like she has to be in control of all aspects of her life to keep that anxiety at bay.  Harper feels bad about crushing Dan's project though so she volunteers to help him recreate it, but that's it, then it's back to studying…even though she does think he's cute.  I really liked Harper a lot. I loved her determination and her passion for her career choice. I also felt that she could use a little more school/life balance though and that Dan might be exactly what she needs.
Dan is almost the opposite of Harper.  Although he's her age, 26, he's just beginning dental school, and where she's a superstar, Dan is struggling.  He's not doing well in his classes and he just doesn't feel nearly as passionate as Harper does about going into this field.  We learn that he has another passion but has given it up in order to help his mother with her dental practice, which she co-ran with Dan's father until he passed away.  I adored Dan. I loved that he was willing to make such a huge sacrifice for his mom, but at the same time, my heart broke for him since he was so clearly unhappy studying dentistry.  Meeting Harper has clearly been the high point of his time at school and I loved him all the more for him understanding how important school is for her. Even though he really likes her, he respects her wishes to just be friends
I thought the author did a wonderful job of making their budding relationship feel very realistic, especially in terms of the ups and downs.  Dan and Harper start spending a lot of time together and the more they bond, the harder it is to just stay friends.  But there's a lot of turmoil as they are both working through personal issues in addition to just the normal school stress.  I loved how Dan was always so supportive of Harper and didn't give up on her no matter how difficult she could sometimes make things. Dan was so good for her that I just kept hoping he would win her over for a more-than-friends relationship.
Aside from Harper and Dan, I also loved most of the side characters in this book, especially Harper's friend group.  Her squad is filled with vibrant personality; they're both hilarious and also just such an awesome support system for Harper.
I highly recommend A Brush with Love to anyone who enjoys a sweet, realistic friends-to-lovers romance, an academic setting, and a cast of awesome secondary characters.  4 STARS.
https://thebookishlibra.com/wp-content/uploads/2022/02/reviews-18.jpg
900
1268
Suzanne
https://thebookishlibra.com/wp-content/uploads/2018/06/trimmed-Copy-of-Bookish-Logo-copy.png
Suzanne
2022-02-28 05:35:38
2022-02-27 22:04:39
Reviews: BY ANY OTHER NAME & A BRUSH FOR LOVE