Reviews: SOMETHING FABULOUS & GETTING HIS GAME BACK
Happy Friday all!  I'm so ready for the weekend but first I want to share reviews for a couple of romances that come out this week that you're going to want to add to your TBR.  One is from a recent favorite author of mine, while this other is a wonderful debut.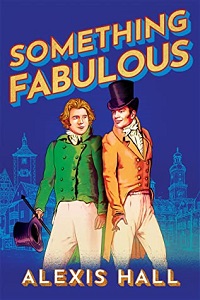 Something Fabulous
Goodreads
Author:  Alexis Hall
Publication Date: January 25, 2022
Publisher:  Montlake
FTC Disclosure: I received a complimentary copy of this book from Netgalley.  All opinions are my own.
I'm a relatively new fan of Alexis Hall's, having read and loved two of his most recent novels, Boyfriend Material and Rosaline Palmer Takes the Cake.  He has such a knack for creating lovable characters and putting them in hilarious predicaments that I couldn't wait to get my hands on his latest book, Something Fabulous. Something Fabulous is a Regency romance but it's not like any Regency romance I've ever read.  I honestly don't know that I've ever laughed so hard while reading a book. On Goodreads, Hall describes the book as such: "It's a big gay regency romp about an overly dramatic beautiful rainbow sunshine unicorn and an overly dramatic demisexual grumpy duke, going on a cross-country chase."  That description is spot-on and I can't improve upon it.
I'm all about a good grumpy-sunshine romance so I was enamored with the two main characters as soon as they were introduced. Valentine Layton is an ultra-reserved Duke who is intent on doing his duty at all costs, even if it means marrying Arabella Tarleton, a woman he really has no romantic interest in, just to carry out his father's wishes.  Valentine comes across as a stuffed shirt who could really use a good roll in the hay, and it becomes obvious early on that it's not Arabella who gets under Valentine's skin, it's her twin brother, Bonaventure or "Bonny," who is just as much of a ray of sunshine as his nickname makes him sound and who pretty obviously has a massive crush on Valentine.  Valentine initially thinks Bonny is a pain in the rear but the two of them are forced to work together to find Arabella, who is so repulsed by the idea of a marriage of convenience with a man she doesn't love, she runs away in the middle of the night.
I don't want to spoil what happens when Bonny and Valentine embark on this cross-country chase, but let me just tell you, hilarity ensues. Basically, they're one step behind Arabella throughout the chase and she plants outrageous lies about Valentine everywhere she has been, so that trouble is waiting for him every time he stops somewhere she stopped and inquires about her. There were a couple of times I laughed so hard I had tears in my eyes.
There are also some tender moments and some super steamy ones as Bonny and Valentine finally start to acknowledge their feelings for one another.  I loved watching the two of them grow closer.  The banter is still there so most of these scenes are still quite funny, but they're also pretty touching as well. There are also a few more serious moments as Valentine reflects on his own sexuality, what is socially expected of a man in his position versus what he realizes he actually wants for his life.
Something Fabulous is not exactly what I was expecting going in, but I still thought it was a very entertaining read.  The humor is silly and over the top at times, think Monty Python or The Princess Bride when you start reading and you'll have a pretty good feel for the overall tone of the book. If you're looking for a read that is pure escapism in its silliest form, grab yourself a copy of Something Fabulous.  4 STARS
Getting His Game Back Goodreads

Author: Gia de Cadenet
Publication Date: January 25, 2022
Publisher:  Random House Publishing Group – Ballantine, Dell
FTC Disclosure: I received a complimentary copy of this book from Netgalley.  All opinions are my own.
Getting His Game Back is a contemporary romance and it's also Gia de Cadenet's debut novel.  Based on the cover, I was expecting a rom-com, but while it does have some humorous moments, this is a more serious love story that tackles some pretty big topics, like mental health, the challenges interracial couples can face, and even gender stereotypes.
It follows Khalil Sarda, a young man who has been dealing with depression and seeing a therapist.  He's feeling much better than he did a year ago and is hoping to leave his depression in the past as he focuses on his chain of barbershops and thinks about dating again.  A self-professed ladies' man, Khalil thinks the dating will be the easiest part of his recovery, that is, until Vanessa Noble walks into his shop and sets his heart aflutter.  Vanessa is a career-driven Black woman working in the male-dominated tech industry.  She has no time for romance because she's too busy stomping on every stereotype that gets thrown at her.  That is, until fate and a fire at her favorite hair salon, sends her running to Khalil's shop because she desperately needs her hair done prior to a huge presentation. Vanessa has no interest in dating anyone who isn't Black because of some bad past experiences, but after chatting with Khalil, she has to admit the temptation is there.
I really enjoyed watching Khalil and Vanessa get to know one another.  Both characters are so likeable and they've both been burned by past relationships, so I liked that hint of vulnerability we see as they consider the possibility of romance with one another.  I especially liked the frank discussions they have with one another about interracial couples.  Even though he looks white, Khalil is actually French-Algerian and the product of an interracial relationship himself so he knows firsthand the challenges Vanessa speaks of and the microaggressions that have been directed toward her.  I also thought the author did a wonderful job exploring Khalil's depression and the impact depression can have on a person and on all their relationships.  I loved the respect and support Vanessa and Khalil showed one another, and I especially loved that Vanessa doesn't let Khalil push her away when his depression resurfaces and threatens their relationship. They're a team in every sense of the word, and I was 100% invested in their relationship and hoping they would find their way to a happy ending together.
While not the rom-com I was expecting, Getting His Game Back is still a satisfying read and a wonderful love story that I highly recommend to anyone who enjoys romances that explore weightier topics.  4 STARS.
https://thebookishlibra.com/wp-content/uploads/2022/01/romance-reviews-3.jpg
1240
1748
Suzanne
https://thebookishlibra.com/wp-content/uploads/2018/06/trimmed-Copy-of-Bookish-Logo-copy.png
Suzanne
2022-01-28 05:35:19
2022-01-27 21:24:21
Reviews: SOMETHING FABULOUS & GETTING HIS GAME BACK