Reviews: FINLAY DONOVAN JUMPS THE GUN & THE TWYFORD CODE
I hope everyone had a wonderful weekend and got lots of quality reading time in.  I know I did and actually feel refreshed for a change as we start the new week.  Yay!  Anyway, today I'm back to share my thoughts on two new mystery/thriller reads that are January releases.  One is the newest book in the Finlay Donovan series, which is a favorite of mine, and the other is a book that I believe was actually released in the UK last year through Viper Books and is now being released in the U.S. by Atria.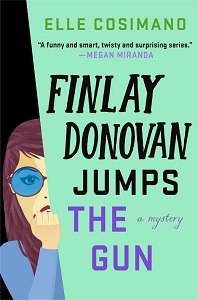 Finlay Donovan Jumps the Gun (Finlay Donovan, #3)
Goodreads
Author: Elle Cosimano
Publication Date: January 31, 2023
Publisher:  Minotaur Books
FTC Disclosure: I received a complimentary copy of this book from Netgalley.  All opinions are my own.
Finlay Donovan Jumps the Gun is the third installment in Elle Cosimano's popular Finlay Donovan series and I'm happy to report that it does not disappoint! For those unfamiliar with the series or those who might need a refresher, Finlay is an author and single mom, who along with her nanny/accountant/sidekick, Vero, have found themselves unexpectedly tied to the Russian mob.  At the end of the second book, the mob actually does Finlay a huge favor, but that favor, in a move that surprises no one, especially Finlay and Vero, comes with some equally huge strings attached.
The third installment kicks off with the Russian mob boss calling in his favor.  He wants Finlay and Vero to identify and locate EasyClean, an anonymous killer-for-hire, before the police do.  Finlay and Vero want no part of this of course, especially since some signs point to EasyClean actually being a cop him or herself.  Our dynamic duo decides that the best way to figure out if EasyClean is a cop or not is to join the new citizen's police academy that Finlay's crush, Nick is in charge of, and all the while, Finlay is desperately trying to write a spicier version of her next book to get her editor off her back.  Needless to say, shenanigans ensue!
As with the first two hilarious installments in this series, a lot of what happens is over the top and definitely involves the reader suspending disbelief, but that's what makes the series so much fun.  I laughed my way through from start to finish, cheering Finlay and Vero on every step of the way.  I got to the point where I couldn't decide what I wanted Finlay to succeed at more:  finding EasyClean, getting that spicy novel finished, or finally hooking up with hottie Nick.
I read that there will be a fourth book in the series and I'm totally here for it!  If you're in the mood for a hilarious and action-packed cozy thriller that is pure escapism at its best, definitely check out the Finlay Donovan series.  4 STARS
The Twyford Code Goodreads

Author: Janice Hallett
Publication Date: January 24, 2023
Publisher:  Atria Books
FTC Disclosure: I received a complimentary copy of this book from Netgalley.  All opinions are my own.
The Twyford Code by Janice Hallett is one of the more unique books I've read in recent years.  Presented to the reader in the form of nearly 200 audio transcripts taken from an old iPhone 4, the story follows one man's journey to find the mysterious connection between the disappearance of his beloved English teacher 40 years ago and an unsolved code that lies hidden within the text of a children's book.
Smithy, the protagonist, is an interesting guy. He's an ex-con, who after serving a long prison sentence, meets his now-adult son for the first time. His son isn't ready for a relationship but gives Smithy his old iPhone so that when he decides he's ready, he can contact his father.  In the meantime, Smithy decides to use the phone to record his thoughts about the direction his life has taken over the years. He hopes his son will listen to them some day to better understand him and how he ended up in prison.
Smithy also uses the phone to document his journey to answer a question that has bothered him for years:  what happened to his English teacher? She disappeared in the middle of a school field trip – a trip that was inspired by a strange book Smithy found on the bus and shared with her one day.  Smithy feels responsible for her disappearance and is desperate to learn what happened to her.  I found Smithy to be a very sympathetic character.  He had a pretty awful childhood and, as if that wasn't enough, he also struggled to read and write.  His remedial English teacher was the first person to really give him the time of day so it was easy to see why she meant so much to him.
The bulk of the story actually focuses on the missing teacher and the secret code in the children's book Smithy found. If you're a fan of stories like The DaVinci Code and National Treasure, you'll really enjoy this as Smithy and some fellow former students from remedial English set out to solve the code because they think it will give them answers as to why their teacher went missing.  This adventure was a wild ride that often required me to suspend disbelief, but I did love how the author crafted this part of her tale.
I did have a couple of minor struggles as I was reading.  I have to admit that the transcript format took some getting used to and really slowed me down at the beginning.  Once I finally got used to the unique formatting, I was able to settle in and follow along, especially since the bulk of the speaking is done by Smithy. One other issue I had was that the pacing seemed to slow in the middle of the book and I found my attention starting to wander.  Thankfully the pace picked back up though and I raced to what turned out to be a pretty clever ending.  There was an element of trickery involved that I have mixed feelings about, but I commend the author on delivering an ending that was completely unexpected.
If you like puzzles, original storytelling, and underdog protagonists, The Twyford Code might be just the book you're looking for. 3.5 STARS
https://thebookishlibra.com/wp-content/uploads/2023/01/reviews-53.jpg
851
1200
Suzanne
https://thebookishlibra.com/wp-content/uploads/2018/06/trimmed-Copy-of-Bookish-Logo-copy.png
Suzanne
2023-01-30 05:35:30
2023-01-29 22:20:58
Reviews: FINLAY DONOVAN JUMPS THE GUN & THE TWYFORD CODE