Reviews: THE COMEBACK SUMMER & THE TRUE LOVE EXPERIMENT
Happy Monday all!  I hope your week is off to a great start.  Today I'm back to share my thoughts on two of my highly anticipated reads of the spring.  Also, here's a fun coincidence…I didn't even notice until I went to draft this post that both of these books have something in common.  They are both written by author duos writing under pen names.
The Comeback Summer
Goodreads
Author: Ali Brady
Publication Date: May 9, 2023
Publisher:  Berkley
FTC Disclosure: I received a complimentary copy of this book from the publisher via Netgalley.  All opinions are my own.
I love a good sister story and with their newest novel The Comeback Summer, writer duo Ali Brady really knocked it out of the park! It's smart, fun, and heartfelt and just had me cheering the sisters on every step of the way.
The story follows Hannah and Libby, who have taken over their late grandmother's PR firm but are really struggling to make a go of it.  If they lose any more clients, they will seriously be in danger of going out of business.  Lou, a wildly popular self-help guru, is looking for a new PR firm to represent her but says she will consider Hannah and Libby for the job, but only if they are willing to complete her 12 week "Crush Your Comfort Zone" program.  Even though both sisters inwardly cringe at the idea of completing the program, Lou would be a big enough client to save the business, so they reluctantly agree.  Lou goes on to customize a challenge for each sister, to help them combat their biggest fears.  Hannah, whose comfort zone is numbers, struggles to make small talk to strangers, is tasked with going on 12 first dates. Libby, whose comfort zone is curling up with her cat and a good romance novel, is tasked with a 12 week training program to get her into good enough shape to compete in the annual "Down and Dirty" obstacle course race.
This truly was such a wonderful read!  I loved watching the sisters in action and was equally invested in both Hannah and Libby.  I really enjoyed how much the story focused not just on their efforts to crush their comfort zones, but also on the dynamics of their relationship as siblings.  The authors did a wonderful job of realistically portraying the ups and downs of a self help journey, as well as the natural ups and downs that any relationship experiences.  I loved how much personal growth both Libby and Hannah experience and how much they learn about themselves and about each other throughout the process.
There are romantic relationships for each sister as well and I thoroughly enjoyed those. For Hannah, it's a second chance romance and for Libby, it's a relationship that happens when she least expects it.  While I adored both of their love interests and was cheering them on, I really have to say that it was the beautiful exploration of the theme of sisterhood that made me fall in love with The Comeback Summer.  4.5 STARS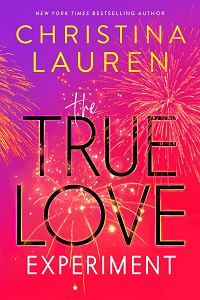 The True Love Experiment Goodreads

Author: Christina Lauren
Publication Date: May 16, 2023
Publisher: Gallery Books
FTC Disclosure: I received a complimentary copy of this book from the publisher via Netgalley.  All opinions are my own.
Snarky, sexy romance novelist Felicity "Fizzy" Chen was one of my favorite secondary characters from Christina Lauren's novel The Soulmate Equation.  She was one of those fabulous characters who stole every scene she was in and so I was thrilled to hear we would be getting her story in The True Love Experiment.
When we meet Fizzy in this book, however, she's struggling a bit in the love department and it is spilling over into her professional life, giving her major writer's block.  She would do just about anything to give her personal life a much needed kick in the pants so she can meet her publisher's deadline.
Enter Connor Prince, single dad and producer of nature documentaries.  Connor's boss wants to pivot from documentaries to reality TV and although Connor is not thrilled, he wants to stay with this company since it means he can live in San Diego where his daughter lives and see her more.  Connor has been tasked with coming up with an idea for a reality TV dating series and a chance meeting with Fizzy gives him a perfect idea…if she'll agree to it.  Fizzy at first refuses, but then says she'll do it, if he meets all her demands, including a hilarious list of hero archetypes that Connor must pull from in order to find acceptable dating candidates for Fizzy.
The chemistry between Fizzy and Connor is absolutely off the charts!  It was pretty clear from their first meeting but only becomes more intense the more they work together and interact.  I loved how hard Connor worked to find dating prospects that he truly thought would be great boyfriends for Fizzy, but then it was so freaking adorable how jealous he got behind the scenes if she actually seemed to like any of them.  The reality TV show was also well done and a lot of fun to read about.  I also loved that there was a forbidden love element to the story as well since Connor is technically Fizzy's boss. It really added some juicy layers of sexual tension that kept me turning those pages to see what would happen between them.
I also adored being back in this world and seeing River, Jess, and Juno again.  I thought it was an especially nice touch having the DNA technology from The Soulmate Equation play a part in Connor's show.  With my love for the first book and for all of its characters, especially Fizzy, The True Love Experiment was, no surprise, one of my most anticipated reads of the year and I'm thrilled to report it was everything I hoped it would be and more! 4.5 STARS
https://thebookishlibra.com/wp-content/uploads/2023/05/reviews-65.jpg
1240
1748
Suzanne
https://thebookishlibra.com/wp-content/uploads/2018/06/trimmed-Copy-of-Bookish-Logo-copy.png
Suzanne
2023-05-15 05:35:35
2023-05-14 22:37:03
Reviews: THE COMEBACK SUMMER & THE TRUE LOVE EXPERIMENT