Top Ten Tuesday – Books I Don't Even Remember Adding to My TBR
Top Ten Tuesday was created by The Broke and the Bookish in June of 2010 and was moved to That Artsy Reader Girl in January 2018. It was born of a love of lists, a love of books, and a desire to bring bookish friends together.  Top Ten Tuesday has been one of my favorite memes ever since I started blogging, so huge thanks to Jana for taking over the hosting duties!
This week's TTT topic is Books I've Added to my TBR and Forgotten Why.  This topic made me laugh because I do this a lot.  I'll be scrolling through my TBR on Goodreads and will come across titles where I'm just like "Who added that? How did that get there?"  But then, as in the case with almost all of the titles I'm sharing this week, I'll read the synopsis, think the book sounds good and will leave it on the TBR.  I'm guessing some of them were based on blogger reviews, some are maybe from when I entered a giveaway and adding it was a requirement. Some of the pre-blogging ones, I honestly have no clue.
Out of the titles below, the only one I actually deleted as I was working on this post was The Silent Waters. It sounds good, but it's the third book in a series I've never read and I didn't even have the first two books on my list. Go figure.  Anyway, I decided I need to focus on the umpteen series I've started and never finished, so off went The Silent Waters.
* * * * *
Books I Don't Even Remember Adding to My TBR
1. THE ONE by John Marrs
How far would you go to find The One?
A simple DNA test is all it takes. Just a quick mouth swab and soon you'll be matched with your perfect partner—the one you're genetically made for.  That's the promise made by Match Your DNA. A decade ago, the company announced that they had found the gene that pairs each of us with our soul mate. Since then, millions of people around the world have been matched. But the discovery has its downsides: test results have led to the breakup of countless relationships and upended the traditional ideas of dating, romance and love.
Now five very different people have received the notification that they've been "Matched." They're each about to meet their one true love. But "happily ever after" isn't guaranteed for everyone. Because even soul mates have secrets. And some are more shocking than others…
* * * * *
2. THE MUSE by Jessie Burton
A picture hides a thousand words . . .
On a hot July day in 1967, Odelle Bastien climbs the stone steps of the Skelton gallery in London, knowing that her life is about to change forever. Having struggled to find her place in the city since she arrived from Trinidad five years ago, she has been offered a job as a typist under the tutelage of the glamorous and enigmatic Marjorie Quick. But though Quick takes Odelle into her confidence, and unlocks a potential she didn't know she had, she remains a mystery – no more so than when a lost masterpiece with a secret history is delivered to the gallery.
The truth about the painting lies in 1936 and a large house in rural Spain, where Olive Schloss, the daughter of a renowned art dealer, is harbouring ambitions of her own. Into this fragile paradise come artist and revolutionary Isaac Robles and his half-sister Teresa, who immediately insinuate themselves into the Schloss family, with explosive and devastating consequences . . .
* * * * *
3.  NOW IS EVERYTHING by Amy Giles
The McCauleys look perfect on the outside. But nothing is ever as it seems, and this family is hiding a dark secret.
Hadley McCauley will do anything to keep her sister safe from their father. But when Hadley's forbidden relationship with Charlie Simmons deepens, the violence at home escalates, culminating in an explosive accident that will leave everyone changed.
When Hadley attempts to take her own life at the hospital post-accident, her friends, doctors, family, and the investigator on the case want to know why. Only Hadley knows what really happened that day, and she's not talking.
* * * * *
4. GOING PLACES by Kathryn Berla
Hudson Wheeler is a teen for whom everyone had high expectations, but since his father was killed when he was ten, he's felt unmotivated to pursue much other than his art. During his senior year, he decides to home school, thinking he will get to relax and focus on his two lazy businesses. But instead, he experiences love and rejection for the first time; meets an athletic girl who shows him by example what it means to be a man; and solves the painful mystery of the WWII vet whose poignant plight forces Hudson out of the comfort zone of boyhood.
* * * * *
5. SOMETHING LIKE HAPPY by Eva Woods
With wry wit and boundless heart, Eva Woods delivers an unforgettable tale of celebrating triumphs great and small, seizing the day, and always remembering to live in the moment.
"It's simple, really. You're just meant to do one thing every day that makes you happy. Could be little things. Could be big. In fact, we're doing one right now…"
Annie Hebden is stuck. Stuck in her boring job, with her irritating roommate, in a life no thirty-five-year-old would want. But deep down, Annie is still mourning the terrible loss that tore a hole through the perfect existence she'd once taken for granted—and hiding away is safer than remembering what used to be. Until she meets the eccentric Polly Leonard.
Bright, bubbly, intrusive Polly is everything Annie doesn't want in a friend. But Polly is determined to finally wake Annie up to life. Because if recent events have taught Polly anything, it's that your time is too short to waste a single day—which is why she wants Annie to join her on a mission…
One hundred days. One hundred new ways to be happy. Annie's convinced it's impossible, but so is saying no to Polly. And on an unforgettable journey that will force her to open herself to new experiences—and perhaps even new love with the unlikeliest of men—Annie will slowly begin to realize that maybe, just maybe, there's still joy to be found in the world. But then it becomes clear that Polly's about to need her new friend more than ever…and Annie will have to decide once and for all whether letting others in is a risk worth taking.
* * * * *
6. TWO GIRLS DOWN by Louisa Luna
When two young sisters disappear from a strip mall parking lot in a small Pennsylvania town, their devastated mother hires an enigmatic bounty hunter, Alice Vega, to help find the girls. Immediately shut out by a local police department already stretched thin by budget cuts and the growing OxyContin and meth epidemic, Vega enlists the help of a disgraced former cop, Max Caplan. Cap is a man trying to put the scandal of his past behind him and move on, but Vega needs his help to find the girls, and she will not be denied.
With little to go on, Vega and Cap will go to extraordinary lengths to untangle a dangerous web of lies, false leads, and complex relationships to find the girls before time runs out, and they are gone forever.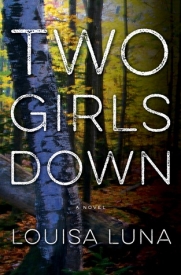 * * * * *
7. THE REFUGEES by Viet Thanh Nguyen
From a young Vietnamese refugee who suffers profound culture shock when he comes to live with two gay men in San Francisco, to a woman whose husband is suffering from dementia and starts to confuse her for a former lover, to a girl living in Ho Chi Minh City whose older half-sister comes back from America having seemingly accomplished everything she never will, the stories are a captivating testament to the dreams and hardships of immigration.
* * * * *
8. THE IMPOSSIBLE VASTNESS OF US by Samantha Young
I know how to watch my back. I'm the only one that ever has.
India Maxwell hasn't just moved across the country—she's plummeted to the bottom rung of the social ladder. It's taken years to cover the mess of her home life with a veneer of popularity. Now she's living in one of Boston's wealthiest neighborhoods with her mom's fiancé and his daughter, Eloise. Thanks to her soon-to-be stepsister's clique of friends, including Eloise's gorgeous, arrogant boyfriend Finn, India feels like the one thing she hoped never to be seen as again: trash.
But India's not alone in struggling to control the secrets of her past. Eloise and Finn, the school's golden couple, aren't all they seem to be. In fact, everyone's life is infinitely more complex than it first appears. And as India grows closer to Finn and befriends Eloise, threatening the facades that hold them together, what's left are truths that are brutal, beautiful, and big enough to change them forever…
* * * * *
9. THE SILENT WATERS by Brittainy C. Cherry
Moments.  Our lives are a collection of moments. Some utterly painful and full of yesterday's hurts. Some beautifully hopeful and full of tomorrow's promises.
I've had many moments in my lifetime, moments that changed me, challenged me. Moments that scared me and engulfed me. However, the biggest ones—the most heartbreaking and breathtaking ones—all included him.
I was ten years old when I lost my voice. A piece of me was stolen away, and the only person who could truly hear my silence was Brooks Griffin. He was the light during my dark days, the promise of tomorrow, until tragedy found him. Tragedy that eventually drowned him in a sea of memories.
This is the story of a boy and girl who loved each other, but didn't love themselves. A story of life and death. Of love and broken promises.  Of moments.
* * * * *
10. WHAT LIES BETWEEN US by Nayomi Munaweera
In the idyllic hill country of Sri Lanka, a young girl grows up with her loving family; but even in the midst of this paradise, terror lurks in the shadows. When tragedy strikes, she and her mother must seek safety by immigrating to America. There the girl reinvents herself as an American teenager to survive, with the help of her cousin; but even as she assimilates and thrives, the secrets and scars of her past follow her into adulthood. In this new country of freedom, everything she has built begins to crumble around her, and her hold on reality becomes more and more tenuous. When the past and the present collide, she sees only one terrible choice.
* * * * *
Question:  Have you read any of these? Do you ever add books to your TBR and later forget why you wanted to read them?
https://thebookishlibra.com/wp-content/uploads/2018/01/TTT-Big2.png
203
500
Suzanne
https://thebookishlibra.com/wp-content/uploads/2018/06/trimmed-Copy-of-Bookish-Logo-copy.png
Suzanne
2020-06-09 05:45:41
2020-06-08 21:29:03
Top Ten Tuesday – Books I Don't Even Remember Adding to My TBR