Top Ten Tuesday: Books I've Read That I'd Like to Have in My Personal Library
Top Ten Tuesday was created by The Broke and the Bookish in June of 2010 and was moved to That Artsy Reader Girl in January 2018. It was born of a love of lists, a love of books, and a desire to bring bookish friends together.  Top Ten Tuesday has been one of my favorite memes ever since I started blogging, so huge thanks to Jana for taking over the hosting duties!
This week's TTT topic is Books I've Read That I'd Like In My Personal Library (perhaps you checked it out, borrowed it from a friend, received it for review, etc. and want to own it yourself.)  This topic was actually pretty challenging since I normally do eventually go back and purchase the books I love so I can add them to my personal library.  It took me a while but I was finally able to come up with 10 that I still want to add to my collection and haven't gotten around to buying yet.
10 Books I've Read That I'd Like to Have in My Personal Library
1. THE RULES OF MAGIC by Alice Hoffman.  I love Alice Hoffman's books and this one is actually my favorite but somehow, I've still neglected to pick up a copy for my personal collection. I seriously need to remedy that soon.
2. THE GREAT ALONE by Kristin Hannah. Kristin Hannah is another of my favorite authors and I've been slowly adding her books to my library. This is one I originally checked out of the library to read, but I definitely want to own a copy.
3. THE CRUEL PRINCE by Holly Black.  This is another that I checked out of the library to read, loved, but haven't purchased for myself yet. Strangely enough, I do own the second book in the series even though I don't have the first.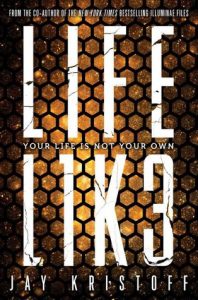 4. LIFEL1K3 by Jay Kristoff.   Jay Kristoff is another author where I've loved every book I've read and so have started collecting them. I have most of his but LIFEL1K3 is one I'd love to get at some point.  I've been hoping to get a good sale so I can get a print copy.
5. THIS SAVAGE SONG by Victoria Schwab.  Same song, different verse here. Schwab is another favorite author whose books I'm collecting but somehow forgot to pick up a copy of this one. I do own Our Dark Duet so I'm wondering if I actually had this one and loaned it to someone since Schwab is an author I recommend to pretty much everyone.
6. ONCE UPON A RIVER by Diane Setterfield.  I read an ARC of this one and thought it was such a beautiful story. It's definitely one I'd re-read at some point, plus the cover is gorgeous, so I'd love to have it in my library.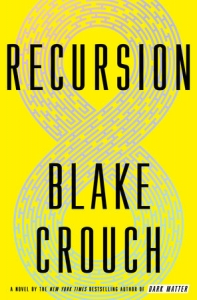 7. RECURSION by Blake Crouch.  This was such a mind blowing read for me and it's a book I could see myself recommending to a lot of people I know. I think it would make a great addition to my personal library.
8. THE LOST GIRLS OF PARIS by Pam Jenoff.  Historical fiction is still, by far, my favorite genre and it's definitely one where I collect my favorite titles. This is one I loved last year when I read it but haven't purchased a copy for myself yet.
9. THINGS YOU SAVE IN A FIRE by Katherine Center.  I usually like to purchase copies of my favorite reads of the year for my collection, and I'm pretty sure this book is going to make the list for 2019.  What a fantastic book and definitely one I'll be recommending and lending out frequently.
10. THE DIARY OF A YOUNG GIRL by Anne Frank.  Switching gears a bit, I was trying to think of books I'd read in school (classics, etc.) that I'd like to have in my collection.  As an English major, I've actually accumulated almost all of those books already since I had to purchase them for AP English in high school and then all through college.  The one exception that I could come up with was The Diary of Anne Frank.  I read it in middle school and it really resonated with me, but somehow I've not yet acquired a copy of my personal library even though I have other books that focus on the Holocaust.
* * * * *
What are some books you've read that you'd like to add to your personal library?
https://thebookishlibra.com/wp-content/uploads/2018/01/TTT-Big2.png
203
500
Suzanne
https://thebookishlibra.com/wp-content/uploads/2018/06/trimmed-Copy-of-Bookish-Logo-copy.png
Suzanne
2019-08-27 05:35:14
2019-08-26 21:00:34
Top Ten Tuesday: Books I've Read That I'd Like to Have in My Personal Library