Review: LITTLE BIG LOVE by Katy Regan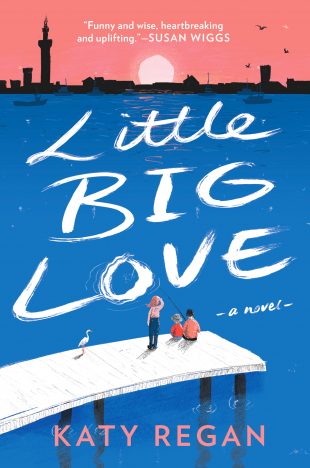 Little Big Love
by
Katy Regan

Published by
BERKLEY
on June 5, 2018
Genres:
Contemporary Fiction
Pages:
384
Source:
Netgalley
Amazon
Goodreads
FTC Disclosure: I received a complimentary copy of this book from the publisher via Netgalley. All opinions are my own.
MY REVIEW:
I requested Katy Regan's Little Big Love from Netgalley primarily because the book's synopsis describes it as About a Boy meets Parenthood.  Parenthood is one of my all-time favorite family-centric dramas and I loved it because every episode took me through a full range of emotions because I became so invested in the Braverman family:  joy, sadness, anger, frustration, love, regret – you name it, I felt it. Seeing Little Big Love compared to Parenthood therefore made it a must-read for me.  The comparison is apt too because the characters in Little Big Love captured my heart in much the same way the Bravermans did in Parenthood.
Little Big Love follows Zac Hutchinson, a 10-year old boy who is on a mission to find the his father, whom he has never met.  Zac knows he has a dad because, of course, everyone does, but all Zac knows about his is that according to his mom and grandparents, Zac's dad "did a runner" as soon as Zac was born and never came back.  Zac has therefore spent his entire life without a dad and is obsessed with what it would be like to have one.  The older he gets, the more convinced he is that if his dad could just meet him once, he'd want to stick around.  Then, one fateful night when his mom, in a drunken state, confesses to Zac that she still loves his dad, Zac, with the help of his best friend Teagan, sets his "Find Dad Mission" into motion. Now he wants to find his dad, not just for himself, because he also thinks it would finally make his mom happy again.

Zac.  10-year-old Zac was, by far, my favorite character in this story.  He's such a sweetheart, always thinking of others, and just the type of kid who wouldn't hurt a fly.  It broke my heart to watch him obsess so much about not having a Dad in his life, especially once I realized how many secrets about his father his mom and grandparents were keeping from him.  For reasons that weren't revealed until much later, it was as if all mention of Zac's father had been banned from their household so Zac literally knew nothing about his dad, aside from his name.  Zac was also an incredibly sympathetic character because he's being bullied at school because of his weight and because he doesn't stick up for himself.  The kids are just so evil and relentless, and I cried for Zac several times as I was reading.  Regan really got me in the feels when it came to Zac.
Teagan.  Teagan is Zac's classmate and best friend, and she is the spunkiest little firecracker there ever was.  She is Zac's biggest supporter, which makes me love her all the more knowing how low Zac's self-esteem is because of his weight and because of the constant bullying.  Teagan is also a breath of fresh air, frequently using comical expressions like "He just needs a rocket up his bum!" to bring some levity and humor into what is otherwise a pretty heavy story.  My favorite thing about Teagan is her enthusiastic support of Zac's mission to find his dad.  She spends a lot of time watching crime and detective shows so that she can share helpful tips on how Zac should conduct his investigation and gather evidence that will help locate his dad.  It's just adorable!
3 Points of View.  While the children were my favorite characters in Little Big Love and Zac's chapters were my favorites because that have that honesty and tell-it-like-it-is bluntness that only an innocent child can bring, I also appreciated that the story was presented not just from Zac's perspective, but also from the perspectives of Zac's mom, Juliet, and Zac's grandfather, Mick. Juliet is a single mom who is struggling to make ends meet and who is also dealing with her own self-esteem and weight issues.  All she wants is what's best for Zac but sometimes finds herself questioning her life's choices.  Mick, Zac's granddad brings us the perspective of a recovering alcoholic who loves his family more than life itself, but who is weighted down by secrets that if revealed, could cost him everyone he loves.  I loved all of the layers that Regan adds to the story by using these three completely different perspectives.
Realistic Issues and Big Themes.  As I mentioned earlier, at times, Little Big Love was a heavy read.  It deals with some issues and themes that really got to me on an emotional level.  They're issues that many families will face and perhaps they got to me all the more since I have a son Zac's age.
There is of course the family drama with these secrets that they're keeping and how those secrets are just weighing everyone down. But then there's also alcoholism, bullying, loss and grief, and mental health/low self-esteem issues as well.  This whole family has been through so much, and as I said with Parenthood, I became so invested in them that their stories – the good and the bad – just really had me so emotional at times.  Bless little Teagan and her "rocket up the bum" jokes to lighten the mood and keep things from getting too heavy, lol.

Even though I really enjoyed Little Big Love overall, I did occasionally struggle with the pacing, especially in the beginning.  I adored all of Zac's chapters and just flew through them, but I'll admit that I struggled to get into Juliet's story and even Mick's at first.  I was a little put off by the secrets they were keeping because I just didn't see where any good could possibly come from what they were doing.  Ultimately though, they won me over because it became clear that they both loved Zac more than anything else in this world and that they were beating themselves up about their choices just as much, if not even more, than I was beating them up.

Katy Regan's Little Big Love is a moving story about a flawed but beautiful family and the things they're willing to do to protect both themselves and the ones they love.  They don't always make the best choices, but their hearts are in the right place, even if their heads aren't.  I'd recommend this to anyone who enjoys books that feature endearing characters, especially lovable children, as well as messy but realistic family situations.
GOODREADS SYNOPSIS:

About a Boy meets Parenthood in this smart, big-hearted love story about a family for whom everything changed one night, a decade ago, and the young boy who unites them all.

Told through the eyes of Zac, Juliet, and grandfather Mick, Little Big Love is a layered, heartfelt, utterly satisfying story about family, love, and the secrets that can define who we are.
https://thebookishlibra.com/wp-content/uploads/2018/03/little-big-love.jpg
2775
1838
Suzanne
https://thebookishlibra.com/wp-content/uploads/2018/06/trimmed-Copy-of-Bookish-Logo-copy.png
Suzanne
2018-06-11 06:00:51
2018-06-11 07:57:19
Review: LITTLE BIG LOVE by Katy Regan