Review: LOCK EVERY DOOR by Riley Sager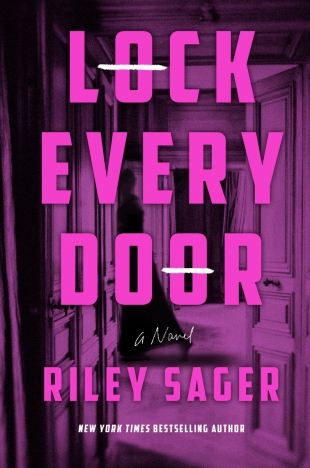 Lock Every Door
by
Riley Sager
Also by this author:
Final Girls
,
The Last Time I Lied

Published by
Dutton
on July 2, 2019
Genres:
Mystery
,
Thriller
Pages:
384
Source:
Netgalley
Amazon
Goodreads
FTC Disclosure: I received a complimentary copy of this book from the publisher via Netgalley. All opinions are my own.
LOCK EVERY DOOR Review
Set in New York City, Riley Sager's latest thriller Lock Every Door follows Jules Larsen, a young woman who has had a major run of bad luck. She recently lost her job, discovered her live-in boyfriend was cheating on her, and has subsequently ended up sleeping on her best friend's couch.  Jules desperately needs her luck to change so that she can get back on her feet financially, and when she sees an ad on Craigslist seeking apartment sitters at the iconic Bartholomew building near Central Park, she applies immediately and can't believe her good luck when she is hired. The rules are a little intense:  Jules is not allowed to have visitors, she must sleep in the apartment every night, and she is only allowed to speak to other residents if they speak to her first, but the $1,000 a week paycheck makes it well worth it for Jules.
Jules almost immediately befriends another apartment sitter named Ingrid.  Ingrid confides in Jules that strange things happen in the Bartholomew and that she doesn't feel safe there.  Soon after this conversation, Ingrid goes missing.  Jules is told that Ingrid abruptly quit in the middle of the night and moved out, but Jules is suspicious and starts digging, trying to figure out what really happened. When Jules learns that Ingrid isn't the first apartment sitter to go missing, she starts to think that her dream job might actually be more of a nightmare.
I really liked Jules right away and so was constantly torn between wanting her to stick around and figure out what's going on at the Bartholomew and wanting her to hurry up and get the heck out of there before something happened to her.
The creepy atmosphere Sager creates was also a huge draw for me. The Bartholomew itself has a dark, almost Gothic feel to it, with its gargoyles on the exterior and its wallpaper that appears to change from flowers to watchful eyes if stared at too long.  Its physical appearance combined with its mysterious and rumored dark past truly made it feel like something out of a horror story and had my skin crawling as I read.
Another big draw for me was the way Sager weaves together his story through the use of a combination of flashbacks and chapters set in the present to show where Jules is and then to backtrack and show how she got to that point.  That technique created so much tension and suspense. That coupled with numerous plot twists, had me just flying through the pages. The plot twists were a wild ride too, culminating in a reveal that was even more disturbing than I could have possibly anticipated.
Riley Sager is quickly becoming my go-to author whenever I'm in the mood for a thriller that will keep me on the edge of my seat.  As much as I enjoyed both Final Girls and The Last Time I Lied though, Sager's latest, Lock Every Door, is by far, my favorite of his books yet.  It has everything I love in a thriller – a protagonist that is likeable and easy to root for, lots of tension and suspense, plenty of plot twists to keep me guessing, and an atmosphere that draws me in and creeps me out all at the same time. If you're into thrillers, I highly recommend giving Sager's books a try.

GOODREADS SYNOPSIS:

No visitors. No nights spent away from the apartment. No disturbing the other residents, all of whom are rich or famous or both. These are the only rules for Jules Larsen's new job as an apartment sitter at the Bartholomew, one of Manhattan's most high-profile and mysterious buildings. Recently heartbroken and just plain broke, Jules is taken in by the splendor of her surroundings and accepts the terms, ready to leave her past life behind.

As she gets to know the residents and staff of the Bartholomew, Jules finds herself drawn to fellow apartment sitter Ingrid, who comfortingly, disturbingly reminds her of the sister she lost eight years ago. When Ingrid confides that the Bartholomew is not what it seems and the dark history hidden beneath its gleaming facade is starting to frighten her, Jules brushes it off as a harmless ghost story … until the next day, when Ingrid disappears.

Searching for the truth about Ingrid's disappearance, Jules digs deeper into the Bartholomew's dark past and into the secrets kept within its walls. Her discovery that Ingrid is not the first apartment sitter to go missing at the Bartholomew pits Jules against the clock as she races to unmask a killer, expose the building's hidden past, and escape the Bartholomew before her temporary status becomes permanent.
https://thebookishlibra.com/wp-content/uploads/2019/02/lock-every-door-lg.jpg
1200
795
Suzanne
https://thebookishlibra.com/wp-content/uploads/2018/06/trimmed-Copy-of-Bookish-Logo-copy.png
Suzanne
2019-07-05 05:35:55
2019-07-04 22:34:37
Review: LOCK EVERY DOOR by Riley Sager